In the Summer edition of Beer & Brewer we mark outstanding achievement in the industry and with that special Awards Issue now out it's time to announce online the winners in the fields of: Lifetime Achievement, Best Brewer, Best New Brewing Company, Best Brewery Experience, Best Home Brew Shop, Best Bottleshop and Best Online Retailer for 2021. We also name runners-up in five of the categories as well.
Thank you to our panel of judges and congratulations to all the eventual winners. While it would be hard to disagree with any one of them finishing up on top, the fact most of the categories were very evenly contested only further goes to show the depth of quality to be found across the diverse beer and brewing landscape in Australia.
The 2021 judging panel
Aaron Heary (chief operating officer Gage Roads), Alli Macdonald (lead brewer Malt Shovel), Andy Scade (President WA Brewers Association & head brewer Bevy Brewing), Adam Trippe-Smith (Founder Konvoy Kegs & co-founder White Bay Beer Co), Chris Lukianeko (The Beer Healer), Chris Kelly (Founder & general manager East Coast Canning), Jake Brandish (Editor HomeBrewer), Jakkii Musgrave (@slybeer), James Atkinson (Drinks Adventures), Jono Outred (Making Gravy Media), Justin Fox (Bespoke Brewing Solutions), Kirrily Waldhorn (The Beer Diva), Luke Robertson (Ale of a Time), Matt King (The Craft Beer King), Michael Capaldo (National Sales Manager Hop Products Australia), Nick Leach (Founder Brewstaff), Pete Philip (Founder Wayward Brewing), Richard Adamson (Chair IBA & co-founder Young Henrys), Simon Collins (Journalist The West Australian), Steve Brockman (SA chapter lead IBA & consultant), Tiffany Waldron (President Pink Boots Society Australia), Tim Charody (The Beer Pilgrim) and Tina Panoutsos (Beer Knowledge & Education CUB).
These awards feature in the Summer 2021/22 edition of Beer & Brewer. Head here to discover all of our great subscription offers.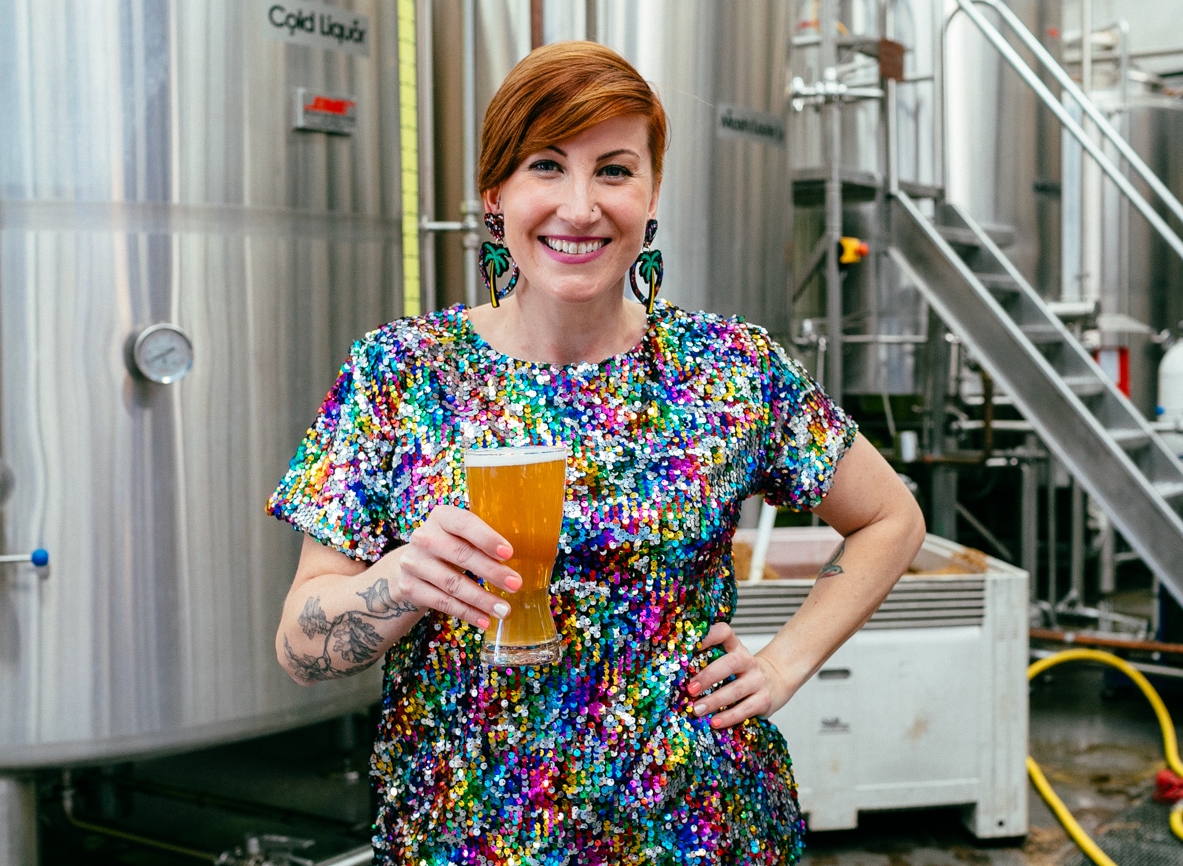 Lifetime Achievement: Jayne Lewis – Two Birds Brewing
I think I've helped see where inequality exists and gone 'what can we do to rectify this?'."
Jayne Lewis is looked upon by the Australian beer and brewing industry as a trailblazer and an icon who appears to have done it all – from winning awards to judging them, to holding a torch for women and so much more that most people would never know about.
But ask Jayne herself what she considers her impact to have been and she humbly sees her long period of achievement (we won't call it a lifetime despite the name of this award!) as simply the outcome of filling the gaps she saw along her now 17 year brewing career – that's seen her brew at Little Creatures and become Mountain Goat's head brewer before her and Danielle Allen established Two Birds Brewing in 2011 – Australia's first female led brewery.
"I felt I've just done what needed to be done at any particular point in time – both for myself and for the greater good of the industry. I've picked my own path without worrying too much about what I should or shouldn't be doing from a societal standpoint but then also recognised where spaces existed and where people needed support. And I guess that has been shown with things like the Pink Boots Society and the need for women to have a sense of connection in the industry. But it has also been a matter of seeing gaps for diversity in the industry in general. It's so much wider and deeper than gender and I'm really heading in that direction at the moment. Effectively, I think I've helped see where inequality exists and gone 'ok, what can we do to rectify this?'."
Jayne was a guiding light in Australia establishing its own chapter of the Pink Boots Society back in 2012 and from the outset has said its ultimate goal is to no longer need to exist – that through the change it's been able to achieve, in the fields of equality and diversity, minorities entering the industry can do so on a level playing field. As that organisation readies to celebrate 10 years in Australia next year, Jayne said much has been done to make that goal more of a reality "but so much work is still to be done".
"I remember when I first started there were literally two female brewers I was aware of – and I was one of them! But now, you only have to look around at an event these days and see so many more women in the room than when we first started Pink Boots.
"However, the visibility of females might be higher now but we're still seeing an overwhelming skew towards males and a lot of people not understanding what the impact of that has on minorities."
In a beer career littered with momentous occasions, Jayne said her standout memories are Two Birds winning Champion Medium Australian Brewery at the 2016 AIBAs ("a major validation of what we were and had been doing") and drinking her Trailblazer Lager – made especially for her beloved Western Bulldogs AFLW team – on the bank at Whitten Oval ("an emotional time as it encapsulated so many things I believe strongly about").
And now, after a very momentous 2021, that saw Two Birds celebrate its tenth birthday before bouncing from the Fermentum family to Lion's den, all while Jayne helped establish the Beer Agents for Change movement as the Australian beer industry's own #metoo moment played out, it's a given her story is far from written yet.
"I'm optimistic about the Lion situation. In terms of diversity, those guys are probably the yardstick for a lot of businesses and I hope Two Birds has great potential within the Lion framework. If anyone can make the brand stand for more than beer, and really help us lean into that space, then I think it's Lion."
twobirdsbrewing.com.au
WHAT THE JUDGES SAID:
"A talented brewer and savvy business woman, Jayne's focus on approachability and drinkability has helped drive Two Birds over the past decade to the success story it is today."
"She puts her absolute everything into the industry."
"We need more people like Jayne."
PREVIOUS WINNERS:
2017 Chuck Hahn, 2018 Brad Rogers, 2019 Brendan Varis, 2020 Pete Meddings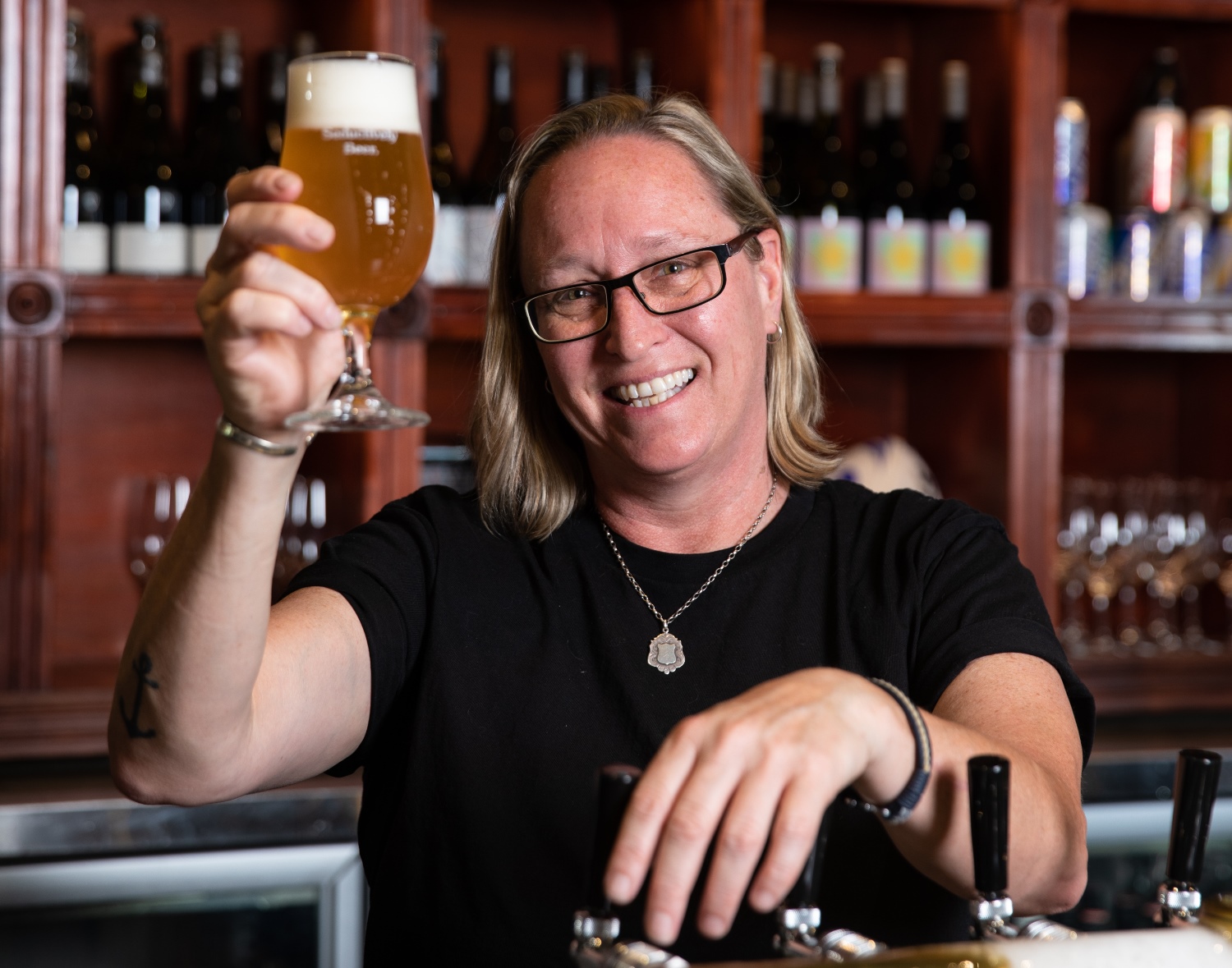 Best Brewer: Sam Füss – Philter Brewing
Even during those really hard days I've been able to say 'yes, we're doing this'."
It's quite amazing to think back to Philter's formative years when, without a place to call home, they conducted a smash-and-grab of epic proportions on some of the Australian craft beer industry's most coveted awards.
Within months of launching, head brewer and co-owner Samara "Sam" Füss' flagship XPA had won Australia's Champion Pale Ale at The Indies (then called the Craft Beer Awards) in 2017 before backing it up the following year by winning Best Australian Style Pale Ale at the 2018 Australian International Beer Awards. At those same AIBAs Philter also picked up the prize for Best Australian Gypsy Brewer and everybody in the room no doubt momentarily thought to themselves "what will these guys be capable of when they're running their own ship?".
Well, after the intervening period saw them continue their ascension, which included keeping the same Indies trophy for a second straight year in June 2018, that moment finally came last year and the answer has revealed itself ever since (this year's Indies was no exception). And in a roundabout way the answer is also revealed in Sam being named the popular winner of this award – just a year after she commissioned their new brewery in Marrickville – the then biggest of its kind in Australia – basically single-handedly after COVID meant the suppliers couldn't fly in from overseas to assist.
The continued popularity of their core range beers has meant their one million litre capacity is at its maximum and they're looking to basically triple that by halfway through next year, while, where tank space has allowed, their output of new beers, that have covered a wide spectrum of styles from easy-drinking to discerning, has shown us just what they were capable of and more. To make mention of just a couple of releases that represent what it has meant for Philter to have a home, and the freedom to express their potential, the new Double Red was a dialled in force to be reckoned with that displayed just what's possible when you've got control over something's every aspect, while the Raspberry Pash Berliner Weisse won AIBA Gold earlier this year before going on to win Best Mixed Culture Beer at The Indies. Not bad for Sam's first ever attempt at a sour but done, as she said, "because I had the time and ability to sit down and go to work on it and let it see the light of day. That just wouldn't have been possible before".
"I loved the whole process of finally creating a place to call home. It's been really challenging but so rewarding and even during those really hard days I've been able to say 'yes, we're doing this'. I've been here every step of the way – every tile, every lick of paint, every bit of stainless that's gone in. And that's great, because by building a brewery, it becomes close to you."
What's also become close is the team of brewers she now heads up and Sam was the first to heap praise on them, past and present, for their role in Philter's success – including her partner Danielle who, when her profession was hampered by COVID, was shoulder-to-shoulder with Sam throughout the brewery build.
"I have previously been a 'na, na, na it's done this way' kind of person. But as I've matured as a brewer I've learned you get more out of people by listening and trusting and giving them ownership. You've got to have the confidence in people's abilities and make decisions with them, include them in the process and make sure everyone has a place at the table. It's been great for me to understand how important that is but I've also seen people shine when they're respected and given the platform to display their talents."
With said expansion on the horizon, alongside plans to install a pilot system, it appears Sam and Philter are far from showing us just what they're capable of.
philterbrewing.com
WHAT THE JUDGES SAID:
"We've known for years how good their beers are, but since Sam has built the brewery and nurtured a team around her we're finally seeing Philter's full potential – and it's impressive."
PREVIOUS WINNERS:
2017 Will Irving, 2018 Scott Hargrave, 2019 Will Tatchell, 2020 Justin Corbitt
Best New Brewing Company: Heaps Normal
We feel… incredibly grateful for the epic support we've received from the brewing community. I mean, some of our favourite craft brewers have Heaps Normal in the fridge at their taprooms! It's genuinely humbling."

CEO Andy Miller (pictured – on the left) with fellow co-founders Ben Holdstock (middle) and Pete Brennan
In terms of sheer impact on the beer landscape in Australia over the last year or so* many of our judges found it hard to look past Heaps Normal and their non-alcoholic Quiet XPA even though this award has, obviously, been dominated up until now by those that have alcohol content as central to everything they do.
But in an absolute sign of the times, where non-alcoholic alternatives in this country have gone from inferior to superior, and scoffed at to craved, in rapid time, Heaps Normal have been at the forefront of that cultural shift and hence at the forefront of our judges' minds too.
They've done it with a product that has impressed even the most discerning whilst delivering a brand that hasn't preached its virtues but rather taken a complementary stance to the alcohol industry that it is technically still a part of.
Just like Band-Aid, Kleenex, Esky et al before it, Heaps Normal has become somewhat of a proprietary eponym, or simply a generic trademark, in Australia since launching in July 2020, with those seeking a non-alcoholic craft beer, for whatever their reasons, often asking for it by name rather than for the category. See our Best Bottleshop award story below for a first-hand example and also this feature we wrote.
An anything but normal ascension has surprised the guys that make the stuff, much like it has an industry that not that long ago was seemingly trying to out-do itself through high ABV levels.
"When we launched we thought there were probably a few people like us, who wanted to cut back on the booze, but didn't necessarily identify as sober. It turns out there's a lot more people in that camp than we first thought," CEO Andy Miller told us, who founded Heaps Normal alongside head of brand Pete Brennan, head brewer Ben Holdstock and brand ambassador Jordy Smith.
"We've obviously worked really hard as a team to bring Heaps Normal to life – focussing on one beer and making it one we are super proud of. But you can't plan for how the community is going to receive a new brand. Sometimes you're just lucky to bring the right product to the table, at the right time, with a message that people can relate to. We feel lucky in that sense and incredibly grateful for the epic support we've received from the brewing community. I mean, some of our favourite craft brewers have Heaps Normal in the fridge at their taprooms! It's genuinely humbling."
The future sounds exciting for Heaps Normal too, with multi-year partnerships in place with the likes of the ARIA Awards and Good Food Month, they're set to launch a new beer in the New Year and, most exciting of all, they're building their own brewery after raising $8.5 million in capital recently.
heapsnormal.com
*Please note, due to the impact of COVID-19 on new brewing company start-ups this year, we extended the eligibility of the award to those that opened after January 1, 2020.
WHAT THE JUDGES SAID:
"Probably the brewery which has made the biggest noise in the non-alc category in the past 12 months."
"They nailed their launch. Right product. Right time. Right brand."
PREVIOUS WINNERS:
2017 Wildflower, 2018 Burnley Brewing, 2019 Molly Rose, 2020 Mountain Culture
2021 RUNNERS-UP: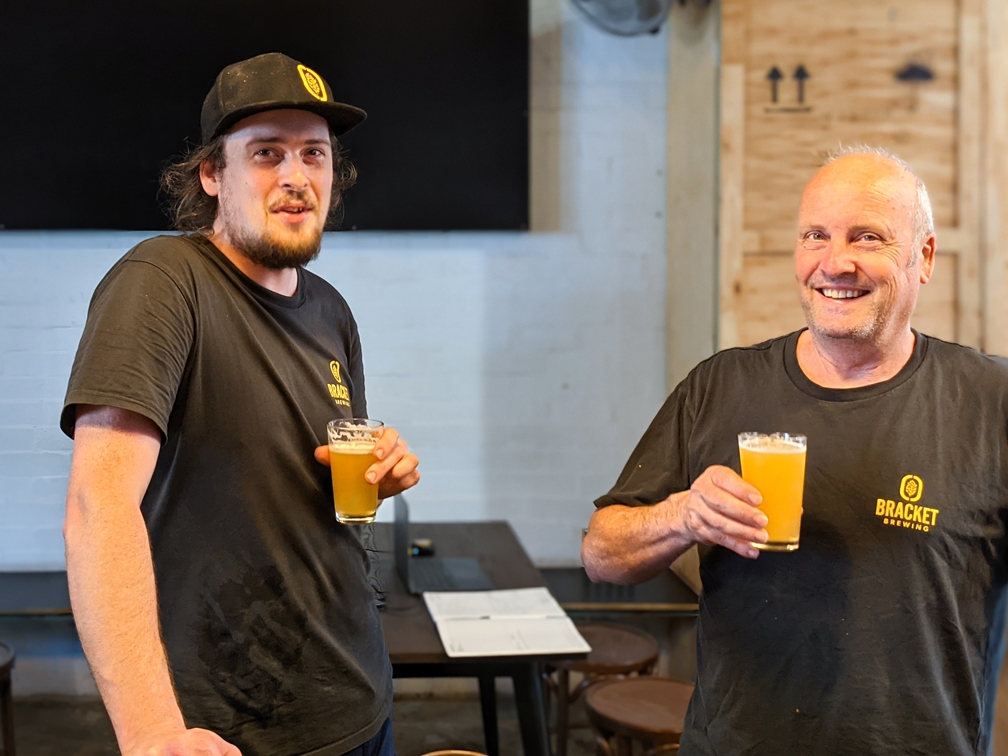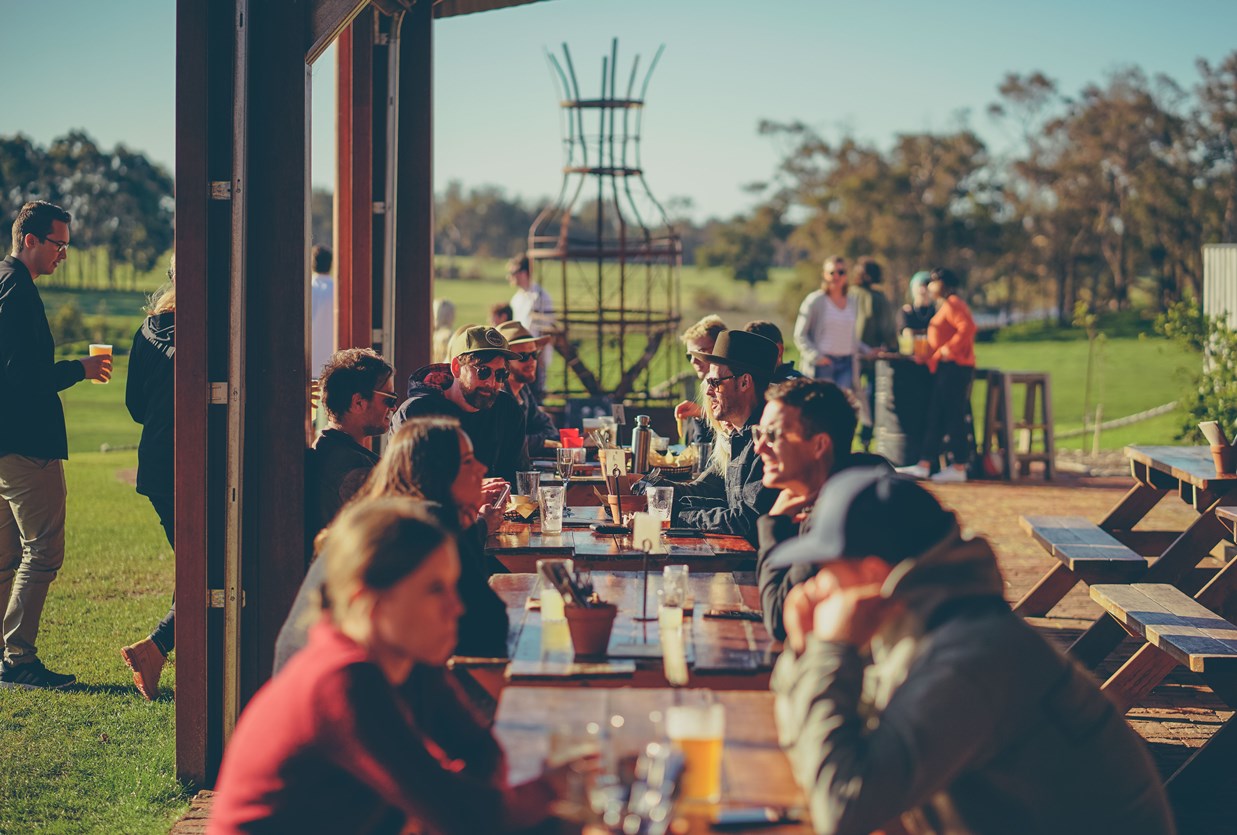 Best Brewery Experience: Beerfarm, WA
We always spoke about the importance of creating the environment where the beer was ancillary to the experience."

General manager George Scott
Much like Moon Dog World was before it, Beerfarm was purpose-built to be named our Best Brewery Experience champions ever since they set themselves up on a working dairy farm in Metricup in the Margaret River region of WA.
Beer Farm, as it was known originally, needed a few extra hooks to lure them in as its rural location, like most in the South West region, wasn't exactly blessed by having complementary neighbours like those breweries operating along the magic miles of Sydney's inner west and Melbourne's inner north can bank on.
So alongside the beer and food that is customary for any brewery's hospitality arm there have been a few "plusses" added in to enhance the overall experience.
"From the start, what we very much realised was beer is great, but it's best celebrated with people," general manager George Scott told us. "So we used to call (that vision) 'beer plus' and that meant beer plus experience and beer plus education and beer plus food and music and all of those things. We always spoke about the importance of creating the environment where the beer was ancillary to the experience. We wanted to make sure there were other dimensions to it.
"Also, if you look at Margaret River, they would say breweries down here were 'an oasis in a sea of wine' and they would reflect that somewhat and try to attract the same people coming down for the wineries. We felt there was a better way to connect with the community by creating a venue they could relate to and not feel they had to dress up to the nines to go to. And it's also about celebrating the traditional industry of the region – and that is agriculture."
Today Beerfarm is a place for all-comers, where the kids can get a taste for the farming life (when they're not shooting down the impressive slip 'n' slide or kicking footy goals that is) while the so-called adults are indulging in a truly authentic paddock to pint and plate experience. Heck, even the family dog is welcome and it's all available in one of the most idyllic locations of any brewery, anywhere in the world.
While its authenticity as a farm is obviously one of its biggest assets, venue manager Emma Locke said they haven't just rested on those laurels.
"People have also recognised the quality of the products that we're putting over the bar – whether that's the beer that we make, the way that we pour it, the food that we put out and even the suppliers that we choose to work with, it's very representative of the drive and passion of everyone that's working out on the farm."
Fingers crossed it's not too long before the WA borders re-open to the rest of the country so those outside of the state can visit. But with plans afoot to set themselves up on Australia's east coast as well, and just over an hour's drive north from Sydney, hopefully it's not long before an even wider audience can get a taste of the Beerfarm experience on a more regular basis.
beerfarm.com.au
WHAT THE JUDGES SAID:
"While some brewpubs have all the charm of a car showroom, Beerfarm's rustic and rough-hewn feel gives this former dairy farm a real sense of authenticity."
"Awesome beer, epic vibes, live music, Friday smoked meat nights, bonfires – the list goes on."
PREVIOUS WINNERS:
2017 Colonial (WA), 2018 Capital, 2019 Lot.100 Mismatch, 2020 Moon Dog World
2021 RUNNERS-UP: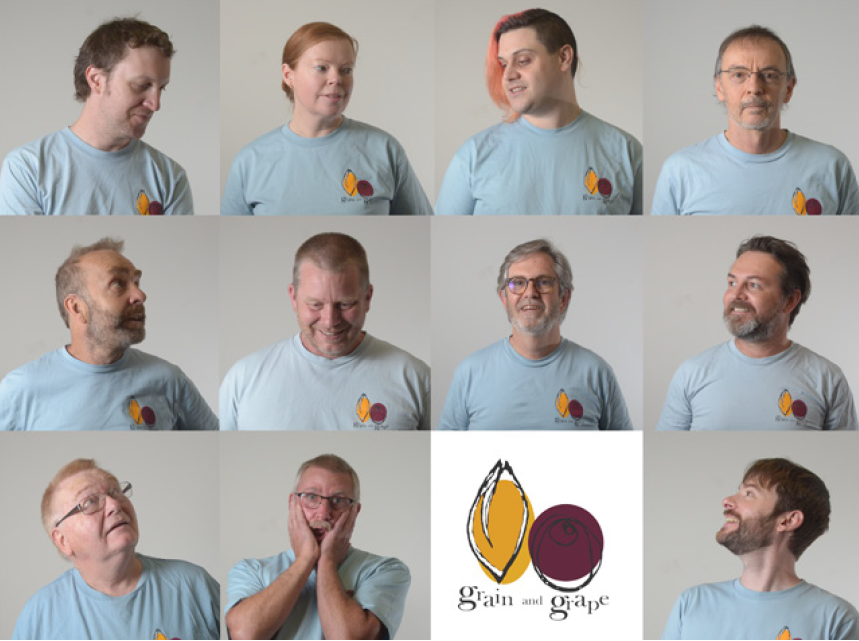 Best Home Brew Shop: Grain and Grape, VIC.
NOW OUR CHAMPION SHOP FIVE YEARS IN A ROW!
While there will be restrictions next year… I can see us being back to some sort of normal and with people shopping in store and with us being capable of hosting more in-store events and demos. That will feel pretty special."

Owner John Preston (pictured – middle row, second from right)
With Melbourne earning the unenviable mantle of most lockdowned city in the world this year it would have been easy to imagine Grain and Grape in Yarraville finally losing its spot as our best home brew shop – a title it's held since 2017.
And it almost did, with a number of stores clipping at its heels that hail from cities that fared far better, in terms of obstacles to trade, than Victoria's capital. But after 30-plus years in business, Grain and Grape owner John Preston and the team have learned a thing or two about resilience while understanding the need to adapt with the times and their 2021 trade was looking, when we last spoke to John, to be 10 per cent up on pre-pandemic levels.
John said the team's mantra throughout the year of lockdowns and restrictions, where they even had to run split shifts at times to avoid a complete company shutdown should a COVID-positive case emerge, was "sticking to our knitting" and that they kept saying to each other "we just have to serve that person in front of us and help them make better beer".
Some of the key reasons our judges voted for Grain and Grape again this year was the fact they married the things they've done so well for so long, like outstanding range and service, with enhancing their online education resources. And you only need to check out their excellent video excerpts from their Good Beer Week System Wars event to see their strength in this area. If they were marked down, it was because of their website not quite meeting everyone's demands in a year where so many of us were forced online for our goods and services. But John assures us they had already identified their website as an area requiring attention and changes are being implemented currently.
"I feel genuinely positive about the future," John said. "And while there will be restrictions next year… I can see us being back to some sort of normal and with people shopping in store and with us being capable of hosting more in-store events and demos. That will feel pretty special."
grainandgrape.com.au
WHAT THE JUDGES SAID:
"They not only provide one of the widest ranges but their customer service and level of knowledge is outstanding."
"Not only are they best in the physical world but their online resources have grown admirably. Number one for a reason."
2021 RUNNERS-UP: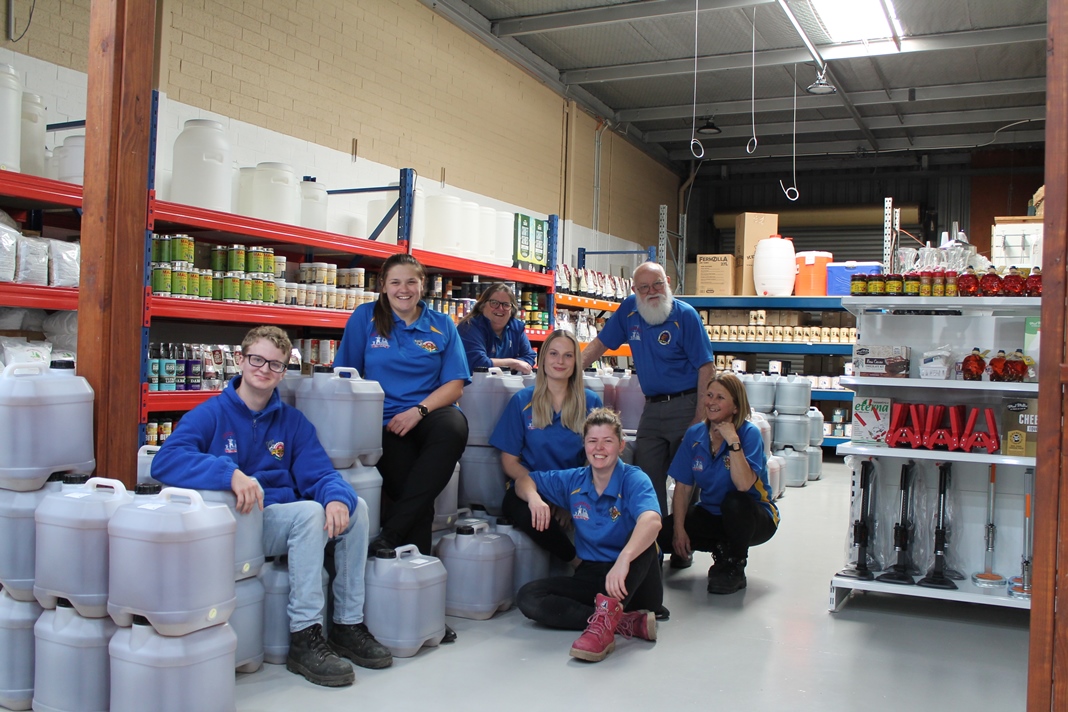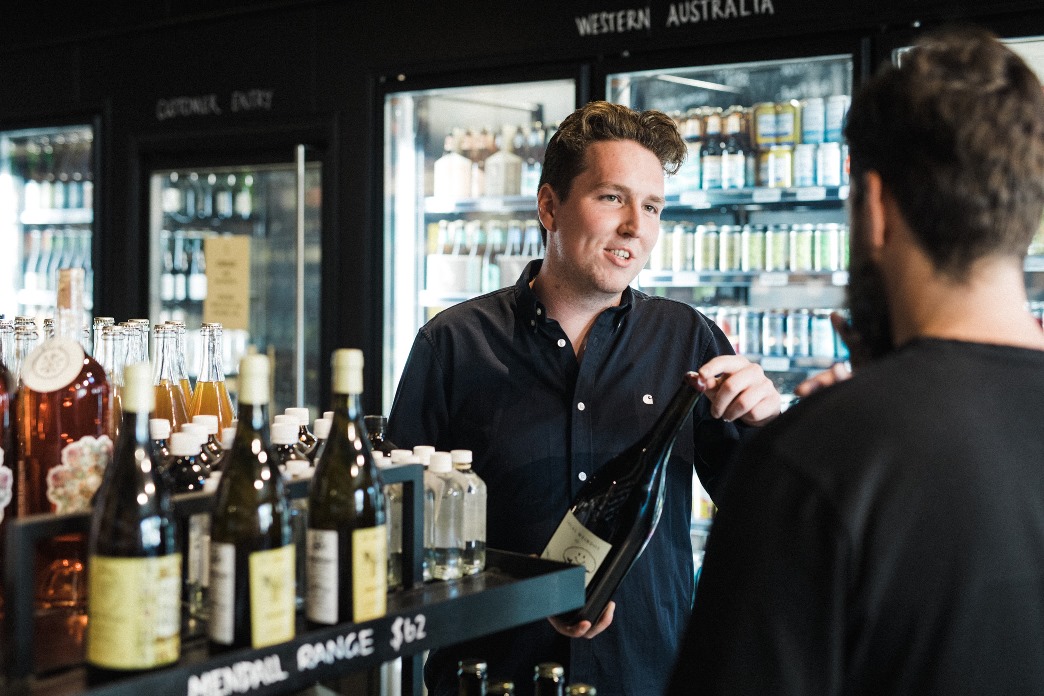 Best Bottleshop: Besk, WA
We're very knowledgeable, and can dive deep if people want us to, but we can also just be your friendly, familiar local bottleshop where it's enjoyable to come in."

Manager James Lorimer (pictured)
Based in West Leederville, Perth and far from the madding crowd of the COVID-plagued east coast, boutique bottleshop Besk was largely able to navigate the past year with little to no restrictions placed on it. There were certainly no five kilometre radius impositions or the like to stymie business.
But ironically it was COVID-19 and its wider impacts on trade and consumer behaviour that contributed to them having success in 2021 and holding sway over our judging panel to win this award.
Bottleshop manager James Lorimer looked back to those heady days of March and April 2020, when it did feel like the sky would fall in on businesses, as the catalyst for now cementing themselves as a leader in their field that people have taken notice of.
"When the big national lockdown kicked in earlier last year the shop went mental, due to things like the support local initiative – which was great. In effect it led to us seeing a lot of new people who are now regulars. We've also been able to get a lot of stuff we wouldn't otherwise have been able to as breweries overseas or on the east coast needed to find new outlets for their beers with hospitality closed for long periods. It's meant we've not only increased our offering but we've forged lasting relationships with in-demand breweries.
"While it's super nice to be recognised (for this award) the main thing for us is we've always wanted to be a place for everyone. We do have the pointy end stuff but we also sell long necks of Swan Draught. So we take that approach with what we stock and the service we offer. We're very knowledgeable, and can dive deep if people want us to, but we can also just be your friendly, familiar local bottleshop where it's enjoyable to come in."
As those thirsty west coasters have poured through the shop James said they've been in search of two things predominantly in 2021 – well crafted simplicity and sessionability.
"A lot of people are a bit fatigued with the big crazy beers. People still buy them but we've found a shift where people are buying the likes of clean lagers and lower alcohol options in the mid-strength to four per cent range.
"And we're selling shitloads of Heaps Normal. It's probably inside our top five best selling beers in cans. People are coming in the shop not asking 'do you have non-alc options?'. They're asking 'do you have Heaps Normal?'."
And with that, we'll leave you with the question: When is a WA brewery going to enter the non-alc craft beer market?
besk.com.au
WHAT THE JUDGES SAID:
"It's not got the biggest range in town but it is so well curated, and so beautifully laid out, it's a pleasure to drop serious money in this place."
"Craft beer's answer to the gourmet provedore."
PREVIOUS WINNERS:
2019 Mane Liquor, 2020 Carwyn Cellars
2021 RUNNERS-UP: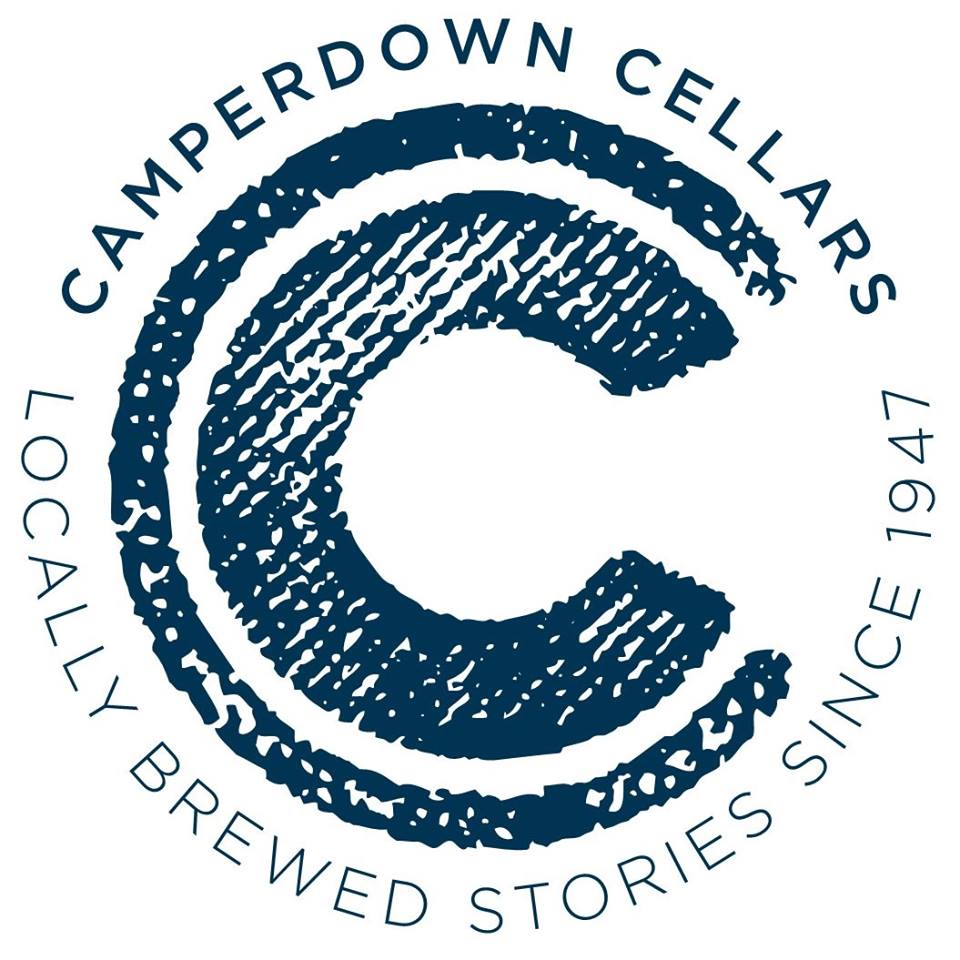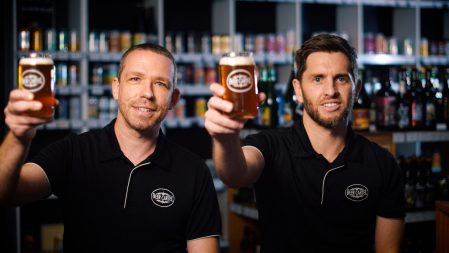 Best Online Retailer: Beer Cartel
WINNERS OF THIS AWARD FOR THE LAST FIVE YEARS RUNNING!
There's such a huge appetite for buying beer online… and I feel that appetite will largely remain even when we get back to what you'd consider normal."

Richard Kelsey (pictured – on the right with fellow co-founder Geoff Huens)
It's been another big year for online craft retailers Beer Cartel and they were again the clear choice for this award for the majority of our voting panel – something they've achieved every year since 2017.
When we chatted with co-owner Richard Kelsey to reflect on winning the award last year he declared they had been growing some months by 100 per cent compared to 2019 while they doubled their staff numbers as COVID-19's impact pushed so many of us online for our beer.
When we caught up with Richard for this latest accolade it was almost like a recording of our 2020 chat, as the extended lockdowns in NSW and Victoria resulted in 100 per cent growth in some months compared to 2020 while they brought in about the same amount of new staff as they did last year to handle affairs.
In an indication of just how busy they've been, this year was the first time since 2016 that they didn't conduct their highly respected Craft Beer Survey. It will be back in 2022 though and the plan is to run it earlier in the year than has been customary.
Richard said: "We've experienced about three years worth of growth compressed into this year and most of last. It's been quite unique – because throughout COVID we've really needed more and more employees but then at the same time we've had to be mindful of being able to social distance!"
While the beer buyers of Australia backed the company in increasing numbers this year so too did investors as over 1,000 of them raised $1.45 million via Beer Cartel's equity crowd funding campaign in July – which at the time was the second largest crowd funding amount secured by an Australian company involved in the beer industry.
It was a massive endorsement of Beer Cartel but also of the future of beer buying in Australia – something Richard feels has plenty of legs left to run.
"There's such a huge appetite for buying beer online… and I feel that appetite will largely remain even when we get back to what you'd consider normal. When you've got 1,000 different beers to choose from and you've got 40 or 50 new ones coming every week, that's a significantly superior amount to choose from than your average bottleshop."
Beer Cartel were yet to significantly dig into their crowd funded war chest when we spoke with Richard, but the plan is to harness some of it soon for website enhancement so, in his words, "people find it as easy as possible to buy beer online" and that "they're not just buying once or twice a year, but five or six times and making us their number one choice".
"That's what we're really aiming for and there are a number of projects happening in the next 12 to 18 months in that area that will be pretty exciting."
beercartel.com.au
WHAT THE JUDGES SAID:
"There's a reason they've always won this category! The staff are lovely, the selection is great, they truly care about quality and their annual craft beer survey is a service to the industry."
"A great selection and a great love and respect for craft beer."
2021 RUNNERS-UP