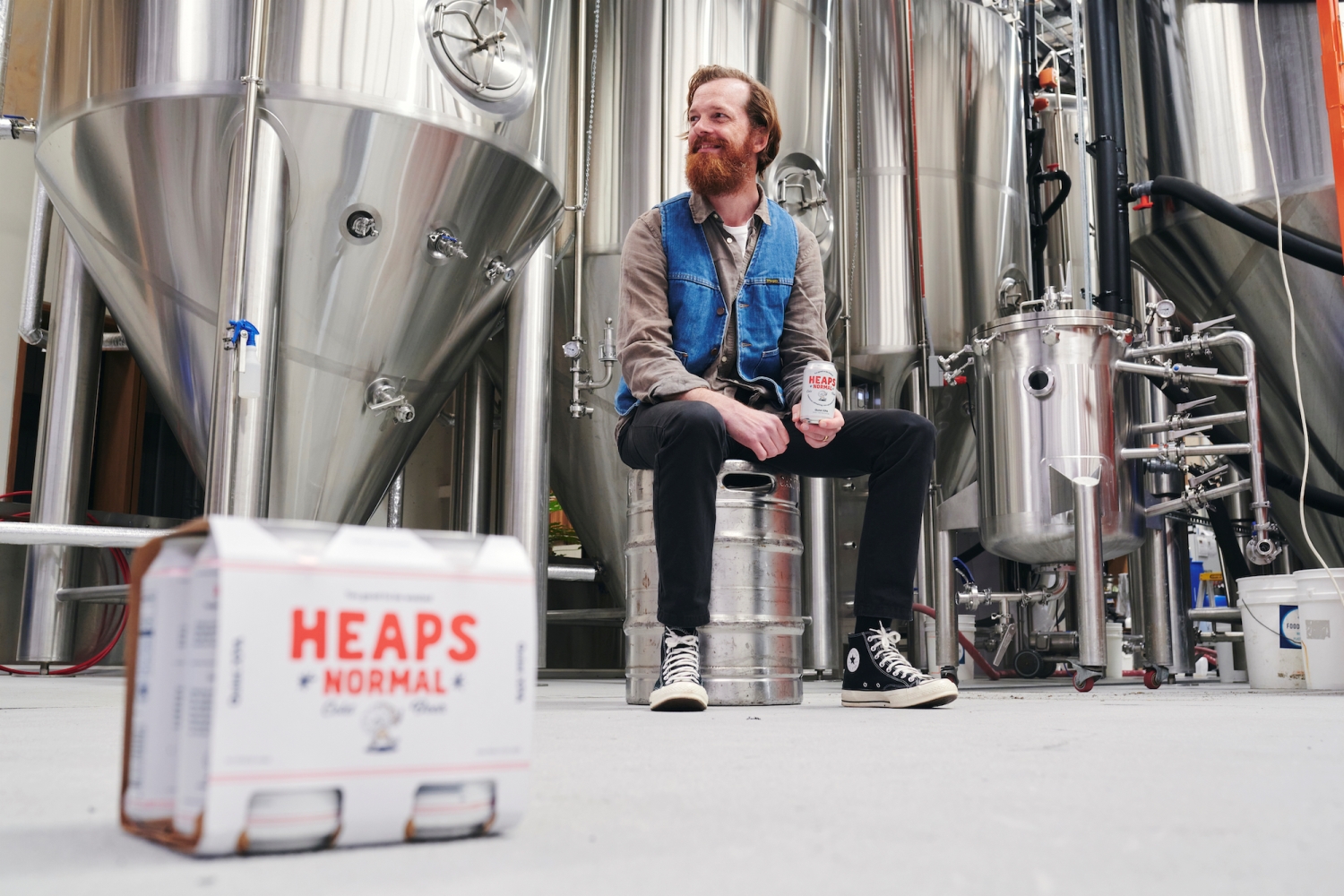 Investors have poured into Heaps Normal's $8.5 million Series A capital raise as the non-alcoholic beer brand sets its sights on impacting drinking culture at scale by building their own production facility.
Heaps Normal's Series A comes 16 months after the Australian non-alcoholic beer brand launched with its signature, award-winning Quiet XPA, which is now stocked at more than 2,000 venues and retailers around the country.
The raise, led by Heaps Normal's chief executive Andy Miller (pictured), opened and closed within a week. In 2022, Heaps Normal aims to cement its position as the country's number one dedicated non-alcoholic beer producer, achieved in part by building a dedicated production facility which Miller says will enable the company to chase 20 per cent of Australia's non-alc market in 2025.
"When we launched, we thought there were probably a few people like us who wanted to cut back on the booze, but didn't necessarily identify as sober. It turns out there's a lot more people in that camp than we first thought. We've spent the last six months selling beer faster than we can make it," says Miller.
"Australia is only now catching up to the rest of the world when it comes to great tasting non-alc beer, but we're catching up pretty bloody quickly! Of course we've worked really hard to develop a great tasting beer that can stand up to a full-strength flavour, but we also feel super fortunate to have tapped into a culture shift away from the stigma traditionally associated with cutting back on the booze."
The investor list behind the raise is a roll call of some of Australia's most dynamic investors and start-up founders working at the forefront of impact and culture-focused ventures, including CEO and founder of Who Gives A Crap Simon Griffiths, Managing Partner of Athletic VC Matt de Boer, and Executive Director of Tripple Bec Milgrom.
Griffiths says Heaps Normal has created a wholly unique position in the market that reflects the current social and cultural climate.
"This is a product and a brand that all beer drinkers can get behind, not just those who are abstaining. That kind of cultural relevance combined with social impact is what excites me the most. I can't think of an example before now of a non-alc brand that has been cooler than an alcoholic brand," says Griffiths.
Matt de Boer, who — as well as leading Athletic VC — is a professional AFL football player with the GWS Giants, says Heaps Normal resonated with him on a number of levels.
"As an athlete, you're always seeking out that added advantage by sharpening your performance. I think we're all becoming more conscious of how we can optimise our own conditions, and the no- and low-alc movement really taps into that," says de Boer.
"As an investor, Heaps Normal embodies the kind of positive disruption and high-growth opportunity that we are looking to back. The non-alc space has gathered a lot of steam recently, but these guys are leading the conversation."
Milgrom, a 100 per cent impact-focused investor with extensive experience in the craft beer industry across Australia and the USA including previously working in communications for Little Creatures Brewing, believes Heaps Normal has the potential to positively impact Australia's drinking culture at a large scale.
"When it comes to changing behaviours and mindsets, you have to do two things: create a viable alternative, and know your customer. What Andy and the team have done is build a brand around those two core principles to give beer drinkers a choice that doesn't feel like a compromise but goes a long way in shifting social norms and expectations," says Milgrom.
A report released by IWSR earlier this year forecast that the no-and low-alcohol volume in Australia will grow by +16 per cent from 2020 to 2024, a trend largely driven by younger generations. The number of people in their 20s abstaining from alcohol increased from 8.9% in 2001 to 22% in 2019. A recent study by DrinkWise found that Australians aged 18-44 are twice as likely to consume zero and low-strength alcohol consumption compared with those aged over 45.
Miller says the biggest indicator of a behavioural shift is the uptake of Heaps Normal over other alcoholic beer options.
"Retailers with hundreds of beers in their range, like Beer Cartel, Kaddy and Blackhearts & Sparrows, are selling more Heaps Normal than any other beer. We get stories that involve someone being able to order a Heaps Normal by name at a venue, and not even have to ask about non-alcoholic options," he says.
This is an edited version of a media release distributed by Heaps Normal.