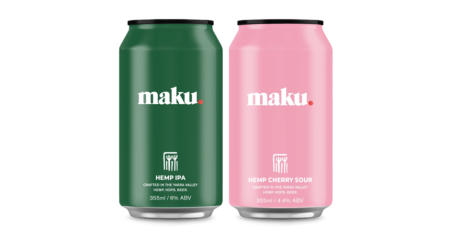 Known for its award-winning, crisp, Australian grown hemp beers, Maku is brewing up two new flavour profiles which push the boundaries of craft beer.
Expanding the Maku range with new seasonals right in time for summer, the team are introducing the hemp-infused Maku Cherry Sour and Maku Hemp IPA.
Combining Columbus and Amarillo Hops, the Hemp IPA features a burst of citrus and tropical fruits. Cased within a vivid green can, this beautifully balanced Hemp IPA is set to be a crowd-pleaser.
Packaged in a vibrant pink can, the Cherry Sour is made to challenge a drinker's palate. With lively, distinctly sour cherry flavours underpinned by subtle notes of hemp, this fresh brew will be a staple for beer fans this summer.
To top it off, both brews are complemented nicely with earthy and nutty undertones from Maku's signature roasted Hemp seeds.
Since the launch of the signature Hemp Session Ale, Maku has taken Australia by storm. From the distribution of their award-winning Hemp Session Ale across Australian Dan Murphy's, the team have had plenty brewing in the background.
September saw the launch of their Maku Pilsner, a crisp, classic, Pilsner-style lager with a clean finish and pleasant hoppy bitterness that will leave beer lovers wanting more. And now, as summer approaches, head brewer Gab Porto has done it again.
On expanding the range, Gab Porto notes, "We're super excited to be able to showcase how versatile working with Hemp can be, adding a twist to classic styles."
The quickly expanding Maku range features beers created with local products, masterfully brewed in the Yarra Valley.
Maku Cherry Sour and IPA are now stocked online at www.maku.com.au with shipping nationally, can be picked up at The Public Brewery's bottle shop in Croydon, or can be found across multiple independent bottleshops.
Company Contact Details
info@maku.com.au or andy@publicbrewingco.com.au
This is a sponsored content piece. To find out more talk to the Beer & Brewer sales manager.