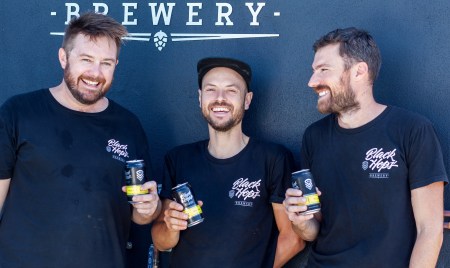 Black Hops have been voted Australia's best craft brewery for 2020, nudging out fellow Queenslanders Balter, in online retailer Beer Cartel's Australian Craft Beer Survey – the biggest of its kind in the country. After topping the poll in 2018 and 2019, Balter placed second this year, BentSpoke third, Stone & Wood fourth while Glen Iris' Deeds Brewing, on the back of impressive and consistent output in 2020, skyrocketed 114 places from last year's survey to rank fifth.
Among a myriad of compelling industry insights, chief among them the sharp rise in online craft beer buying, the survey also showed:
Beer drinkers changed their purchasing behaviour during COVID-19 and shifted to buying more local craft products, with mainstream Australian and international beer and international craft beer the losers from the shift.
There was 60% awareness among respondents to the Independent Brewers Association's (IBA) Independent Seal. This was up 19% on 2019's findings.
93% of respondents were in agreement that "Australian breweries need our support more than ever".
XPAs/Pale Ales and IPAs/IIPAs remain Australia's preferred styles by a significant margin, the popularity of NEIPAs and sour beers is on the rise while golden ales continue to fall in popularity.
Just under 17000 people had their say in the online survey that has been running for five years and studies Australia's craft beer drinking trends. Participant numbers were down by about 6000 on last year which Beer Cartel co-founder Richard Kelsey said was a reflection of one of the survey's key findings – that because of the massive shift to online craft beer buying, they had less time to put as much focus on it than in previous years.
"This year, we've been constantly on the hamster wheel and… we've seen first-hand this switch to online and know the pressure it has put on our own business, with two to three year's growth compressed into just one. We've had to double our staff and re-engineer our processes to keep up with the massive increase in demand. And while that is just our business, I'm sure it is being reflected across the whole industry," he said.
The survey clearly showed that COVID-19 had been the impetus to drive more and more people online to buy their beer – with brewery websites and specialist online retailers the places most likely to benefit from the shift in habits. (Read our recent story about Beer Cartel's own growth in 2020).
53% of all respondents said they had purchased beer online since April this year. That number was 38% last year.
Brewery website purchasing doubled from 14% in 2019 to 28% in 2020. Similarly, purchasing from craft beer specialty websites increased from 19% in 2019 to 27% in 2020.
Richard said he predicted online buying to remain popular as COVID had enlightened consumers to its convenience.
"We've seen a slow and steady shift to online since we started in 2009 but growth has been catapulted by COVID. By stocking a wider selection, or something that's a bit different than the average local bottle shop, then it really drives people to give online a go."
Black Hops' Dan Norris (pictured above, on the right, with fellow co-founders Michael McGovern, left, and Eddie Oldfield, middle) guessed gaining national distribution through BWS this year was a key to their top billing.
"But equally, when COVID hit, we did a heap of stuff online, like home brew competitions and local delivery and we were super active on social media," he said.
"Plus we're a lot bigger now. We're well over twice the size we were last year in terms of scale and distribution. But I still didn't think we'd get to number one against people that normally get themselves to number one."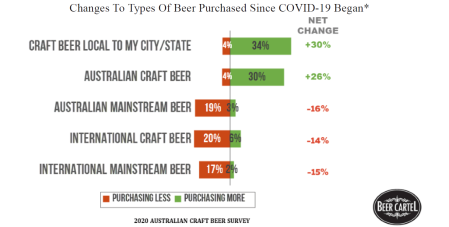 Other key findings
Australia's favourite craft beer bar/pub by state:
QLD – Brewski
NSW – The Grain Store
ACT – Old Canberra Inn
VIC – Carwyn Cellars
TAS – St John Craft Beer Bar
SA – NOLA Adelaide
WA – Dutch Trading Co
Australia's favourite brewery venue by state:
QLD – Black Hops
NSW – Wayward
ACT – Capital
VIC – Moon Dog
TAS – Hobart Brewing
SA – Little Bang
WA – Beerfarm