After three years brewing some of Australia's most cherished craft beers via contract, 2020, of all years, was the time Philter finally got a place to call home, fittingly in their beloved Marrickville stomping ground. They did it despite all the madness going on outside their new brewery's walls and their resultant "COVID-baby" is a beautiful thing to behold. I sat down with a very busy Philter co-owner and head brewer Sam Füss to toast their remarkable achievement (with an XPA of course).
AS A PARTICULARLY PECULIAR YEAR DRAWS TO A CLOSE, HOW DO YOU LOOK BACK ON IT?
That I'm genuinely one of the lucky people, because basically, from a working sense, I didn't have to go into any form of lockdown at all. We built our brewery – our little COVID baby – during the lockdown period and all of
our workers – the sparkies, the builders – they were all classed as essential workers. So we just locked the doors and got down to building a brewery and transformed it into what it is now. We had it all ready to go a while before we opened, but there was really no point in trying to open it and have a big hoo-ha when you can only have 10 people in there. So we waited and we waited, to a point where we could at least have 50 people and then we opened the doors. We wanted to share our big opening with everyone and share the experience of our home, our little baby, our, you know, everything. But there is a real sad view of the year as well. I've seen a lot of friends lose jobs. I've heard of a lot of industry folk not being able to cope with the financial stress of COVID. So it has been quite heart wrenching knowing that you've got a lot of awesome people with family-run businesses, and they were just not able to survive. So, yeah, in regards to that, 2020 has been real shit for a lot of people.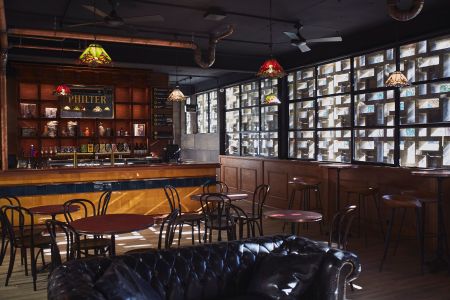 WHAT'S THE FEELING LIKE TO HAVE PHILTER HQ OPEN FOR BUSINESS?
Yeah, look, it's awesome. We've always had that quirky sort of branding, and it's really nice to now be able to show people the essence behind the quirkiness. Now they can come in and talk to us and see the way we operate. Our bar, we call it our public bar not a tasting room, has an identity of its own. At night that comes alive and very much speaks to what we are and who we are while the brewery kind of sits in the background. It's quite a big brewery, quite intimidating, particularly the tanks that can tower over you when you're sitting in the bar. But at night the whole mood shifts into something very up close and personal and communal. And
the fact that it's in our home of Marrickville, we can have our families and friends drop in to what we consider to be our lounge room – which is very special.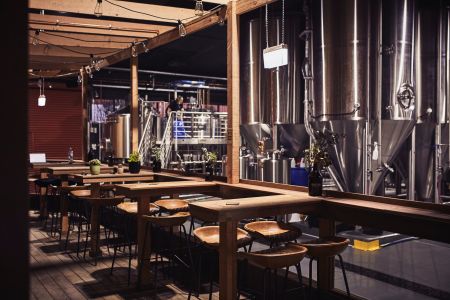 AND, FROM A PERSONAL VIEW, WHAT SENSE OF ACHIEVEMENT DO YOU FEEL?
The awesome thing is we, our group, our family, did most of the design work ourselves. We did a lot of the build ourselves. Christ, I was taking down walls with jackhammers and excavating. (Co founders) Mick (Neil),
Stef (Constantoulas) and myself, we were all very, very hands on during the process. But from a personal view, my greatest sense of achievement this year is the fact I commissioned the brewery and the brewhouse and everything remotely. This is the biggest Premier brewhouse of its kind in Australia. We've got a four vessel, 25 hectolitre fully automated system, and I pretty much commissioned it on my own and via a few Zoom messages with the suppliers in the United States because, obviously, they couldn't come out here to assist – which is what they would normally do. Doing all of that has given me a sense of, well pride, but more the fact that if something breaks down or goes wrong I know I'm going to be able to fix it.
THE FACT YOU ARE FINALLY HANDS ON WITH YOUR PHILTER BEERS MUST BE FANTASTIC?
Bringing everything in-house allows me to make those small changes that I want to make. But all credit to the team at Hawkers (where Philter contract brewed). They brewed fantastic beers for us. But it's really nice to have my babies at my home and I get to play around with them and I get to tweak them in a way that I wouldn't do when using someone else's facility. It's the small things really. Being able to manipulate certain areas of the brewing process, whether that is different dry hopping or rousing techniques or whatever. Like people drive their cars differently, each brewer has their different ways of doing things.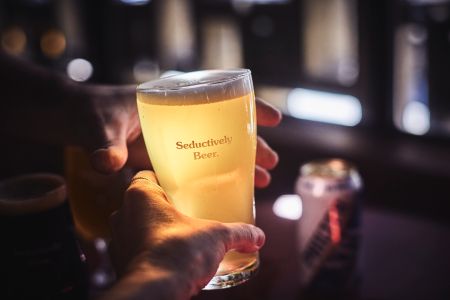 WHAT CAN WE EXPECT FROM PHILTER IN 2021 AND BEYOND?
All of our brews prior to us brewing in Marrickville were 80 or 140 hectolitres at a time. But now we've got an awesome little tank to play around with. So I think what you can expect to see next year, and consistently, are some new expressions as we have some fun, learn about new ways of doing things and developing our skills and knowledge as we go along. And because of our public bar, we're going to be able to see up close what the punter wants and what they react to. You can think you're making the best beer in the world but if you're not selling it and people aren't in to it, well then, you're nothing really aren't you?
Visit Philter's home at 92-98 Sydenham Rd in Marrickville, currently open everyday.
This chat with Sam is part of our 'A Pint With' series of interviews we run in every issue of Beer & Brewer magazine. Head here to subscribe.