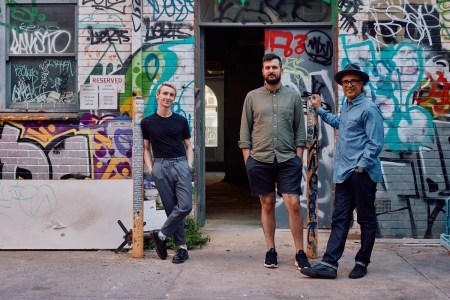 The Sydney-based hospitality group Odd Culture are branching out interstate for the first time as they take their mixed fermentation beer and natural wine-focussed concept from Newtown down to Fitzroy in Melbourne.
Odd Culture Fitzroy is set to open in May and will join the city's stock of bar and bottleshop venues – like Mr West, Carwyn Cellars and Beermash – that operate a hybrid model that blurs the line between on and off-premise.
The 250-person capacity venue in a heritage listed former post office building on Brunswick Street will be similar to Odd Culture Newtown in Sydney that opened in 2021 in terms of its overall interior design as well as its extensive and rare drinks list. But it will differ most starkly by the fact its associated bottleshop isn't two doors up as it is in Newtown but rather on site. The Melbourne venue will also have less of a food focus than the one-hatted restaurant in Sydney provides and will instead boast a small kitchen that focuses on bar snacks, some of which will be appropriated from Newtown.
The venue will be run by Melbourne local Gerry Nass (pictured above on the right with Odd Culture Group creative director Nick Zavadszky, left, and CEO James Thorpe), who previously owned and operated the Robbie Burns Hotel in Collingwood and The Beresford in Sydney before it became a Merivale location.
For Melburnians, the Odd Culture Group founder James Thorpe may have first come to their attention when he and his brother Josh purchased Sydney venue The Taphouse from Stomping Ground and GABS Festival founders Steve Jeffares and Guy Greenstone in 2017. It would go on to be named Beer & Brewer's Best Beer Venue in 2019 following its first win in the awards in 2014. Odd Culture divested its interest in The Taphouse in 2020 and now operates Sydney venues The Duke of Enmore, The Old Fitzroy Hotel and The Oxford Tavern*.
Speaking with Beer & Brewer, James said Melbourne had long been a target for the group's first interstate operation and that it was enabling them to realise a hospitality venture that wasn't really possible in Sydney.
"The idea for the original Odd Culture bar (that was first housed on The Taphouse's second level) came out of a trip we took to Belgium to visit the grand old breweries over there, but it was also partially inspired by a lot of the little drink-in bottleshops that you find in Melbourne but you don't at all in Sydney due to difference in licencing.
"(Fitzroy) definitely feels like a spiritual home for Odd Culture and bringing the Odd Culture concept to Melbourne is something we always considered would work well.
"The boundaries between on and off-premise have been drawn really rigidly in NSW (where) off-premise licences are considered high impact and are the highest risk licence that can be granted. They're only granted by a special panel. Whereas in Victoria, the sort of out-of-the-box general licence allows for both on and off-premise sales. It just makes the retail experience a lot more interesting in terms of an off-premise perspective. Being able to sit down and have a glass of something before you take a bottle of it away just adds another layer to that overall retail experience."
Due to a protracted period waiting for the Fitzroy venue to gain Yarra City Council certification, James said for a year and a half they've been amassing a war chest of rare beers and natural wines in anticipation of opening.
"It means the opening tap list and overall offering is going to be really, really exciting," he said.
But while Odd Culture will bring a reputation to Melbourne for offering the rare and the wild, it's currently finding a far more commonplace beer as equally hard to source as a scarce lambic.
Since establishing Odd Culture Newtown they've delivered a tap list that has displayed the full spectrum of beer – from the approachable to the pointy end – and in doing so have always featured that once most Sydney of beers – Reschs Draught. Their King Street venue even has an internal mural celebrating the now Asahi-owned brand's Dinner Ale.
But James said replicating that tradition in Melbourne is proving difficult due to Carlton & United's distribution channels.
"It's more difficult than you'd think (getting it down to Melbourne). They said they'd be cool for us to ship pallets of kegs down at our own cost. And we will consider that. But yeah, it hasn't been as easy as we'd hoped."
*Since publishing this story, Odd Culture Group announced its lease "was up" at The Oxford Tavern and that Sunday 2 April would be its final day of trade.