According to Australia's largest craft beer survey, the overall awareness of the Independent Brewers Association's seal has grown steadily ever since it was launched in 2018 with almost two thirds of respondents currently saying it has either a large or medium influence on the beers they buy.
But due to "more competition than ever" vying for space and meaning in the craft beer landscape, the IBA said it's launching a new awareness campaign to help consumers make the differentiation "between craft beer and independent craft beer".
The IBA said the "Behind every great Aussie Indie" campaign explains what independence means, tells the stories behind the beer and provides information on how and where to find it. It aims to encourage consumers to look for the Independent Seal when purchasing beer, "or if they can't find a beer with a Seal – to ask for one, so they generate demand".
IBA CEO Kylie Lethbridge said: "We are really trying to create a consumer-based social movement to drive further understanding of what being independent really means.
"We made the decision to create the Independent Seal so beer lovers could easily and quickly identify what is made by Australian-owned brewers. But as the landscape of craft brewing has changed over the last decade we are now faced with more competition than ever."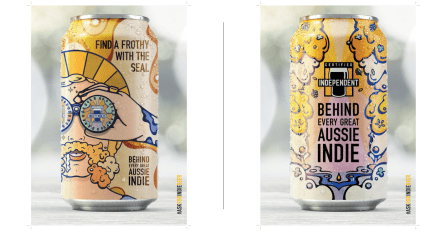 A statement from the IBA said up until recently the idea of what craft beer meant in Australia was something produced by small, local breweries.
"In the last few years, however, larger multinational breweries have increasingly been developing their own craft brands or acquiring successful smaller independent brewers so the need to differentiate is now more important than ever."
Kylie added: "We need to find a way to engage with the consumer directly, to build a relationship with them and to start the process of creating an understanding of what the seal of independence actually means. We want them to build an emotional connection with these family-owned, community-driven, sustainability-oriented, local businesses.
"As we emerge from the last few challenging years research tells us consumers are more concerned about supporting small and local over larger, global players. We see the Independent Seal and the (new)… campaign offering beer lovers a simpler way to do that."
More information about the Seal can be found here.