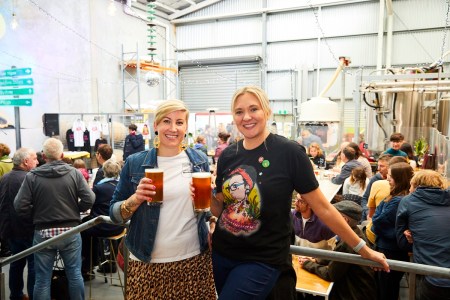 "Re-opening in the post-COVID world and ignoring the fact that it's a post-gender world, is not seeing the future."

Danielle Allen, Two Birds Brewing (on the right with fellow co-founder Jayne Lewis)
Breweries have made an art out of providing an authentic on-premise experience in which to enjoy a beer. Instead of sport on screens on every wall and a pokie room out the back, they've rather championed family-friendly good times and have even let the family dog in on the fun. And while that quintessential experience is still very common and very much part of our beer identity, the brewpub model is also quickly moving with the times and is becoming diverse and refined – where beer is at times secondary to a far more broad church appeal, where allcomers feel welcome and at ease and they're catered for – no matter their sway. In this feature we canvas a range of Australian operators, who are looking further and further within to conceptualise what their brand is, what it looks like and who it is for, as we ask – what does it mean to be a brewpub in 2022?
---
More or less two decades ago, you'd almost feel like you were intruding. Through word of mouth, you'd hear about the (at the time seemingly crazy) concept of a brewery where you could actually drink the beers on-site. Mountain Goat, in the inner-city Melbourne suburb of Richmond, comes to mind. With a certain amount of disbelief, you'd rock up at the designated time, meekly stick your head in the door and ask "can we really come in?".
My oh my, how the landscape has changed! Even just the few square clicks around said Richmond brewery now sport enough quality brew-on-premise venues (Fixation, Stomping Ground, Bodriggy, Burnley, Molly Rose, Nice Guys, Moon Dog OG, Ramblers, Range etc) that you could never cover them in one (extended) session.
And, with beer afficionados now looking for experiences more elevated than what they sought out pre-COVID, the veritable boom in breweries striving to present a perfectly controlled, complete brand experience is astoundingly good timing.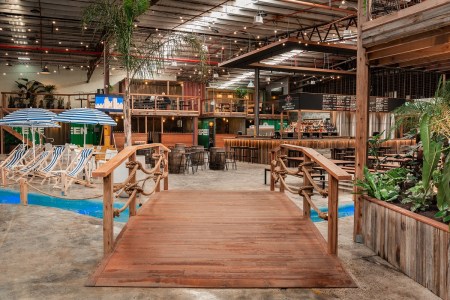 Up close and personal
Josh Uljans, one of the three founders of Moon Dog, which opened its bombastic 12,000-square-metre "adult theme park" Moon Dog World in Preston (pictured above) in late 2019, reckons this ongoing explosion in brewery experiences has been spawned by the desire for beer makers to "communicate directly with the lovers of their brand".
"You can build up much more of a community around who you are as a brewery and as a business and embed yourself in a really tangible way," he said. "When we opened the doors of Moon Dog World, in many ways it completely changed the business for us, just the number of people that were able to have this fantastic, really immersive experience of our best representation of what Moon Dog is.
"For people to have the sights and the sounds and experience the direct communication with people from the brewery and learn about it, it's been an incredible driver of the growth of our broader wholesaling operation."
Stirling Howland, co-founder and brand director of Balter, who have recently revamped their Currumbin taproom and added a beer garden, agreed.
"I think early on, with limited pathways to reach people, the taproom (or brewpub) allows any brewery to connect directly with an audience with the brand experience they want to create.
"Even when you start to expand, and your beers are pouring beyond your four walls, the taproom is still the most real and most valuable connection you can have to your beer community. A lot of great ideas, beers and innovations come from this space.
"I think breweries just want to create the most honest form of hospitality they can. In the Balter world, hospitality is something you do, it's the experience you create. A place with a personal, warm, community-based connection that allows people to come together and enjoy each other's company. There's something charming and real about that simplicity and I feel people are drawn to that. I know I am."
Peta Fielding, who launched Burleigh Brewing's taphouse (pictured above) on the Gold Coast with husband and brewmaster Brennan way back in 2006, said the purpose of their taphouse "from the get-go" was to share the brand and allow visitors to get to know it intimately, as opposed to "running a venue for the sake of it".
"For us, that's what it's all about. It's all about showcasing our beers," she said. "The taphouse provides us an opportunity to invite people in and to get to experience all of that first-hand.
"When we opened, there wasn't anything that could remotely be called a craft beer bar (in the area), so if we wanted people to have an opportunity to try our beer, we had to provide that ourselves. It was all about building trust with the consumer."
The feather in their caps
With fellow co-founder Jayne Lewis, Danielle Allen established Two Birds' brewery, bar and diner "The Nest" in 2014 in Melbourne's south west and in doing so was one of the first brewery venues in Australia to have a red-hot crack at the food they made available.
"We like eating, and we like eating fantastic, well made, tasty food, that matches with beer of course," she explained. "Our trip to the US in 2010 cemented this, as the food offering formed such a big part of the brewery experience (there), and let's face it, having food makes you stay longer.
"Geographically, there wasn't much around in terms of trendy venues in Spotswood, and the location of The Nest is also a 'destination'. There's also not a whole lot of foot or car traffic.
"We recognised the lure of a well-known chef in Melbourne would set us off on hopefully more of a flying start.
"We've needed to evolve the space (over time), as hospitality in general has stepped up. We renovated the kitchen and bar in 2017. Like all hospitality venues, we've experienced turnover of chefs et cetera… and we've operated different arrangements over the years regarding food service.
"Maintaining the original brand character hasn't been too difficult, as the Two Birds brand is bright, colourful, and authentically simple really.
"It's interesting, we've had quite a few venues come to us lately, asking us to do takeovers and activations. They are looking to attract a more inclusive and diverse crowd, and they are looking to brands to help them draw them in. Re-opening in the post-COVID world and ignoring the fact that it's a post-gender world, is not seeing the future."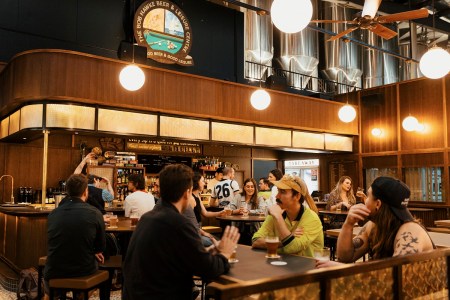 "You've got to just swim in your own lane and try and execute it to the best of your ability."

Nathan Lennon, Hawke's Brewing and The Bob Hawke Beer & Leisure Centre
One of the most wildly creative and popular venues to have launched recently is The Bob Hawke Beer & Leisure Centre in Sydney's Marrickville. Think 80s-style wood panelling for miles, more Bob Hawke memorabilia you could dare to imagine and a throwback Chinese restaurant the Lucky Prawn.
Nathan Lennon, Hawke's Brewing Co's part owner and one of the geniuses behind the concept, drew cues from "in part the pubs (we'd been) to over the years, just that kind of laid back Aussie lifestyle and those sorts of memories".
"We were pretty detailed and clear with the brief. We knew what we were going to create. We wanted to capture the same feeling that (co-founder) David and I felt when we were living overseas. We were homesick, you see movies like The Castle, and you're just like 'Australia, how good!'," he explained.
"What inspired us was really trying to encapsulate that sense of familiarity with this really unique culture that we've all been a part of, that we love, and also build a place that felt very authentic to the era when Bob Hawke was the leader, and a place that we felt he would want to hang out himself.
"We love pubs. We have an obsession with that old pub life and that cultural melting pot and community centre. So for us it was a no brainer. That was the story that we wanted to tell, and it felt really authentic. People love all that stuff."
In forming the concept for their own 72-tap urban oasis, Josh said the crew at Moon Dog began with "a very clear focus on being a really inclusive business and brand, and providing an environment, as well as providing a breadth of products, that can appeal to lots of different people".
"The decisions that we made around how to structure the offering of Moon Dog World very much took into account the values of the business and the brand, the location that we were setting up in and the demographics of that area, (as well as) the scale of the venue," he said.
"It's nice to be able to have enough breadth to our offerings that it can be a fantastic place for a middle-aged bloke like me to bring my kids and have a nice quiet time to myself while they play in the playground, as much as it can be for some early 20s people coming out on a Saturday night. All kinds of different people for all kinds of different reasons."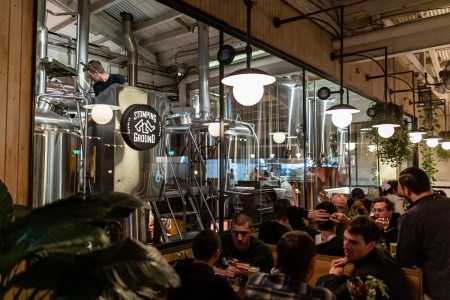 Masters of their universe
It would be hard to find a better example of how to do things exceptionally well than Stomping Ground Brewing Co's growing coterie of top-notch brewery-venues which include the accolade-laden Stomping Ground Brewery & Beer Hall Collingwood (est. 2016), the southern hemisphere's first airport brewery Stomping Ground Brewery & Beer Hall Melbourne Airport (est. 2020) and the latest addition, Stomping Ground Brewery & Beer Hall Moorabbin (est. 2021).
When you're past founders of craft beer institutions such as The Local Taphouses in both St. Kilda East and Darlinghurst, as well as GABS Craft Beer & Cider Festival, it's no great surprise that the above-mentioned establishments deliver a phenomenal experience across the board.
"It's really about elevating the experience, inspired by places like Little Creatures in Fremantle and even the Guinness brewery in Dublin," said Justin Joiner, Stomping Ground's co-founder and hospitality director.
"It's that experience of having the beer at the source and seeing where it's made, and really feeling like that's the best version of that beer that you've ever had. That's what we set out to create.
"It's really become a crucial part of how people actually design and create their brewery.
"Brewing has obviously become such a competitive space, to have to go out and find taps and shelf space in bottle shops for a start-up can be challenging, so to have a direct operation where you can actually sell directly to your consumer is certainly helpful.
"The other thing is that as a marketing tool, you can curate that experience however you want it. You can control the music and you can design the menus and you can do all that sort of stuff, which you obviously can't do if you're just selling the beer wholesale.
"People are really investing in it because they see the value in it. They see that it actually ends up representing the brand and becomes a part of the brand rather than just an afterthought in the corner of the brewery.
"They're starting to really think about who their consumer is, or who their consumer could be, rather than the good old days where you might just brew beers that you'd like to drink.
"That's the other big change in brewpubs over the last five years, they've gone from that little taproom in the corner of a brewery offering the pale ale, the IPA, the lager and the porter, to an offer that is more inclusive and more attractive to even people that don't drink beer.
"The variety of beers available has brought more people along for the ride. And it has coincided with people wanting to know more about where everything they're consuming is produced and who the producer is, whether it's bread or cheese or coffee or whiskey.
"If you come into our venues, we've also got non-alcoholic beer, we've got wine, we've got spirits, we've got a full offer. The theory behind that is the more inclusive the environment is, the more people are going to have a good time."
An outside view
Cherry Murphy (pictured above) knows a thing or two about beer, as well as the ideal environment in which to consume a few. As the beer buyer for Melbourne specialty wine and beer bottle shop group Blackhearts & Sparrows, she spends part of her working week "meeting people, trying beer and visiting breweries".
With an office close to the city's rapidly expanding Fitzroy/Richmond/Abbotsford brewpub amber triangle, she's had the perfect perch from which to observe the ongoing proliferation.
"We don't have such a historical kind of (beer) background as if you go to Europe, so I feel like we're in this exciting time where we're still working out our identity in beer in Australia," she said.
"With that, I think we've gone through some really strong phases, where we've said 'oh, this is what beer in Australia is', but it got to a place that was quite stagnant and needed shaking up.
"I think the culture around brewpubs in Australia (until now) has been less elevated, in a way (that) also contributes to not taking beer as seriously sometimes. The past five to 10 years we saw a lot with smoked meats and burgers and very dude foodie, kind of less inclusive spaces.
"I think that's why breweries are moving towards making things more diverse, but also more elevated as well.
"Vibe is very important. Molly Rose is the first that comes to mind because I think that they're really moving in a direction that's quite progressive in that it's less so the same (traditional) format.
"I've noticed too, places like Bodriggy for example, before they had their hospitality space, I didn't stock that much of their beer, but as soon as they had a space, it was like they formed more of an identity.
"People would go there and think 'oh, I had a great time there. I remember going there, it was fun'. And then they'll form a relationship with that brand.
"It's almost like (they'll say) 'I appreciate the experience that I had at that venue'. I see that especially with breweries like Bright (and) Bridge Road, that people will go out there on a weekend away and they're two really good examples because they're an experience.
"People form an attachment and then they're more likely to reach for those brands again, and I think that's what having a (high quality) hospitality space does.
"I think people got really used to drinking at home (during COVID) and the price of drinking at home. It is a lot cheaper to (do that), so I think if people want to go out, they do want to have a bit more of an experience. Whether that be kind of like a fun, silly one or more of an elevated one.
"People want to do something different. We had such a format of 'this is what a brewpub is, this is the sort of food we sell and this is the sort of beer we sell'. Now everyone's looking around going 'well, why?'."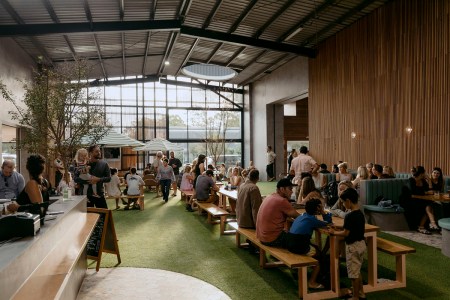 "I believe it's all about the experience you provide with what you have. You can have all the bells and whistles but if your space doesn't function well or your staff are assholes, none of it means anything."

Stirling Howland, Balter
If there was a checklist of must-dos for the perfect modern-day brewery-venue, Nathan underlined that having a really clear idea of what you are, and how you're going to connect to people is absolutely essential.
"I think for the most part, local indie breweries rely on their communities and the parochialism of the people in their areas," he said. "In terms of what's driving the success of hospitality, generally speaking, whether it's a Merivale venue or whether it's a local pub, is the sense of inclusivity and trying to be a place for all, and I think (that's) becoming so much more critical.
"What it needs to do, is it needs to authentically reflect that business and the brand. It's just about knowing who you are and getting a sense of what feels right for you.
"Each to their own – you've got to just swim in your own lane and try and execute it to the best of your ability."
Peta echoed Nathan's sentiments.
"In the craft world, in particular, because we do identify with the community where we come from, and have that real local focus, it just feels like a natural thing for a taphouse to be welcoming to their community.
"None of us would exist without the support of our communities, so it just feels like it's an integral part of who craft brewers are and what we do; in many ways, perhaps similar to if it's a local coffee roaster, or providore.
"I think any hospitality business these days needs to know who your customer is, and needs to present accordingly.
"Hospitality venues in general, whether you're a brewery or not, you (also) need to keep refreshing. You need to know who your customer is and be that. If your brand is really edgy, and underground, having couches collected from street corners and tables made out of chopped down tree trunks, it might be perfectly fine.
"But if that's not what your brand is, obviously that won't work. I think that's probably the key – just knowing who you are, why you are and delivering on that."
Balter's Stirling added: "Great beer selection, good food, clean dunnies, be dog-friendly if your license allows it, live music or at least a good playlist, and more importantly cherish the customer's experience and your community over anything else.
"Making somebody feel welcome and seen is the most powerful thing a venue can do. Do all the other things as well and you have a simple but powerful foundation for a great spot where people choose to come.
"We've always wanted to create a bigger space at Balter and having a beer garden was always high on the list. To be able to realise that vision now and see how packed the place has been since reopening and how people are enjoying themselves is super rewarding.
"We have a belief that good beer is for everybody and we want to deliver that 'with enjoyment'. (Our venue is) super inclusive and it's how we've always approached it.
"I believe it's all about the experience you provide with what you have. You can have all the bells and whistles but if your space doesn't function well or your staff are assholes, none of it means anything.
"So whether you have (something simple) or the fanciest most expensive fit-out ever, it will always come down to how you deliver what you have, and that simply comes down to how can we make our customer's day that much more special?"
Josh at Moon Dog said: "There's always been evolution and new models and people having different offerings, and the things that were popular and relevant five years ago, let alone 10 or 20 years ago, to some extent they can change.
"The fundamentals have never really changed – which is a really great offering that is backed up by really great service and an environment that people enjoy being in.
"It's an incredibly exciting time to have this growth of awesome new beer venues, places where you can get such a variety of different products and a different ethos. It's very cool."
---
This feature originally appeared in our recent special print edition – the 2022 Brewery Guide – where we showcase breweries and their hospitality arms here in Australia as well as a few across the pond in New Zealand. To buy a back copy, head here.