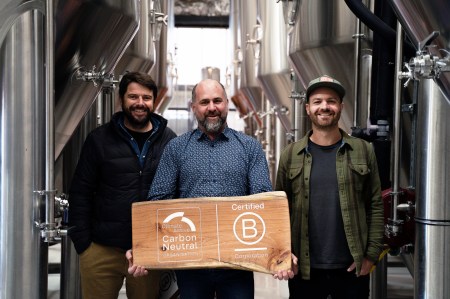 Capital Brewing Co. has achieved B-Corp certification making it just the third Australia-based brewery behind 4 Pines and Stone & Wood to be globally recognised for its commitment to a greener future and transparent, community-led business practices.
The achievement comes off the back of a rigorous two-year assessment of Capital's operations and only five months after it became the first brewery in Australia to be certified carbon neutral for both its entire organisation and all its products under the Federal Government's Climate Active program.
The certification is a proud moment for Capital's founders and managing directors Laurence Kain and Tom Hertel (pictured on the left and right above with Capital's sustainability director Dan Watters in the middle).
"Rather than simply being 'for profit', the three core elements of a B-Corp – a commitment to the planet, people and purpose – has been at the core of every decision we've made since we started Capital over five years ago. We are thrilled to now be one of the 300 Aussie businesses that have those commitments enshrined in our constitution," Tom said.
Laurence added: "Achieving B-Corp certification is no easy task, it's not handed out to anyone who applies. The average score for companies who apply is 50.9 out of 200, with carbon-neutral status awarded just 2 points. We're incredibly proud to have achieved a score of 102.4 and with that, be able to offer our customers the knowledge that by picking up an ice-cold Capital brew from the pub, they are also investing in a positive
future."
Committed to reducing emissions wherever possible and minimising its overall impact on the environment, Capital has implemented a number of energy, water, waste and chemical
reduction strategies and processes across its operations.
This includes initiatives such as introducing 100 per cent renewable electricity at the brewery, installing an automated cellbar tank cleaning system to recycle rinse water and cleaning chemicals and diverting 709 tonnes annually of spent grain, hops, and yeast to Landtasia organic farm.
The brewery also invests in biodiversity as part of its partnership with Orana Park – a farm in Victoria converting to sustainable cropping and permanent planting that also houses a sanctuary for threatened native species – and Jindabyne environmental charity Keep It Cool which sees a tree planted for every Capital beer bought at the snow.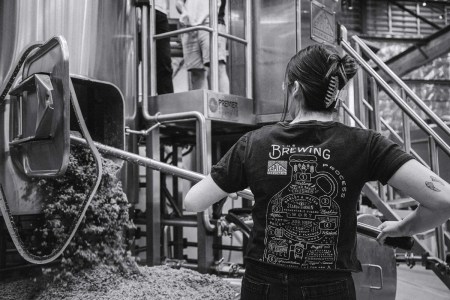 People are also central to Capital's success – both internally and within the wider community.
Laurence said: "Our staff happiness is paramount and so is how we deliver for our customers. From staff safety, training and development, and strict quality control to ensure you always receive a top quality product, all our people are our top priority."
More broadly, Capital has supported over 450 community groups and charities and is
committed to delivering diverse employment opportunities and keeping beer money in the local economy.
Capital is also a leader in sustainability within the brewing industry. The most recent example of this was their partnership with carbon and energy management experts Pangolin Associates to create a template that will allow other breweries to easily calculate their own carbon emissions and provide a streamlined pathway with a reduced administrative cost, to reduce and offset their emissions and gain Carbon Neutral certification.
For more information on Capital Brewing's B-Corp Certification, visit: https://capitalbrewing.co/bcorp/
This is an edited version of a media release distributed by Capital Brewing.