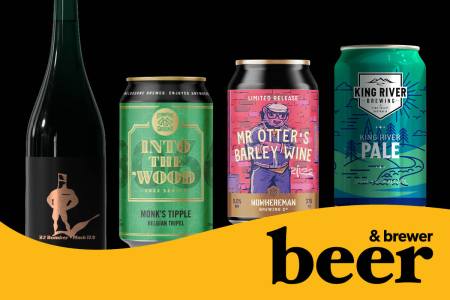 The out now Spring edition of Beer & Brewer magazine features a massive 137 reviews of some of the latest and greatest Australian craft releases.
It's the most we've ever made our way through in the 62 issues we've put out in the 15-plus years the magazine has been running and the feat was aided in no small part by the enduring popularity of the pale ale – and more specifically, as they were the seasonal focus of the Spring issue, the Australian-style pale ale.
From the pioneering through to very modern interpretations of the style, our 22-person tasting panel, that once again included the likes of Balter's Scott Hargrave, CUB's Tina Panoutsos and Bespoke Brewing's Justin Fox, took a close look at arguably the most Australian of beers while getting their way through a very broad spectrum of other styles too.
You can read all 137 reviews, which include a "Highly Recommended" list of 20 beers, by subscribing to our magazine here or by picking it up at newsagents or home brew stores. Head to the bottom to see the beers that made the "Highly Recommended" list.
But as we do after each issue goes to print we publish online the 12 standout releases from our tasting section that our panellists singled out in the "Top Picks" list. These are those outstanding beers: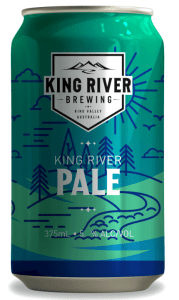 King River Brewing King River Pale
Australian-style Pale Ale 5.4%
With new school looks but drinking old school, this is like an old-style flasher wearing a new trench coat. A clear mid gold with just the slightest hint of haze beneath a dense white foam, aromas of mango and candied citrus are met with wisps of pine and melon with light bready malt. Light tropical flavours and citrus undertones are met by clean sprucey pine and a lick of resin as it discards its cloak to reveal its true self. A firm mouthfeel and no-nonsense bitterness are on the front foot while there's great structure in the finish. Also in the Spring issue, we looked at King River's Red IPA, which made the Highly Recommended list, their two recent wet hopped pale ales – Vic Secret and Eclipse – plus their mid-strength North by North East lager.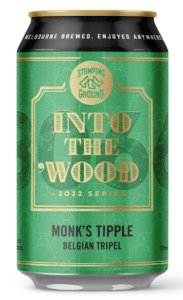 Stomping Ground Monk's Tipple
Belgian Tripel 8.5%
What a beer! Part of Stomping Ground's Belgian classics-inspired 2022 Into the 'Wood series of limited releases (all reviewed in the Spring issue), it's got licks of floral, lemon and clove aromas. Cloves linger and finish long with hints of banana bread and overripe mango. It's moreish, delicious and complex as every sip brings something new, leaving you wanting more. Some would usually err on the side of caution with massive ABV Tripels, but this goes down uber easy. Better call an Uber! Also in the Spring issue, as well as looking at the full line-up of their 2022 Into the 'Wood Belgian beers, we reviewed Stomping Ground's Big Sky Park Ale, Raspberry Smash and the 2022 Rye Whiskey Barrel Aged Imperial Stout.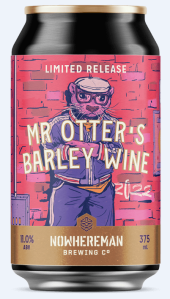 Nowhereman Brewing Mr Otter's Barley Wine
English Barley Wine 11.0%
Holy roasted figs and tobacco Batman, this is amazing! Wonderfully rich and complex, full-bodied and decadent, it is medium mahogany in colour with deep orange hues. The aroma is all stewed prunes, roasted figs and sweet rich malt while a first sip is a rewarding experience where a rich body boasts beautifully crafted flavours of tobacco, caramel and dark fudge with a lingering alcohol zing on the tongue, balanced out by earthy English hops. Enjoy on a cool evening in your best glassware and perhaps even with a cigar if you dare. Also in the Spring issue, Nowhereman's Barrels in the Skigh Sour Ale made the list of 20 Highly Recommended beers.
Five Barrel Brewing Biere De Maison
Australian Farmhouse Ale 6.0%
With a can that calls out the NSW ingredient suppliers Ryefield Hops, Voyager Craft Malt and Mogwai Labs, this is a phenomenal, truly local beer with immediate and powerful notes from the yeast as soon as your nose touches the glass and then quickly followed by light fruit aroma and flavour. The complex flavour profile is accentuated with native wattle flowers and distinct citrus. It pours a pale straw colour with great head retention and a delicate, subtle mouthfeel. Also in the Spring issue, we looked at Five Barrels' Pacific Peak XPA, Füchshund Altbier, Puddle Jumper NZ Pilsner, General Hazy IPA, Freefall Pale Ale and Extension DIPA.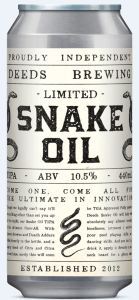 Deeds Brewing Snake Oil
Triple IPA 10.5%
This is a phenomenal beer which somehow manages to be approachable and delicious despite coming in hot at 10-plus-per cent with all the thickness and mouthfeel that often entails. The beer is very well balanced with piney and resinous hop flavours with some stone fruit characters and aromas. A slightly viscous mouthfeel adds to the drinking experience and softens any alcohol burn. Pouring a beautiful colour and presenting very well in the glass, it's one to savour and enjoy fresh! Aside from Deeds' In Vino Veritas also making this list (see below), other beers of theirs we looked at included Right in Two and Extravagance from their Mixed Culture Series plus 1.21 Gigawatts Hazy Pale, Counter Clockwise Czech Dark Lager, MidWinter Vanilla Porter, Special Reserve Smoky Baltic Porter and Multi Pass Pale Ale.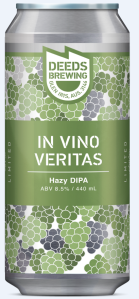 Deeds Brewing In Vino Veritas
Hazy DIPA 8.5%
Made with Sauv Blanc grape must added mid-fermentation and then dry hopped at a rate of 20g/L with Nelson Sauvin, Citra and Galaxy, its straw colour and consistent haze makes it so appetising to look at. Initial aromas of lime and lemon citrus are followed by an almost sharp grape aroma that mingles with the lime beautifully. On the palate, the sharp but clean white wine flavour continues and is supported by a passionfruit sweetness and a subtle but certain guava and strawberry finish. Pillowy in mouthfeel and with a bitterness there to balance.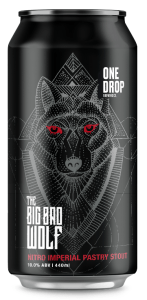 One Drop Brewing The Big Bad Wolf
Nitro Imperial Pastry Stout 10.0%
Aromatically enticing, liquorice features first, complemented with a chocolate waft that triggered thoughts of Easter and overindulgence. The palate is smooth and creamy, an almost velvety texture that is clearly enhanced by the choice to nitrogenate. The oak is subdued, with coffee and cacao more pronounced on the palate. Nougat and hints of hazelnut emerge as things warm up. Overall, delectably delicious from start to finish and a great representation of just how many elements can be packed into a beer that is still sufficiently balanced. Also in the Spring issue, we looked at One Drop's Double Vanilla Custard Pancake Imperial Nitro Thickshake IPA (!), Hazy Pale Ale, Welcome to the Nectaron Experience DIPA, Nobody Move Hazy DIPA, Twisted Fate DDH DIPA, Dark Cherry Imperial Sour and Strawberry Hibiscus Sour.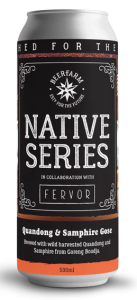 Beerfarm Native Series 8
Quandong and Samphire Gose 3.0%
Pouring a blush peach colour with a lasting dense white foam, the aroma is a blend of pink grapefruit, fresh and stewed peaches and a hint of earthiness via the native quandong fruit and samphire succulent that also provides a saltiness typical of the style. It finishes with an enticing light and lingering salty dryness, that's very well balanced, moreish and refreshingly exciting. Definitely a must try.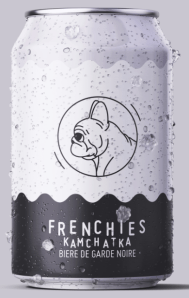 Frenchies Kamkchatka
Bière de Garde Noire 6.1%
An absolutely intriguing beer from the get-go, this black bière de garde is uncompromisingly true to its style throughout. The spicy yeast character blends in beautifully with the dark, mildly tannic malts that also add a lovely layer of vanilla bean-like sweetness. There is some mild hop character present, but this beer is all about the malt and yeast interaction, which it captures superbly. Also in the Spring issue, we looked at Frenchies' Hazy XPA, Black Coconut Milkshake IPA, The Smorgasvein Grape Ale, Bastille 1789 Blonde Lager and two recent collabs with Hopsters – the Hazy Oz and Hazy NZ IPAs.
Hop Nation The Heart
Pale Ale 4.6%
With beautiful clarity, it's light straw and upholds a solid white head. Aromas of lime citrus are followed by notes of green melon that continue to the palate. Whilst it has low level bitterness this is greatly balanced by an equally low amount of sweetness which, with a great palate cleansing carbonation, puts it up with the most refreshing pales you'll find.
Modus Brewing Neon Nectar
Hazy IPA 6.5%
Heavy on the peach, orange and pineapple juice aroma, this is smooth and juicy with a dreamy creamy mouthfeel that's just so soft and fluffy. Peaches and pineapple shine on the palate – like that breakfast juice in the grocery store – and this is a hazy IPA as bright as its neon name suggests. Also in the Spring issue, we looked at Modus' core range Pale Ale.

Bridge Road Brewers B2 Bomber Mach 12.0
Imperial Belgian Black IPA 10.1%
Bridge Road know how to celebrate a birthday in style, and for their 17th they really went all out. Mach 12.0 is like a layer cake of aroma and flavour that just keeps on giving – from the almost instant coconut hit thanks to the Cryo Sabro addition to those distinctively fruity Belgian yeast esters followed by the smooth chocolate and coffee notes before ending with the warming and slightly boozy dry finish that lingers on your palate without overwhelming it. Something to savour and probably best shared with beer-loving friends. Happy birthday to a stalwart of the local brewing scene.
Our Spring issue's Highly Recommended list of 20 beers included:
Rocky Ridge Jindong Juicy Pale Ale 5.0%
Nomad Brewing Budgy Smuggler Pale Ale 5.0%
Burleigh Brewing Burleigh 28 Pale Ale 4.8%
Stomping Ground Big Sky Park Ale Pale Ale 4.3%
Stomping Ground Raspberry Smash Fruited Sour 4.2%
Stomping Ground Bonnet Rouge Framboise Witbier 4.3%
Stomping Ground Rye Whisky Barrel Aged Imperial Stout 10.0%
Balter Brewing NZ Hazy Hazy Pale Ale 6.0%
Exit Brewing Grapefruit IPA 6.0%
Jervis Bay Brewing Bright Idea XPA 5.0%
Matilda Bay Alpha Pale Ale 5.2%
Cupitt's Estate Hoppy Haze NEIPA 6.5%
King River Brewing Red IPA 6.1%
BentSpoke Brewing Regina Pale Ale 4.2%
Slow Lane Brewing Taking Stock British Strong Ale 11.5%
Nowhereman Brewing Barrels in the Skigh Sour Ale 5.7%
Capital Brewing All Night Long Dark Lager 4.2%
Fox Hat Brewing Rusty Mongrel Barrel Aged Imperial Stout 10.1%
Deeds Brewing Right in Two Barrel Aged Beer/Wine Hybrid 8.8%
Deeds Brewing Extravagance Barrel Aged Mixed Culture Ale 6.3%
---
If you're a brewery not receiving our invite email to partake in our tastings but would like to, email us here; and if you want to read the Spring magazine's 125 other craft reviews, and all the ones to come in future issues, subscribe to Beer & Brewer here.