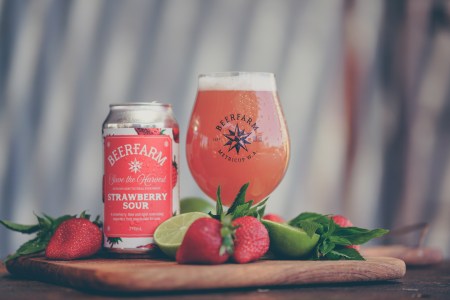 With the return of Beerfarm's Strawberry Sour the WA brewery's Save the Harvest initiative continues with over two tonnes of rescued fruit used in the new version of the beer.
The first incarnation of this sour was seen in late 2018 when the Metricup brewery saved strawberries destined for the dumpster during the 'needle in the punnet' scandal that rocked the industry. They also released a Berliner Weisse in that same year that repurposed overripe Queensland pineapples that would have otherwise been discarded.
Now they're at it again as another crisis sees fruit going to waste en masse.
With COVID-19 shutting international borders and the subsequent shortage of flights from WA, exports have been largely squashed.
Unsurprisingly this has caused domestic prices to drop below the cost of production and strawberry crops have been ploughed back into the ground. To amplify the emergency, this season has seen Australia's biggest rural labour shortage to date, with 40,000 unfilled harvest positions as seasonal workers leave the country or can't arrive in the first place.
Without overseas workers to harvest the fruit, farmers have been forced to leave their produce to rot on vines, trees and in paddocks, with many strawberries never making it out of the farm.
"We reach out to any farmers that may have excess or ugly fruit prior to producing beers in an effort to show how wasted fruit is a common issue amongst a lot of agricultural industries across Australia," Beerfarm's head brewer Josh Thomas said.
"Ugly fruit and agricultural waste has always been something in our society that people should recognise and be aware of. Any way we can reduce the amount of energy consumed to grow fresh produce and avoid the waste is why we want to make beers like our Strawberry Sour."
For Josh, when it comes to brewing with fruit, the uglier the fruit the better.
"Apart from reducing waste, ugly or even older fruit can be very beneficial to us in achieving the right balance when making fruited sours," he said.
"Many varieties of fruit tend to have more flavour and sugar when they are slightly aged, they can also be easier to process; which at times can also result in a higher yield."
Beerfarm's brewers only use real fruit and adjuncts in the brew.|
"We want to ensure we are being as true as possible with the flavours we are aiming to achieve in our beers and adding juice or puree from 100 per cent fruit," Josh said.
"Adding fruit at different stages of the process allows us to do the adjunct justice while still producing a beer at heart.
"If we were to take the easy street with an essence, we'd likely get something that tastes like it comes straight out of a lolly packet and lacks real authenticity.
"This year we had the strawberry juice lightly filtered. The beer still has the fresh strawberry character and colour but is more smashable and suitable for the warmer weather, with the lime and mint providing the refreshing aspects complimented by the balanced Berliner acidity."