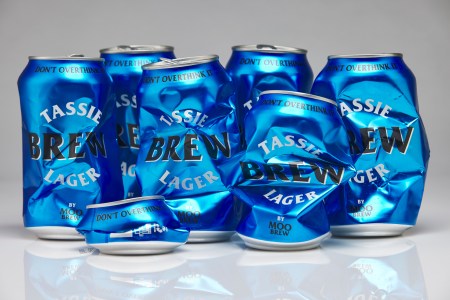 Tasmania's largest independent craft beer brewery Moo Brew is expanding its portfolio with the addition of a new sub-brand called BREW by Moo Brew.
As the younger cousin to Moo Brew's core range, the BREW by Moo Brew stable will champion easy drinking sessionability with all the craftsmanship and quality of Moo's classic styles.
Moo Brew have released the BREW Tassie Lager as the first offering from the newly launched label. With a crisp malt bill, subtle hop notes and low bitterness, this refreshing all rounder is best enjoyed cold, all year round.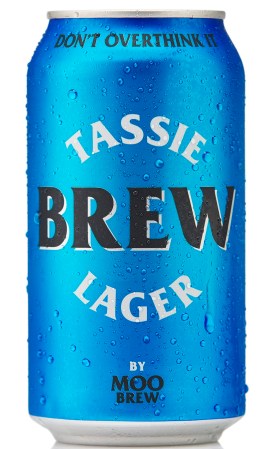 Jack Viney, Moo's head brewer, said: "For the first product in our new BREW range we wanted to make something unfussy, modern and downright drinkable. The BREW Tassie lager ticks all those boxes. We're really pleased that after the craziness of 2020 we're able to start the year with a fun new addition to the Moo Brew family."
Building on Moo Brew's reputation for finely crafted and high quality brewing, BREW operates under the simple premise 'Don't overthink it'.
BREW by Moo Brew is set to develop a selection of reliable and tasty beers, aiming to become a first rate and affordable go-to for beer buyers, with more flavours and styles added to the BREW range in the near future.
Moo's general manager Lauren Sheppard said: "Having recently celebrated our 15th anniversary, Moo Brew remains deeply committed to our Tasmanian roots and long-running brewing traditions. But that doesn't mean we can't mix it up a little. The BREW by Moo Brew range is another chance for us to show drinkers what Moo Brew has to offer. And we're only just getting started."
The BREW Tassie Lager will be launched at Mona's high-summer festival of music and arts, Mona Foma, that runs from Friday 15 January through to Sunday 24 January 2021, with events taking place over two weekends in Launceston (Friday 15 to Sunday 17 January) and Hobart (Friday 22 to Sunday 24 January).
Following the festival, the BREW Tassie Lager will be available at all good bottle shops and in select venues.