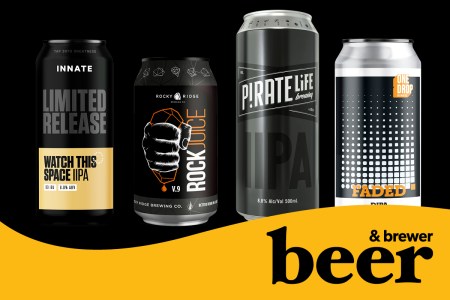 The out now Winter edition of Beer & Brewer magazine features a massive 132 reviews of some of the latest and greatest Australian craft releases.
Our 20 person panel, which includes Balter's Scott Hargrave, CUB's Tina Panoutsos and Bespoke Brewing's Justin Fox, tasted their way through everything from an oak smoked sour to a fresh hop lager while paying particular attention to double and triple IPAs which were our seasonal focus beers.
You can read all 132 reviews, which include the all-new "Highly Recommended" list of 20 beers, by subscribing to our magazine here or by picking it up at newsagents or home brew stores. Head to the bottom to see the beers that made the inaugural "Highly Recommended" list.
But as we do after each issue goes to print we publish online the 12 standout releases from our tasting section that our panellists singled out in the "Top Picks" list. These are those outstanding beers: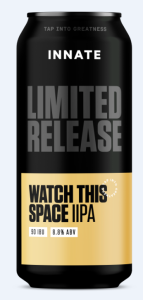 Innate Brewers Watch This Space
Double IPA, 8.8%
This multi award-winning stunner is deep gold with slight orange hues, has medium haze and a low head while lacing on the glass is superb. Resinous and complex hop aromas, with stone fruit, lychee, mandarin and mashed pine cones, are met with rich malt and pronounced hop bitterness which carries the hop flavour and aroma through to the back of the throat. A rich and resinous beer, full of flavour, texture and aroma which gives you that lip-smacking moment where you talk to the glass. Mostly you would be saying "holy crap, this is intense".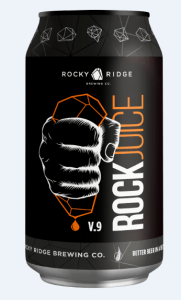 Rocky Ridge Rock Juice (2022)
Triple IPA, 10.0%
A beer that needs no introduction, the 2022 iteration is a return to familiarity after the last divided opinions and required a complete rebrew! Version 9 is textbook stuff from Rocky Ridge, however, landing at a sizeable 10.0% ABV and unleashing bold characteristics of overripe stone fruit, vibrant citrus and piercing, sticky pine. The ABV is noticeable but not overbearing, unlike the in-your-face hop characters derived from the nine varieties utilised in this massive, hop-driven beer where hops last a lifetime after each sip. In the Winter edition we also review Rocky Ridge's I Hate Hazies Brut IPA, the Rock Beast Double IPA collab with Blasta and their You Wouldn't Download a Beer Hazy IPA.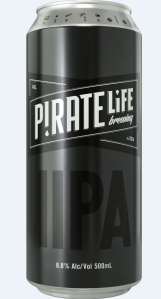 Pirate Life IIPA
Double IPA, 8.8%
Known as "the original party starter" by Pirate Life fans as it was the first beer recipe ever brewed in their original brewery in Hindmarsh. And this DIPA looks great in a glass, pouring golden with a persistent head of foam while the nose has mango, honey on toast and orange marmalade. Once sipped, more resinous piney flavours kick into gear but they are well balanced with assertive bitterness. Really approachable for a DIPA. In the Winter edition we also review Pirate Life's Nectaron & Idaho Gem Double IPA, the Mandeaux Saison and the Peach Iced Tea Ale.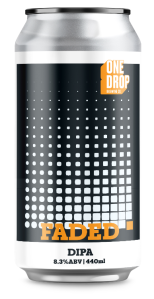 One Drop Brewing Faded
Hazy Double IPA, 8.3%
A very classy hazy DIPA where the flavours are clear and defined without any hop burn, and the mouthfeel is full-bodied and creamy in texture. Visually it's a very hazy copper colour with a persistent cloudy white head while it's high in aroma with big overripe tropical fruits bursting forth while there are notes of the high ABV on the nose. Tropical fruit hop flavours and a sweet creaminess come through on the palate while it finishes with a subtle alcohol warmth. It's very full bodied in mouthfeel with a well balanced medium carbonation. Aside from Body Count (below) also making our panel's "Top Picks" list, we also reviewed One Drop's Clean Fusion Hazy IPA, Slip Dart Czech Pilsner, Midnight Sun NEIPA, Meridan Imperial Berliner Gose and the Plum Sour.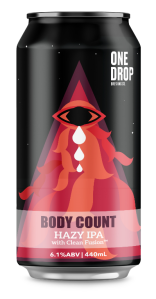 One Drop Brewing Body Count (with Clean Fusion)
Hazy IPA, 6.1%
A stunning work in thoughtfulness and execution and already one of our picks for Aussie beers of the year. On the nose is an abundance of resin with luscious, fresh fruits poking through with accents of green grape and orange blossom. Wheat and oats add a beautiful light creaminess and effortless drinkability as mango and pronounced berry notes appear on the finish before being lost in a light and almost dreamy bitterness. All the elements work together in harmony, with great bitterness, real fruit characters, exceptional body and minimal oppressiveness that you may have expected.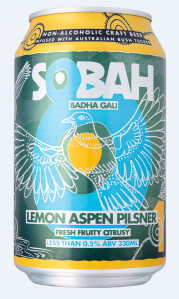 Sobah Beverages Lemon Aspen Pilsner
Non-alc Pilsner, <0.5%
Wow! Talk about a great expression of the native bush tucker fruit Lemon Aspen. The instantaneous burst of grapefruit, lime and hint of white pepper on the aroma flows quickly through to the palate. The flavours linger softly and the short finish beckons for another sip to replenish this exotic citrus character. It's certainly different and quirky but absolutely worth trying. In the Winter edition we also review Sobah's Finger Lime Cerveza non-alc Mexican lager plus chat with co-founder Clinton Schultz in our feature on the rise of "better for you" beers.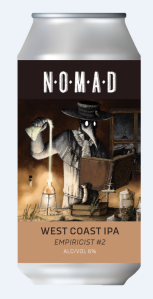 Nomad Brewing Empiricist #2
West Coast IPA, 6.0%
A wonderful example of an old school West Coast IPA. It's got a complex malt palate full of pale and crystal malts that work beautifully with the bold bitterness that hits all the right retro notes. The beer drinks like it should: clean, lean, bitter and flavoursome, and is probably the best contemporary version of this style of beer you can expect to find fresh on our shores. Nomad's Empiricist #3 is out now while in the Winter edition Nomad's Freshie Pine Lime Fruited Gose and their Easy IPA both made our new "Highly Recommended" list plus we also review their Rosie's Imperial Sour and Champers in Paradise Brut Sour.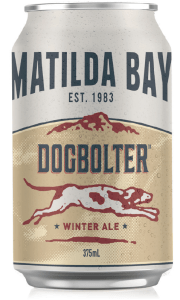 Matilda Bay Dogbolter
Dark Lager, 4.7%
Lightly hazy chestnut brown with persistent fluffy off-white foam, toasty malt aromas offer comforting sweetness mingling with hints of red berries and forest fruits while a touch of Hersbruker's perfumey florals come hither. Well weighted toasty malt and a little roasted malt flavours walk a fine line between sweet and dusty while it meanders pleasingly via light fruity esters and a herbal thrust. A self-assured mouthfeel hints at its previous Munich Dunkel-like incarnations but bitterness now is more an ode to Altbier. You could say it has old world charm but this is more old school precision and intent.
Fox Hat Phat Mongrel
Oatmeal Stout, 6.4%
Winner of last year's Royal Adelaide Beer & Cider Awards' best in show, this is a cracker. Pouring deep black with a thick tan head, you immediately know it will be luscious. Hints of cocoa and molasses on the nose, the first sip brings the roasted malts and a surprisingly firm, but welcome bitterness. Overall it's this bitterness that balances it all, resulting in a serious Winter sipper that will become a staple in many fridges. In the Winter edition we also look at the other members of Fox Hat's Mongrel family – the Full Mongrel RIS and the Bearded Mongrel Bourbon Barrel Ages Stout.

Dollar Bill Lichtenhainer
Oak Smoked Sour, 5.4%
A very hazy light gold with thin wispy foam, its aroma features an out-and-out battle between hammy, oak-smoked wheaty acidic citrus notes and funky, take no prisoners yeast characters. Ham and smoke flavours lead as overripe fruit and cellar characters sweep in with sweet weirdness as a deft phenolic poltergeist rises and falls, whispering "boo", then "sorry", then "boo" again. An initial acidic sizzle widens and softens in part due to the oak and adds a balancing anchor to the brash but friendly combo of smoke and sour. Aside from Candy Paint (below) also making the Winter magazine's "Top Picks" list, we also took a look at Dollar Bill's Red Letter Barrel Aged Sour and their four "Storm Series" beers – Perception, Tranquility, Aftermath and Crescendo.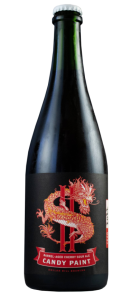 Dollar Bill Candy Paint (2022)
Barrel Aged Cherry Sour Ale, 7.2%
This is really very good and boasts the full package: it looks, smells and tastes fantastic, and we'd go as far as calling it better than a certain world famous Kriek. Wondrously cherry red in colour with a thin white head that halos the glass, Brettanomyces dominate the nose but a good sniff brings in all those earthy, rich cherries. On taste, a huge punch of sourness from the cherries is closely followed by delicious cherry coating the palate and finishing with Brett character. Thinnish in body, with a very sharp carbonation, balance is on point and displays just the right amount of sweetness to bring you back for more.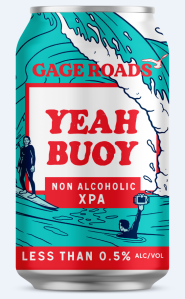 Gage Roads Yeah Buoy
Non-alc XPA, <0.5%
Launched earlier this year as their first foray in the non-alc space, there's a lot to like in what Gage have achieved through the development of Yeah Buoy: successfully pairing plenty of XPA character with sub 0.5% alcohol. The giveaway cereal-like properties often dominant in these brews are thankfully well masked behind a bright tropical hop combo that delivers on both aroma and flavour. The palate is crisp as promised, delivering a typical XPA bitterness and quench. Balance is key in the low and no game and this one hits the spot.
Our Winter issue's Highly Recommended list of 20 beers included:
Capital Brewing Big Drop DIPA, 8.2%
Little Bang Road Tripper Double WCIPA, 8.1% & Sludgebeast Imperial Stout, 12.0%
BentSpoke Brewing Cluster 8 DIPA, 8.8%
Mountain Culture Triple Threat Triple RIPA, 10.0%
One Drop Hazy IPA with Clean Fusion, 7.2%
Rocky Ridge I Hate Hazies Brut IPA, 7.6%
Frenchies Astrolabe Red Biere de Garde, 7.4%
Slow Lane Best Wishes Belgian Christmas Beer, 9.0%
Holgate Brewhouse Temptress Robust Porter, 6.0%
Boston Brewery Whisky Barrel Aged Imperial Stout, 11.0%
Nomad Brewing Freshie Pine Lime Fruited Gose, 4.5% & Easy IPA, 4.5%
Burleigh Brewing Burleigh Blonde Lager, 5.0%
Yulli's Brews Two Shoulders Skin Contact Golden Ale, 5.8%
Mountain Goat Cold IPA, 6.2%
Bridge Road Tropical Sour, 4.1% & Eggster Triple Chocolate Ale, 6.0%
Cupitt's Estate Milton Pilsner, 4.8%
Two Cities Dark Lager, 5.0%
If you're a brewery not receiving our invite email to partake in our tastings but would like to, email us here; and if you want to read the Winter magazine's 120 other craft reviews, and all the ones to come in future issues, subscribe to Beer & Brewer here.