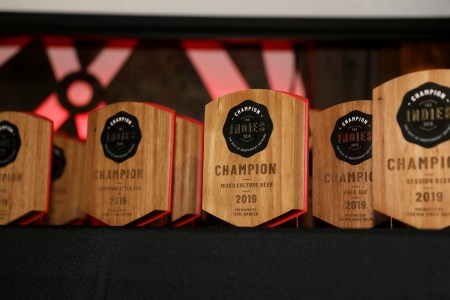 The Independent Brewers Association (IBA) has announced major changes to its flagship Indies Awards following a review that looked into how incorrect Champion Brewery trophies were announced at the three previous competitions.
In a letter to members, IBA CEO Kylie Lethbridge said: "A comprehensive review was undertaken by an independent consultant and we have spent the last few months working through each and every recommendation with the aim of curating an Awards program that is truly ours – a marquee event celebrating the quality and the uniqueness of our independent brewers and a program that progresses to the consumer and integrates with our trade engagement program.
"From the review we have formed an action plan, some of which will be implemented for the 2022 Indies Awards, and others over time that require additional thinking, consultation or resources."
In a statement, the IBA said the revised purpose for the Indies Awards was "to celebrate and reward the quality and innovation of the Australian independent brewing industry" and that this was used "as a foundation to make final decisions on the recommendations contained in the review. It also helped curate an awards program that strives for excellence by improving feedback and includes new opportunities and added benefit for medal and trophy winners by evolving to target consumers and trade".
Changes to the Indies include:
• Implementation of a new competition tech management system
• An integrated judges training and mentoring program
• A revised trophy and class schedule welcoming new categories – Juicy-Hazy and NoLo and the renaming of Hybrid and Mixed Culture to more consumer friendly Speciality and Fruit & Funk.
• Merging of the competition's smallest categories; Amber-Dark Ale with Porter-Stout to what will now be Amber-Dark Beer
• The creation of a new Advisory Committee and;
• The adoption of a new scoring methodology for determining Champion Size and State trophy winners. This new method will measure a brewery's overall performance in the competition and not just their top beers.
"The main changes we will make this year are around ensuring we don't come across the same issues experienced in 2021," Kylie said in her letter to members. "All major recommendations and our response can be found in the Indies Review Paper here."
IBA Chair Richard Adamson said in a statement: "While the impetus for the review came off the back of issues we experienced with scoring in 2021, it has allowed us the opportunity to pull it all apart and to build a program we feel is best practice on a world stage".
The first to be implemented following the review is the creation of a new Indies Awards Advisory Committee. You can find a role description here and the expression of interest process here. EOI are open until June 24.
Entries for this year's Indies Awards, which will again be run virtually and staged across state hubs, open July 18. The 2023 Indies and BrewCon event will return to a pre-pandemic nature and will be held at the Gold Coast Convention Centre in late August next year.