Sydney brewery and bistro Frenchies are bringing back the flair for Bastille Day and will mark this year's la fête nationale with a new "revolutionary beer" and a series of degustation dinners of iconic French cuisine.
The Rosebery venue, founded by the "Frenchies" Thomas Cauquil and Vincent De Soyres, had previously marked the French national day each year since founding in 2017 but were forced to abandon the reverie for the last two – for obvious reasons.
But with those days of restrictions thankfully now passé, the Australian brewery, with the most French connections of all, are getting back to normal transmission with degustation dinners from July 13 through to July 16 and the national release of Bastille 1789 – a blonde lager rich in French Strisselspalt (plus Saaz) hops and pils, wheat and crystal malts from eastern France.
Master brewer Vincent said the idea to brew the 4.5% ABV lager for a Bastille Day celebration first came about back in 2020.
"But the pandemic had other plans!" he said. "So we're excited to be launching Bastille 1789 this year, at a time when we can all get out and enjoy the day together – albeit in true French style, we're inviting you to celebrate all month long.
"This revolutionary beer is malty and refreshing, making it perfect for sipping on with others, whether that's at Frenchies, in the comfort of your home, or at the many celebrations happening throughout the country."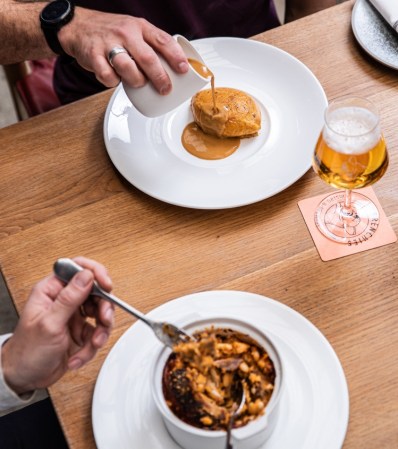 Degustation diners can expect a duck, chicken and foie gras pâté en croûte and pike quenelles with nantua sauce to start, followed by Cassoulet Montalbanais for the main and a vanilla crème brûlée with sablé biscuit dessert.
Frenchies said spots are limited for the degustations so bookings are recommended via their website. The limited edition Bastille 1789 beer is available from July 1 but it's also currently available on backorder via their online shop.