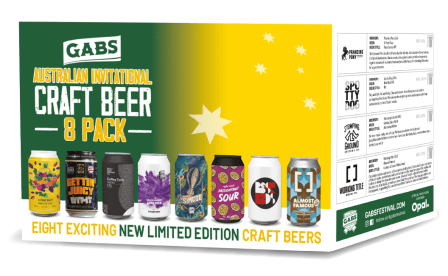 Thanks to the Great Australasian Beer SpecTAPular we've got three of their all-new Australian Invitational Craft Beer 8 Packs to give away.
Simply flick an email to info@beerandbrewer.com before 9am AEDT tomorrow (February 25) with your full name and delivery address and we'll draw the winners at random that same day.
The pack features eight exclusive beers from independent breweries from across Australia:
Prancing Pony – A Pony Hazy, Hazy Session IPA 4.8%
Stomping Ground – Gettin' Juicy Wit It, Mandarin Witbier 4.8%
Molly Rose – Coffee Tonic, Sour Ale 4.3%
One Drop – Purple Patch, Sherbet Sour 5.8%
Otherside – Simcoe, Dip Hop IPA 6.2%
Hope – Passionfruit Sour, Berliner Weisse 5.0%
Spotty Dog – Best Buds, IPA 7.9%
Working Title – Almost Famous, Cookies & Cream White Stout 7.0%
GABS' Australian Invitational Craft Beer 8 Pack is retailing for $49.99 at Dan Murphy's for a limited time and comes with some snacks from Jack Links, Calbee's and Kooka's plus a competition entry to win a VIP trip to GABS Sydney 2022 – including return flights (or limo transfers for Sydneysiders), three nights luxury accommodation, tickets to all three sessions, breakfast with a brewer and a $100 gift card.
Mike Bray, GABS' managing director, said: "We are really excited to bring this new pack to market and give craft consumers such an awesome selection of different beers, brewed by some of the most talented independent brewers across the country. It's really a privilege to support the industry, promote local craft breweries and hopefully bring a smile to many beers drinkers as they try these delicious new drops."
*The draw for this has now closed. The winners were: D. Simpson (VIC), Z. Shipley (QLD) and J. Campbell (SA).