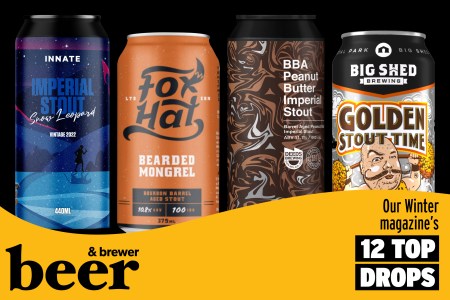 Winter-specific imbibing is fit for myriad styles that reflect not just a generally mild Australian climate but also an evolving craft landscape and the tastes of the consumers that help shape it.
So in our latest magazine's tasting review section, where our expert panel ruminate over 87 separate beers, we cast the net far and wide and settled into a range of categories from mostly Australian craft breweries that pair remarkably well with the season.
We still savoured the odd stout or 10 – and there were some absolute charmers amongst them – but we also traversed the spectrum to sample everything from a lower alcohol radler, multiple fruited sours, cold IPAs, some classic West Coasters and plenty more.
You can read all 87 reviews by picking up a copy of the Winter magazine in home brew shops and newsagents or by grabbing a back issue here.
But as we do after each issue goes to print we publish online the dozen standout releases from our tasting section that our panellists singled out. These are those outstanding beers: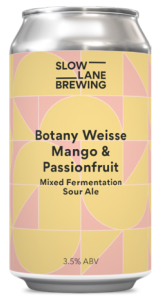 Slow Lane Brewing Botany Weisse Mango & Passionfruit
Mixed Fermentation Sour Ale 3.5%
An incredibly well integrated and balanced sour ale that's utilised both mango and passionfruit harmoniously to create a fruity zing that lingers without being overpowering. The colour resembles the flesh of a ripe mango and while the foam dissipates quickly, there's enough going on to keep you interested. A subtle note of funk in the background provides a differentiating complexity that rounds out the dominance of fruit.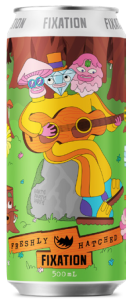 Fixation Party, Party, Party
Cold IPA 6.8%
Well weighted and well executed, this is a clear and bright light straw with persistent fine white foam. Light lemon citrus, candy and rock melon aromas meet flickers of passionfruit and a flash of light dusty sulphur. Lemony citrus and some resinous pine flavours give way to light candied lime and berry notes. Lager yeast and flaked rice in the grist keep the structure tight, taut and neutral. Medium mouthfeel and clean efficient bittering deliver a muscular, crisp and focussed beer.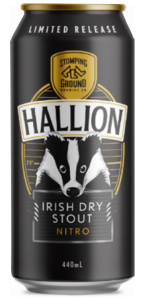 Stomping Ground Hallion
Nitro Dry Irish Stout 4.2%
A ripper for Winter, this is a very dark brown-near black as a nitro pour cascades down to a thin, tight tan foam. Comforting sweet espresso aromas meld with hints of treacle, brown sugar and dusty roast barley. The latter rules the flavour roost with some light pleasant ashy notes and a touch of cigar box in support. Roasted malts and a hint of earthy/herbal hops keep this bang on track. Creamy, but well-weighted in mouthfeel, bittering is on point and the finish just glides off into the night.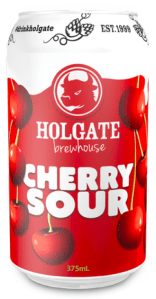 Holgate Brewhouse Cherry Sour
Fruited Sour 4.5%
A wonderful modern spin on a classic style, the colour is a deep red and the carbonation a daring contrast of white bubbles that dissipate as the beer settles. Aromas of morello cherry and sherbet jump into the nose as the palate goes deeper into the cherry flavour, displaying a deep beery side that complements the nose to perfection. There is a cheeky salt profile that dances with the acidity to create an intriguing paradigm of flavours for the drinker to enjoy in this adventure in a glass.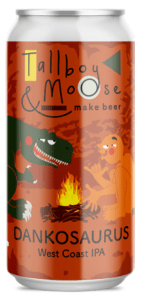 Tallboy & Moose Dankosaurus
WCIPA 6.5%
A very enjoyable WCIPA with bold and assertive hop aroma and flavour that pairs perfectly with a big caramel toffee malt backbone and bold bitterness on the finish. Light copper in colour with bright clarity and a cream head, forward hop aromas of citrus peel and resinous pine are followed by toffee malt notes. Big hop flavours of citrus, citrus peel and resinous pine marry up with big chewy caramel and biscuity malts finishing with a bold bitterness while mouthfeel is smooth and well-rounded with medium carbonation and subtle alcohol warmth.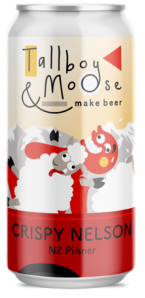 Tallboy & Moose Crispy Nelson
NZ Pilsner 5.0%
An attractive blonde malt profile with a bubbly white head leads to a bold yet incredibly well balanced aroma profile of dank Nelson hops, with freshly cut white grape and clean diesel aromas perforating the drinker's senses. The flavour is an astute combination of clean lager yeast, savoury and dank bitterness that balances with a lovely gooseberry and tangerine peel flavour. This beer is complex, impeccably balanced and utterly moreish.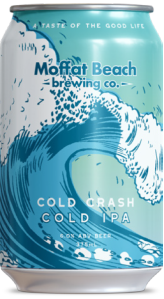 Moffat Beach Cold Crash
Cold IPA 6.0%
A great beer where balance is on point and the hop characteristics are simply beautiful. Light yellow with moderate haze, tight knit head retention and lasting foam, it brings amazingly bright and juicy tropical fruit aromas of mango and papaya alongside sticky dank resin, pleasing onion/garlic/diesel and moreish light bready malt with hints of wheat. Those same malt characteristics provide background to exquisite hop flavour with dank resin and onion/garlic notes. Hop bitterness is slightly low for an IPA but very much in balance with the overall beer.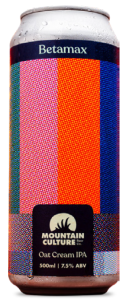 Mountain Culture Betamax
Oat Cream IPA 7.5%
Pouring a murky, hazy, deep straw colour, this holds a head that will last far past the drinking time. Green melon and lime aromas are joined with a sweet, golden syrup note. That sweetness continues all the way through the palate but before it becomes too sickly, a subtle, muted bitterness helps to keep this beer drinkable. With a soft, pillowy sensation, a big bold punch of mango, pawpaw and pineapple are rounded out by an extremely subtle coconut suggestion that helps to keep this beer a tropical fruit basket all the way through.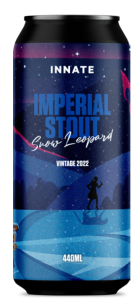 Innate Brewers Snow Leopard
Imperial Stout (2022) 9.8%
Full bodied, full flavoured and complex with a luxurious palate, this pours a thick viscous black with a deep tan head. The aroma is rich malts, roasted and toasty, stewed dark fruits and star anise. The first sip is literally gob smacking as this has so much complexity and depth its breath taking. Rich malt and stewed dark fruits, layered with vanilla and a subtle hop aroma, while a rich and viscous body creates a luxurious and velvety drinking experience.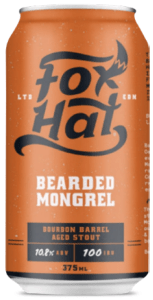 Fox Hat Brewing Bearded Mongrel
Bourbon Barrel Aged Imperial Stout 10.8%
Jet black in colour and boasting a honey tan foam, it's visibly viscous and appears decadently luscious. The months spent in bourbon barrels is evident through hints of oak, vanilla and, of course, bourbon. In balance with the rich milk chocolate and light dryness from a hint of acrid roast notes, this is quite mouthcoating without being overwhelming. The lingering warmth softens the complexity, bitterness and rich roast character to deliver a beer sculpted to pair with long chats about the universe and everything in between.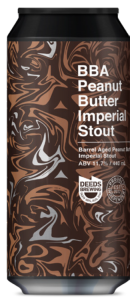 Deeds Brewing BBA Peanut Butter Imperial Stout
Barrel Aged Imperial Stout 11.7%
(Recently won the AIBA trophy for Best Specialty Flavoured Beer)
If you've had their original Peanut Butter Imperial Stout you'll have a sense of what you're in for here. The main difference, however, is the peanut butter, so prevalent in the OG, now takes a backseat to the barrel character – with oak, vanilla and spice all coming through. But this doesn't take away from what made the original special though, it just adds depth and complexity to an already deep and complex beer. Let it warm up and see how deep that aroma/flavour rabbit hole goes.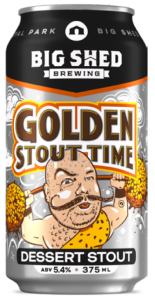 Big Shed Brewing Golden Stout Time
Dessert Stout 5.4%
An iconic Australian craft beer inspired by the iconic ice cream, this hits all the right flavour notes while still being an enjoyable beer – which is a massive achievement by the brewers. Led by the chocolate malt and smooth, silky mouthfeel, the experience is finished off with vanilla and honey flavours. Whilst it may have started life as a novelty, it has survived many trend changes in the market to consistently hold its place as one of the most beloved of all South Australian craft brews.
---
If you're a brewery not receiving our invite email to partake in our tastings but would like to, email us here; and if you want to read the Winter magazine's 75 other craft reviews, and all the ones to come in future issues, subscribe to Beer & Brewer here.