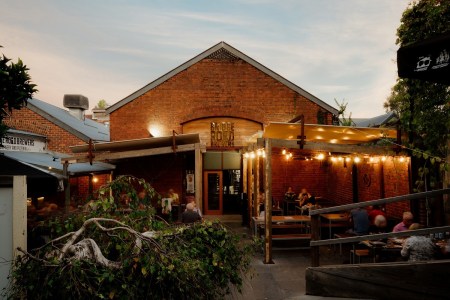 Turning 18 would feel like a coming of age event for most, but in the case of Bridge Road Brewers it's yet another milestone for one of the elder statesmen of Australian craft brewing.
And as the pioneering brewers marked their nearly two decades of existence on June 10, they're preparing for the release of their latest B2 Bomber anniversary beer and the fact it will be tapped for the first time at a party to celebrate it all at their Beechworth venue on June 16 (and at various venues in different states and territories).
From humble beginnings, where founders, and husband and wife team, Ben and Maria Kraus (pictured below with their kids) launched in 2005 from a back shed, the brewery has become one of Australia's most-loved in the intervening years. Their Beechworth home for 17 of those, housed in the historic 1850's-era Coachhouse and Stables, remains a true destination brewpub, while their beers have tasted consistent success and popularity – perhaps most notably so by their repeat representation on the annual GABS Hottest 100 Australian Craft Beers tally.
Ben said their longevity "is a testament to the dedication of the team, and… unwavering approach to strong values of independence, authenticity and quality".
"Everything we do at Bridge Road Brewers comes back to our values. Maintaining our focus towards excellent quality, being authentic in all we do and remaining independent amongst an industry rife with multi-national takeovers has kept our business at the forefront of things throughout the years.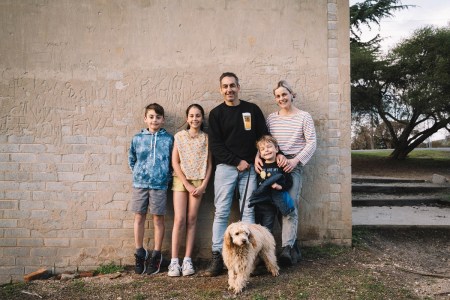 "Our team are 100% dedicated to pushing the boundaries of what is possible in craft brewing. We like to think that by being creative and innovative we are able to keep our products relevant and exciting to craft beer drinkers, whilst keeping true to those who have followed and supported us throughout the journey."
Featuring Belgian yeast, a complex malt profile and hoppy accents, the first 100 bottles of this anniversary's B2 Bomber have been signed by Ben and added to limited edition vertical tasting packs alongside last year's vintage which are available for pre-sale now. Regular sales commence June 16.