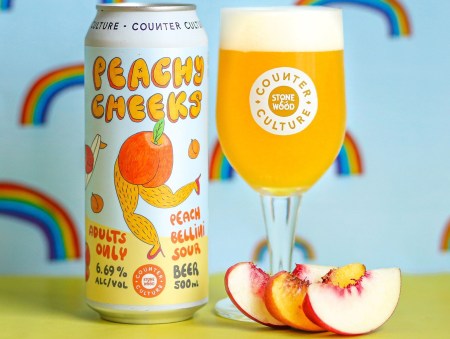 COUNTER CULTURE PEACHY CHEEKS PEACH BELLINI SOUR (6.69%, 500ML)
The eleventh release in Stone & Wood's Counter Culture limited edition series is the Peachy Cheeks Peach Bellini Sour where $1 from every litre sold at their Brisbane and Byron Bay breweries will go to local LGBTQIA+
organisations who are working to support their community.
Conceptualised with Northern Rivers LGBTQIA+ organisation Queer Family Inc, it features peach, mango and apricot puree on a base of pale and wheat malts and Blue Lake rolled wheat with a touch of Tettnang hops and a lactic sour pitch.
Pouring hazy gold with orange-copper hues it's not quite as syrupy as the juice from a tin of fruit salad but the aromas are every bit akin to that while cream and sponge combine with the fruit to bring notes of a Summer trifle. It's less sour, more tart and refreshing, as the peach Bellini reference presents itself with a nicely tuned balance between subtle sweetness and the dryness of a good Prosecco.
Peachy Cheeks was released on Monday 29 March. You can find its stockists here.