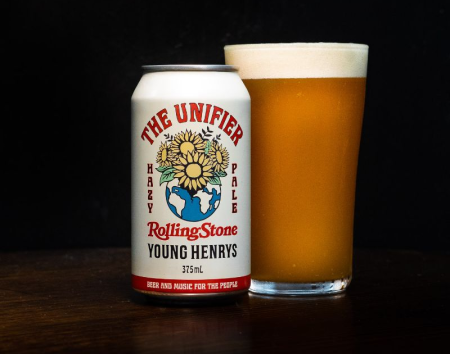 Rolling Stone and Young Henrys have launched The Unifier – a limited-edition hazy pale ale where proceeds from sales will go towards various Australian charities.
The Unifier, Rolling Stone's first co-branded collaboration with an Australian craft brewery, is a hazy and hoppy pale ale that will be sold on tap and in cans nationwide from today (March 30).
"Rolling Stone has played a pivotal role in celebrating music's culture-defining moments for over 50 years," Rolling Stone President and Chief Operating Officer Gus Wenner said. "We've joined forces with Young Henrys to create a beer that not only honours our heritage but also reminds today's generation that history is still in the making."
"Great collaborations happen when people of similar values meet," Young Henrys co-founder Oscar McMahon said. "It's no secret that the Young Henrys family is made up of dyed-in-the-wool music lovers who embrace all that music is, was and represents within society and culture. So, we made a beer with Rolling Stone that honours that sentiment."
The partnership additionally introduces a collaboration with Rolling Stone and Young Henrys brand ambassadors, including multiple Grand Slam winning tennis player and disability advocate Dylan Alcott as well as Amy Shark, Murray Cook, Patience Hodgeson. A percentage of proceeds from sales of The Unifier will go towards Australian charities the Dylan Alcott Foundation, Support Act and Autism Camp Australia.
This is an edited version of a media release distributed by Young Henrys.