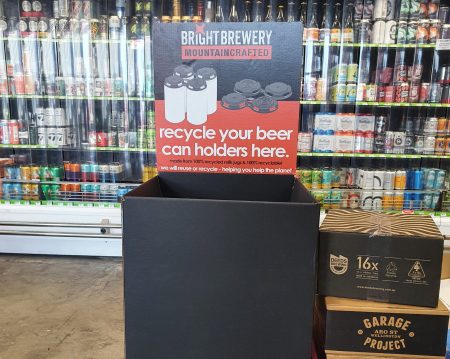 Bright Brewery has rolled out a recycling scheme for PakTech beer can handles in bottleshops and supermarkets that they hope to take nationwide.
The Bright-branded recycling bins are being installed in independent bottleshops and supermarkets in Victoria from this week to ensure PakTech beer handles – that are 100 per cent recyclable – are recycled correctly.
With the proliferation of canned beer in the craft sector, recycling bins for PakTech handles have been seen elsewhere in the industry but Bright believes this is the first time a scheme of this nature has appeared in Australia.
"We believe this is the first recycling scheme of this kind in Australia," Bright's national sales manager Evin Craney said. "We pride ourselves on acting sustainably in every aspect of our business, and this seemed like an obvious way to do that on a much bigger scale."
Evin said Bright was hoping to implement the same program within the major national "big box" retailers to increase the awareness around sustainable practices in the craft beer industry and implement the program on a larger scale.
"We are hoping that the success of these in independent retailers helps translate over to the major chains as we continually develop new ways to lessen our carbon footprint."
Bright's marketing manager Laura Gray said: "Most people don't realise they are actually made of recycled materials, and they are completely and infinitely recyclable. They are also really sturdy and re-usable, which makes them even more sustainable."

The first bin was installed at Carwyn Cellars in Thornbury earlier this week and general manager Ben Duval said he was thrilled to be involved.
"As soon as Bright came to me with the idea, I knew it was gold," he said. "Beer drinkers never know what to do with the handles, and they just end up getting chucked out. Bright has solved a massive problem for us and for our customers, and I can't believe no brewery has thought to do this before now."
To register your interest and secure a bin, email Evin Craney.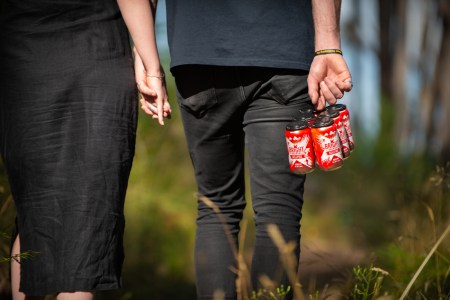 Meanwhile, Bright's Hellfire Amber Ale is now being stocked in every Dan Murphy's store across Victoria.
The amber ale – which has continuously been part of Bright's line-up since it was established 15 years ago – is now in all 74 Victorian Dan Murphy's stores, including its flagship South Melbourne outlet which reopened in recent days.
"Our whole team has come together during arguably the hardest time imaginable to not only reinvent Bright Brewery for a larger audience but grow the brand from a small-town business to what it is now, with so much more still to come," Evin said. "It's a confirmation of a lot of hard work paying off, and being able to showcase Hellfire to such a wide audience after all these years is an incredibly exciting opportunity."
Over 450 other craft beers will sit alongside Bright's Hellfire (and their Alpine Lager, Blowhard Pale Ale, M.I.A. IPA and Bright Sour) at the South Melbourne Dan Murphy's store – making it the Dan Murphy's store with the widest craft beer selection.
Alongside packaged beer, where Victorian breweries make up about 30 per cent of stock, will be growlers and squealers delivered straight from local craft breweries.
"This store is a craft beer lover's dream, with everything from brewery-fresh beer to bold, aged stout – and all things in between," said Endeavour Group's craft beer category manager Billy Ryan.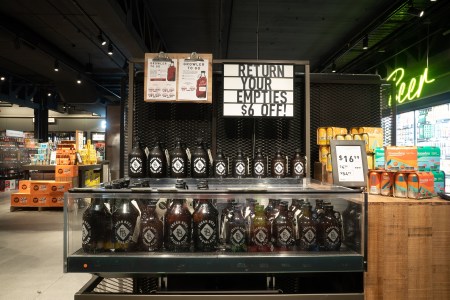 South Dandenong's Brick Lane Brewing will be delivering fresh beer in growlers and squealers every week.
"This is as fresh of a beer you can get your hands on. Our team will fill up the growlers and squealers at our brewery and then deliver it straight to Dan Murphy's South Melbourne, so customers will be able to enjoy a draft quality, fresh beer in the convenience of their home," said Brick Lane's head brewer Jon Seltin.
"This is an innovative way for us to replicate the tap room experience. We will be offering limited edition beers, as well as beers that aren't available in cans," he added.
This is the first time the craft brewery has partnered with a national retailer on this scale.
"This is huge for us, and we are really excited to see this high quality craft beer project come to life at Dan Murphy's," he added.
A full growler (about 1.90 litres) starts from $28. Customers are encouraged to return their empty growlers, and will receive $6 off the purchase of the next growler.
For those who prefer beers with a mature taste, the store also has a section of barrel-aged beer, including the Old Pumping Station Cognac Barrel-Aged Imperial Stout from Mornington Peninsula Brewing which will retail for $48.99 per bottle.