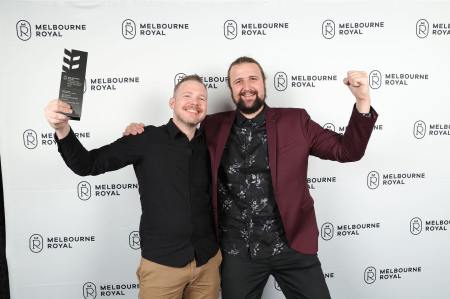 WA's Beerland Brewing have won their second Champion Australian Beer title within a matter of years as their imperial kettle sour Blueberry Clouds took home the top gong at last night's 2022 Australian International Beer Awards.
Brewed especially for this year's GABS festivals, the 7.5% Blueberry Clouds' success matches Beerland's breakout achievement in 2018 when it won the same major overall award with their Wheat Beer. Blueberry Clouds also walked away with the 2022 AIBA for Best Fruit Beer.
Aside from San Diego's Belching Beaver's Viva La Beaver Mexican chocolate peanut butter stout winning Champion International Beer, last night's other major AIBA trophy winners were Hawkers (Large Australian Brewery and Victorian Brewery), Weihenstephan (Large International Brewery), Stomping Ground (Medium Australian Brewery), Deep Creek (Medium International Brewery), Moffat Beach (Small Australian Brewery), Artmonster (Small International Brewery), The Bold Mariner (Gary Sheppard Memorial Trophy for the Best New Exhibitor) and Dollar Bill (Australian Gypsy Brewer). The win for Germany's Weihenstephan was a repeat of their achievement at the AIBAs last year while Dollar Bill were again among the trophy winners after winning Champion Australian Beer last year with their Gold Teeth wild ale.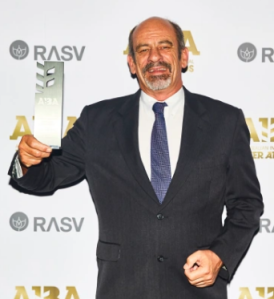 Headed up by industry legend Ken Arrowsmith (pictured on the right) in the master brewer role and a brewing team consisting of Andrew Dean and Brandon Brooker (pictured in that order at the top), Beerland's five pronged core range and a rotating list of limiteds largely service their Northbridge Brewing and Whitfords Brewing brewpubs in Perth.
They describe Blueberry Clouds as featuring "a classic 50/50 wheat and pilsner grist with a modern twist, kettle soured and fermented with 50 grams per litre of Australian blueberries. Lactose and vanilla added at different stages of the process add a creamy, lolly-like mouthfeel, while a late dry hop and high ABV lift this beer sky high. Finishing bold, bright and jammy".
This year's awards received 2,634 entries from 355 separate exhibitors. A total of 366 gold, 735 silver and 776 bronze medals were awarded.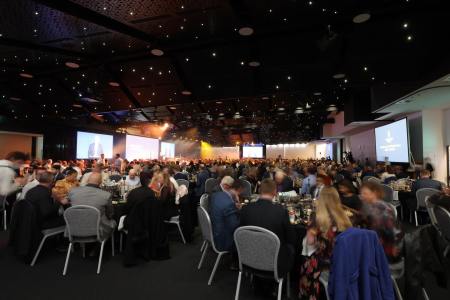 Head judges Tina Panoutsos, Warren Pawsey and Justin Fox said with 900 kegs among the entries, the awards "definitively remain the largest annual beer competition in the world, assessing both draught and packaged beer".
"Assessment of the final 21 beers to determine the Champion Australian and International Beers left no doubt in the minds of the 15 selected judges, that these awards celebrate and award truly spectacular beers," they said.
For the full 2022 AIBA results, head here.
Trophy winners
Champion Australian Beer: Beerland (WA) Blueberry Clouds (Draught)
Champion International Beer: Belching Beaver (USA) Viva La Beaver (Packaged)
Champion Large Australian Brewery: Hawkers (VIC)
Champion Large International Brewery: Weihenstephan (GER)
Champion Medium Australian Brewery: Stomping Ground (VIC)
Champion Medium International Brewery: Deep Creek (NZ)
Champion Small Australian Brewery: Moffat Beach (QLD)
Champion Small International Brewery: Artmonster (KOR)
Champion Victorian Brewery: Hawkers (VIC)
Gary Sheppard Memorial Trophy for the Best New Exhibitor: The Bold Mariner (USA)
Australian Gypsy Brewer Award: Dollar Bill (VIC)
Best Media: Clare Burnett (Brews News)
Best Australian Style Lager: King Road (WA) King Road Lager (Draught)
Best European-Style Lager (Excluding Pilsner): 3 Ravens (VIC) Hugin (Packaged)
Best International Lager: Revel (QLD) NZ Pils (Draught)
Best Pilsner: Asahi (JPN) Peroni (Draught)
Best Amber/Dark Lager (Excluding Baltic-Style Porter): King River (VIC) Mabon Doppelbock (Packaged)
Best Australian Style-Pale Ale: Cheeky Monkey (WA) XPA (Draught)
Best Modern Pale Ale: Co-Conspirators (VIC) The Hop Peddler Hazy Pale Ale (Draught)
Best International-Style Pale Ale: Moffat Beach (QLD) Shadow Of The Moon Eclipse, Strong Pale Ale (Packaged)
Best British or European-Style Ale (Including IPA & Pale Ale): Stomping Ground (VIC) Raspberry Smash (Packaged)
Best Traditional Pale Ale: Moffat Beach (QLD) Trilogy Best Coast IPA (Packaged)
Best Modern India Pale Ale: Hop Nation (VIC) Get The Gist (Draught)
Best Amber/Dark Ale: Ocean Reach (VIC) Journey Home Black IPA (Packaged)
Best Porter or Stout (including Baltic-Style Porter): Stomping Ground (VIC) Bunker Porter (Draught)
Best Reduced/Low Alcohol Beer: Stone & Wood (NSW) East Point (Draught)
Best Non-Alcohol Beer: Bach (NZ) All Day Non-Alcoholic IPA (Packaged)
Best Wheat Beer: China Resources Snow Breweries (CHN) Lowen White Beer (Packaged)
Best Belgian/French Ale: Molly Rose (VIC) Nectarined (Packaged)
Best Fruit Beer: Beerland (WA) Blueberry Clouds (Draught)
Best Wood- And Barrel-Aged Beer: Wayward (NSW) Ripasso Bianco (Packaged)
Best Specialty Beer: Big Shed (SA) Viscosiraptor (Packaged)
Best Specialty Flavoured Beer: Belching Beaver (USA) Viva La Beaver (Packaged)
Best Design – Label/Surface Graphic: Hallertau (NZ) The Keeper
Consistency of Excellence* (2019, 2021, 2022): Beerfarm (WA) India Pale Ale (Draught)

*This medal acknowledges exhibits of the same label that have been awarded a gold medal at the Australian International Beer Awards for three consecutive years (2019, 2021 and 2022; noting that the Awards did not run in 2020). To be eligible, exhibits need to have been submitted in the same format, ie. packaged or draught, under the same label and in the same style Class each year and to have achieved a gold medal consistently.