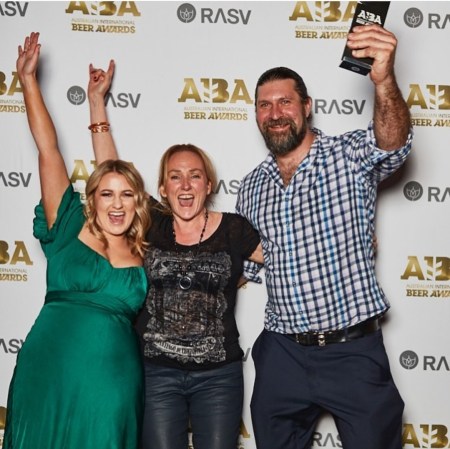 Over a third of the 2021 Australian International Beer Awards (AIBA) have gone to Victorian breweries including Ballarat's Dollar Bill Brewing who won Champion Australian Beer for their Gold Teeth wild ale.
After taking a hiatus in 2020 due to the pandemic this year's Royal Agricultural Society of Victoria-conducted awards saw judges taste 2,500 entries from over 400 exhibitors and the winners were announced last night in Melbourne. With 850 people in attendance at the Victoria Pavilion ceremony, organisers said it was the largest formal event in Victoria since COVID-19 restrictions began.
Dollar Bill winning the supreme beer award for their just released spontaneously fermented barrel-aged wild ale Gold Teeth (packaged) was widely celebrated and comes as some comfort for owners Ed and Fiona Nolle (pictured above on the right with Cryer Malt's Steph Howard) after they had their dreams of opening a cellar door rejected in February by their local council. Made with certified bio-dynamic yellow clingstone peaches, Gold Teeth also won the Best Fruit Beer award last night.
Speaking to Beer & Brewer, Ed and Fiona said they are meeting with the Victorian Civil and Administrative Tribunal on November 23 and are now planning on opening a venue in Ballarat as well as hosting "book club-style" private events at their Invermay property.
"I'm on absolute cloud nine. We had no idea, no expectations and we're just buzzing," Ed said not long after the win before wife Fiona added: "It was truly an incredible moment… everyone was looking at us and smiling and cheering. The beer family is the best family. People have got your back and they want you to do well and heck that's a nice thing to have."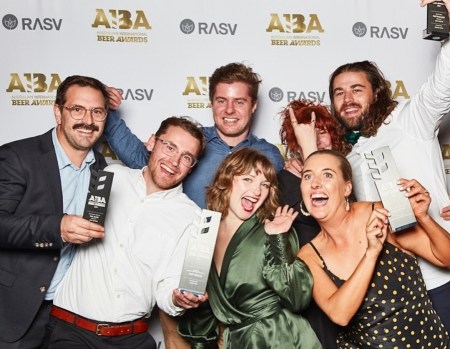 The night's big winner was Melbourne's Hop Nation Brewing Co who took home Champion Victorian Brewery, Champion Medium Australian Brewery, Best Amber-Dark Ale for The Buzz American Red (draught) and Best Pilsner for their Rattenhund (draught).
Founded in 2015 by Sam Hambour and Duncan Gibson, Hop Nation established their home in Footscray in 2016 after a year of contract brewing while in August last year they announced they had purchased Tribe Brewery's Mornington Peninsula site as their second brewing facility.
Sam (pictured above on the far left) said setting up and brewing in the new facility "had been a slog" but this recognition was the "pat on the back for the whole team that makes it all worth it".
"It's recognition for what we've been doing and we're all so happy. The recipes we've had for a while but the new facility has helped us get them up to the standard we always hoped for them."
Among those flying the Victorian flag alongside Hop Nation and Dollar Bill last night were Fixation Brewing who won their second Consistency of Excellence Medal, this time for their Obsession Session IPA (draught) while Oregon's Pelican Brewing's Captain of the Coast Scotch Ale/Wee Heavy (packaged) received the same accolade. This award is only given out to products that are awarded gold medals in three consecutive years and in 2018, with their Fixation IPA, Fixation were the first brewery to ever win it.
Meanwhile, Torquay's Valhalla Brewing won the Australian Gypsy Brewer award and Best Porter for their Obsidian Black Ale (packaged), Melbourne's Two Birds won Best Australian-Style Lager with their Lager (draught) and the Victoria-based Coles Supermarkets won Best Non-Alcohol Beer with their Tinnies Ultra Low Alcohol (packaged).
Germany's Weihenstephan Brewery won Champion Large International Brewery while New Zealand's Deep Creek continued their AIBA success with their Sauvage barrel-aged Brett Saison (packaged) snaring both the Champion International Beer and Best Wood And Barrel-Aged Beer. In 2019 the brewery situated just north of Auckland won Champion Medium International Brewery and Best International Lager with their Undercurrent while in 2017 they won the Champion Small International Brewery award. Due to a clerical error in their submission Deep Creek were initially announced as the winners of the Champion Large International Brewery award but once they became aware of the mistake they notified the organisers and Weihenstephan were installed as the award's recipients
Taking the place of Balter, the Champion Large Australian Brewery went to 4 Pines Brewing while WA's Cheeky Monkey won Champion Small Australian Brewery. 4 Pines also won Best Amber-Dark Lager for their Keller Door-Schwarzbier (draught) and Cheeky Monkey took out the first ever Best Modern IPA award with their Lefties East Coast IPA (draught). It was also the first time the AIBA announced a Best Traditional IPA award which was won by BentSpoke Brewing's Sprocket (draught).
China's Nbeer Craft Brewing Co led the charge of a number of Asia-based breweries to win AIBA awards by being named Champion Medium International Brewery. South Korea's Goose Island Brewhouse won Champion Small International Brewery, Best Wheat Beer went to China Resources Snow Breweries for their White Beer, Best Specialty Beer was awarded to Taiwan's Zhang Men Brewing Company for their Heavy Smoker Imperial Porter while China's Dangge Brewing won Best Specialty Flavoured Beer with their Vanilla Coffee Imperial Stout.
2021 AIBA Winners
Champion Australian Beer presented by Cryer Malt
Gold Teeth 2021 (packaged) Dollar Bill, VIC
Champion International Beer
Sauvage (packaged) Deep Creek, NZ
Champion Large Australian Brewery presented by Barret Burston
4 Pines, NSW
Champion Large International Brewery presented by Barth-Haas
Weihenstephan Brewery, Germany
Champion Medium Australian Brewery presented by Cryer Malt
Hop Nation, VIC
Champion Medium International Brewery presented by Kegstar
Nbeer, China
Champion Small Australian Brewery presented by Yakima Chief
Cheeky Monkey, WA
Champion Small International Brewery
Goose Island, South Korea
Champion Victorian Brewery
Hop Nation, VIC
Australian Gypsy Brewer Award
Valhalla Brewing, VIC
Gary Sheppard Memorial Trophy For The Best New Exhibitor
Hoppin' Frog, USA
Best Australian-Style Lager
Lager (draught) Two Birds Brewing, VIC
Best European-Style Lager (excluding Pilsner) presented by Weyermann
Lager (packaged) Mismatch Brewing, SA
Best International Lager
Coastie Lager (draught) Six String Brewing, NSW
Best Pilsner presented by Brews News
Rattenhund (draught) Hop Nation, VIC
Best Amber/Dark Lager presented by Joe White Maltings
Keller Door-Schwarzbier (draught) 4 Pines, NSW
Best Australian Style Pale Ale presented by Konvoy Kegs
Burleigh Twisted Palm (draught) Burleigh Brewing, QLD
Best New World-Style Pale Ale presented by Hop Products Australia
Cryotherapy Hazy IPA (packaged) Sunday Road Brewing, NSW
Best International-Style Pale Ale presented by The Post Project
King Road IPA (draught) King Road Brewing, WA
Best British or European-Style Ale (excluding IPA & Pale Ale)
Foghorn Hunter Kolsch (draught) Foghorn Brewery, NSW
Best Traditional IPA
Sprocket (draught) Bentspoke Brewing, ACT
Best Modern IPA
Lefties (draught) Cheeky Monkey, WA
Best Amber/Dark Ale
The Buzz (draught) Hop Nation, VIC
Best Porter (including Baltic Style Porter) presented by Weyermann
Valhalla Brewing Obsidian (packaged) Valhalla Brewing, VIC
Best Reduced/Low Alcohol Beer
James Boag's Premium Light (packaged) J Boag & Son, TAS
Best Non-Alcohol Beer
Tinnies Ultra Low Alcohol (packaged) Coles, VIC
Best Wheat Beer
Lowen White Beer (packaged) China Resources Snow Breweries Co, China
Best Belgian/French Style Ale
Le Petit Biere (draught) Stone & Wood, NSW
Best Fruit Beer presented by CHR Hansen
Gold Teeth 2021 (packaged) Dollar Bill, VIC
Best Wood And Barrel-Aged Beer
Sauvage (packaged) Deep Creek, NZ
Best Design – Label/Surface Graphic
Stubbie Refreshing Beer 330ml Pinnacle Drinks, NSW
Best Media presented by The Crafty Pint
James Atkinson, NSW
Consistency of Excellence Medal
Captain of the Coast (packaged) Pelican Brewing, USA
Obsession Session IPA (draught) Fixation Brewing, VIC
Head here for the full list of results.
Additional reporting by Daniel Hughes