The team at Brightstar Brewing have taken a unique and self-funded path towards opening their European-focused, family-friendly brewery and taphouse in the evolving Adelaide suburb of Thebarton. Ahead of their grand opening on May 28 we caught up with their co-founder Gareth Parker to get the background story and brewer Steve Brockman to learn about the niche brewery they've built from the ground up to cater to their very specific, mainly lagering, needs.
---
Gareth and Megan Parker are going for gold, literally. After respective stellar corporate careers, they're two thirds of the three-pronged force behind new Adelaide brewery Brightstar – their intoxicating personal ode to the brewing traditions and beer styles of Europe and Germany in particular.
With a vigorous independent streak, and unwilling to water down the idiosyncratic vision they had for their venue, the married couple have taken on the risk of building it themselves, largely from scratch.
"We're fortunate enough to be able to afford it," Gareth (pictured directly below) told Beer & Brewer. "I worked overseas for many years. We paid low tax (there) and worked hard. (The corporate world) has been generous to me, and as an opportunity to not have to bring in investors, we resisted all the way and, luckily, just got through.
"A lot of other breweries have (multiple) investors in there driving them to operationalise nationally and to try to get (themselves) in 4,000 stores around the country.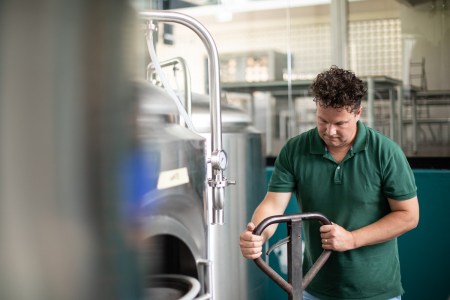 "We just don't see that's our business model and there's a number of reasons for that.
"Megan worked at CUB in Melbourne. She ran a marketing team and saw not only the activation side, but also the commercial side behind some things, and that was partly our inspiration to do a venue model.
"I spent a lot of time in Germany with Vodafone. I was based in Singapore but visited Germany every couple of weeks. I spent four years basically going to Dusseldorf and Stuttgart and places like that. So (because of that) I'm a big malt-forward person.
"The hop-forward American styles, there's a lot of them, so we made that call and said 'we're not going to just do another IPA brewery. We're going to be focusing on (mainly) clean and crisp lagers'.
"If you look at the States, in Denver for example, companies like Bierstadt Lagerhaus – those guys are just amazing. They've really stuck to their guns, and they're doing really, really well. But that took a while for people to catch on, because it's very heavy IPA territory over there.
"We respect the longevity of tradition that exists around (European-style) brewing. If it's a proven thing that's been there for hundreds of years, why change it?
"Look at Weihenstephaner. They're celebrating their 1,000 years in 2040. They're still brewing. We want to emulate that kind of prestige.
"There's no negative sentiment in there of what the other guys are doing. We're just powering on and trying to fill a gap in the market if we can.
"A lot of people (might not have had) our style of beers, and we're having to educate them. That's our big thing – educating people on non-American styles."
With the cornerstones of balance and drinkability at their forefront, Brightstar have classified their beers into six distinct categories (based on their flavours and characteristics), which include Crisp & Clean, Dark & Roasty, Fruit & Spice, Hoppy & Bitter, Sour & Tart and Malty & Sweet. You can find their current tap list here.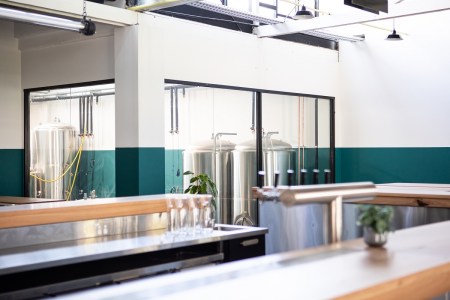 Located in the increasingly gentrified, industrial-chic, inner-city Adelaide suburb of Thebarton, the Parkers have taken on an historic 1920s warehouse building with a family-friendly atmosphere front of mind.
"The venue we have here, it's got that old beautiful sawtooth character, with hard, Jarrah floorboards. It's quite a lovely old building," Gareth said.
"We're quite fortunate because we have a lot of space – a 180 square metre brewery, about 300 square metres out the front, and then we've got a 2,000 square metre park that we've been able to license as well.
"We've both spent a lot of time at Stomping Ground in Collingwood and they've got a great balanced-weekend-kind-of-crazy-kids-running-around vibe.
"We love that whole (scenario) where parents can go and not feel like they've got to rush off because of the kids. The kids can keep themselves amused and they (the parents) can stay longer. It's an hour type of affair as opposed to popping in for one or two drinks."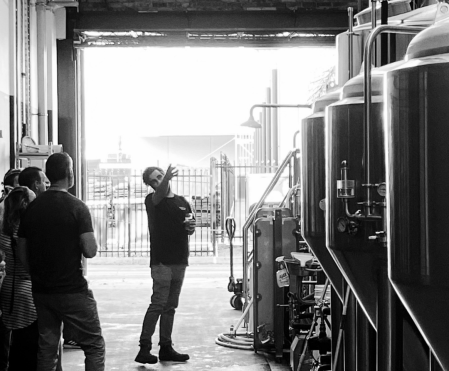 Joining the Parkers on brewing duties is Steve Brockman (pictured above), whose storied industry journey began at Little Creatures, took him all around the US and back to Adelaide Hills' Mismatch Brewery, before eventually joining Brightstar.
"I met Gareth and Megan at an Independent Brewers Association meeting at the Wheaty (Wheatsheaf Hotel in Thebarton)," Steve told us (he also happens to be South Australia's IBA chapter lead and a regular contributor to our print magazine).
"I was looking around the room and thought 'well, I know everyone else but I don't know these two'. I introduced myself and asked 'where are you guys from? What are you doing? Do you have something in planning?'. And they were like 'yep, we're thinking of building (a
brewery) somewhere in Adelaide'. They were very, very cagey.
"About three weeks later Gareth got hold of me and said 'I keep on asking everyone who can help us out with this project. Everyone keeps on saying you. Apparently you're the one'.
"Gareth wanted to lean towards lager brewing (in) more of a European style. Doing it slow, doing it properly.
"It's something that I'd never taken on in any of my jobs before.
"This (is) a different kettle of fish. 'Let's be a specific kind of niche brewery, but let's build it correctly from the ground up'. That was the really exciting part to it all when I first jumped on.
"They had a defined budget. (They wanted to) spend the money where it was really going to make the most bang for the buck for what we're doing.
"That's part of the reason the kit was sourced from China through a company called Lan Yue Machinery Company (situated in Ningbo).
"As much as we'd love to support Australian, we were really struggling with the size that we are (12 hectolitres). With that sizing it's really hard to get any kind of quality manufacturer agreeing to make a kit that small.
"We went with the Chinese option because the manufacturers that are in the US or Germany, the majority of them are still getting most of their stainless steel fabricated in China.
"Then it gets shipped to wherever it is, San Diego for example, and at that factory, they weld on the final bits, do some pressure testing, slap a badge on it, and it comes to you at three times the price.
"I think (you need to) go into it knowing that Chinese equipment is not necessarily going to be 100 per cent, but with enough budget to fix whatever may go wrong.
"There were definitely things that didn't go smoothly, but we thought we could save ourselves some money there. We're talking differences in price that will equate to half a dozen tanks down the line for us."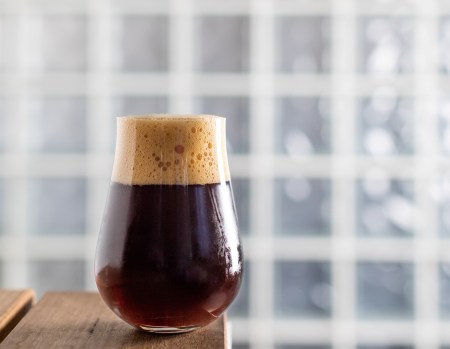 As self-described traditionalists, Brightstar treads a fine line between utilising age-old methods combined with modern machinery for their clear-cut cost savings and production benefits.
Steve is adamant that "you can be true to the spirit of a beer without being inefficient".
"You can still craft a beer just as much by making solid decisions about ingredient processes, by being really precise in how you move through the brewhouse," he said. "You read all these romantic stories about how people have imported a 400 year-old brewhouse from Germany to do their brewing.
"I look at that and think 'that's amazing', but also simultaneously 'that's a lot of work!'.
"If you want to do that, go right ahead. If you want to use a little bit of technology in there, that's fine as well.
"I don't gel with brewers that (believe) this is the only way that it can be done, (and say) 'you can't use that because of X, Y and Z'. I think everyone should have the whole toolbox available to them."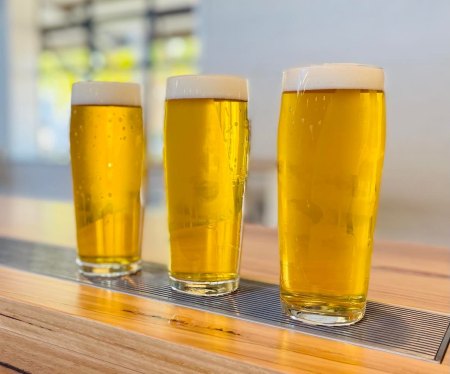 As a "German-forward" and "lager-forward brewery", Steve said the team had to think "long and hard" about how they were going to be able to reliably implement particular lager-specific processes, without blowing the budget.
The eventual solution is nothing short of brilliant, and something quite unique in the local brewing landscape.
"We (had to) have the ability to step mash," he said. "We have a mash tun that's able to be heated, but we didn't have plans for a boiler. Both the kettle and hot liquor tank used direct fire, so it left us with some thinking to do.
"What we've done is rigged up our hot liquor tank so I can mash in for the day and mix in the grain with the water. As soon as I'm finished doing that, I can immediately start heating up the hot liquor tank again so it's really hot, up into the 90-degree range.
"Then, instead of spraying water into the mash tun, I can actually get it to recirculate in the mash tun jackets where the steam would.
"We've found that this hot water method is really gentle on the mash. The temperature comes up nicely and then you can stop it quite easily at the right spot.
"I'm proud of that one as something that was a bit of a jerry rig situation. It's worked out quite well."
Brightstar Brewing can be found at 35-37 Stirling Street, Thebarton. They're open Wednesday to Thursday 12pm to 9pm, Friday & Saturday 12pm to midnight and Sunday 12pm to 9pm.