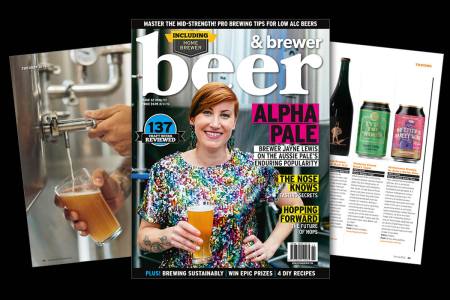 The Spring edition of Beer & Brewer magazine is out now where we focus on the Australian pale ale, the future of hops, mastering the mid-strength and so much more.
Subscribe via our website or find this issue in newsagents and home brew shops. For current print subscribers the Spring magazine also comes with the special edition 2022 Brewery Guide where we showcase breweries and their hospitality offerings both here and across the pond in New Zealand. You can buy a copy of the Brewery Guide here.
Also in the Spring edition
With Two Birds Brewing's Jayne Lewis gracing the cover (image credit: milkbottleprojects.com), we discuss the Australian pale ale's place in our beer culture with a range of local brewers and discover how it has been shaped, and in turn evolved, to remain meaningful and a benchmark for many a brewery.
We road test 137 of the latest and greatest Australian craft beers – a record amount in our 15-plus year history – where our panel of experts focus on Aussie pales as well as a wide spectrum of styles.
We look to the future of hops with NZ Hops' Dr Ron Beatson, Hop Products Australia's Owen Johnston and brewers Ross Terlick of Rocky Ridge and Mountain Culture's Danny Warner and the place of advanced products in the brewhouse.
Breweries like Garage Project, Helios, Prancing Pony and Young Henrys give insights on the ways they're reducing their footprints.
The dedicated HomeBrewer section, which has a number of epic prize packs up for grabs, goes all in on Aussie pales with tips and recipes including insights on brewing Sparkling Ale and Pacific Ale at home.
Brightstar Brewing's Steve Brockman deep dives so you can master brewing mid-strengths.
Flavour Logic's Briony Liebich nose dives into our sense of smell and how it is vital to the overall sensory experience of beer.
Plus plenty more.
Subscribe to Beer & Brewer's quarterly magazine for as little as $29.50 a year