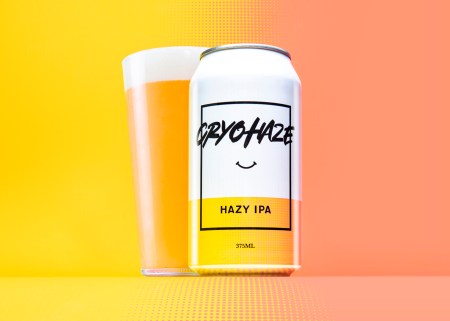 BALTER BREWING CRYOHAZE HAZY IPA (6.5%, 375ML)
Sibling rivalries are often borne out of being too close in age and proximity to one another and it's not until time and distance have been travelled when the warring parties realise they're not so dissimilar after all. And so it is with Balter's latest limited release CryoHaze – the "cantankerous younger brother" to February's CryoMofo that was the first act in the brewery's four-part family saga of pitting hero hops against each other inside East and West Coast-style IPAs.
With CryoHaze it's as if there's been a falling out with CryoMofo at the polished West Coast family home and the upstart youngster has packed its things and headed east. There it's rebelled against its bright IPA origins and loitered in the New England underworld where its softened some of its harder edges on a diet of fruit salad and cream. But as the prodigal son has looked to return to its roots to herald all the new wonders it has discovered, it's reached a mid-coast point only to realise the DNA that defines it remains the same.
Visually its taken on all the hallmarks of its eastern sojourn, and then some, with its cloudy haze deep and menacing like the eye of an East Coast sub-tropical low. But it's in aroma and flavour that it starts to reveal its overarching bloodlines and its Mosaic hop-ties to the first born CryoMofo.
Whilst its tropical fruit aromas are distinct, moist, luscious, et al, the whiffs of dusty bubblegum bouyancy hark back to CryoMofo before the palate is enlivened by a sticky pine that its alter ego also boasted.
Naturally CryoHaze is much juicier and more velvety across the palate than its predecessor considering its placement as a hazy, but there's a dankness and alcohol heat lurking amid the fruit salad that says this youngster isn't so unbridled from its West Coast ties than it might like to think it is.
Regardless of any narrative around this being an offshoot to CryoMofo, CryoHaze stands on its own two feet and isn't that just what all youngest siblings strive to achieve?
The next instalment in Balter's West Coast versus East Coast IPA experiment will be out in Spring where a new hero hop will be put under the microscope in a similar shootout between kinfolk.
CryoHaze was released nationwide on May 18th. Head here to find a stockist.