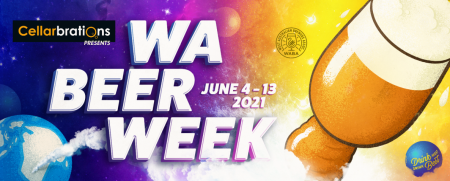 The Western Australian beer community is veritably champing at the bit for the start of this year's WA Beer Week, in what will be the 18th incarnation of the much-loved event extravaganza.
After pulling the pin in 2020 due to the pandemic, it all kicks off in just a few days' time with the launch party at Dutch Trading Co. on Thursday 3 June, and features a diverse line-up of many other brew-infused adventures. These include the Bridges 2 Beer fun run on Saturday 5 June (raising funds for Movember), the mid-week Brewer's Party at Nowhereman Brewing Co. on Wednesday 9 June, and the WA Beer and Brewing Conference at the Claremont Showgrounds on Friday 11 June.
The Brewing Conference coincides with the Perth Royal Beer Awards, the state's premier beer competition officiated by the Royal Agricultural Society of WA, which also conveniently takes place at the Showgrounds, later that evening. Fun fact: Facilities will be available for costume changes between the two!
If that ain't nearly enough, for the hungry (as well as thirsty) aficionado, you can take your pick(s) from food-and-beer-themed evenings such as the Black Friday Beer Degustation Dinner (June 4 @ Black Friday Brewing Co.), the BEERgustation Dinner with Colonial Brewing Co. (June 9 @ Collective Rockingham), Artisan & Cheese (June 10 @ Dutch Trading Co. – currently sold out), and VIET-NOLA (June 12 @ Campus Brewing).
Andy Scade, president of the Western Australian Brewers Association – the organising body of the returning celebration – said with the local brewing industry currently both "surviving and thriving", this year's Beer Week is "back with a vengeance".
"There's so much going on. It's really cool, really exciting," he said. "We're hoping we can engage with people and let them know what happens here and how many great beers are available.
"We really want to let people know what a great industry we have – all the breweries and the quality and range of beer."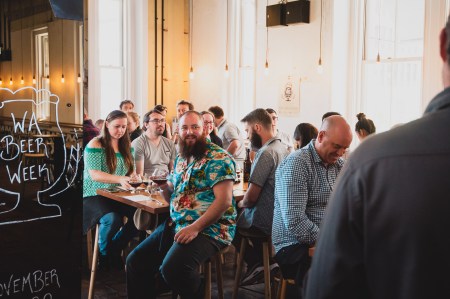 According to Andy, the unique history and culture of the WA brewing industry is something that will certainly be reflected across the scheduled program.
"I think we're quite proud of arguably being the birthplace of the modern craft industry (in Australia)," he said. "Sail and Anchor and Matilda Bay in the early 80s were two of the trailblazers, the forerunners, and then, around the turn of the century, you had Little Creatures and Nail, which I guess were that next wave.
"We're in our own little world over here. And I think the craft brewing community in general, people that are in the industry, know that it's a friendly place to be. It's a really close-knit community. We just want to welcome people in and get them to enjoy a slice of our world."
Andy likened the Beer and Brewing Conference on June 11 to "our smaller scale, local version of BrewCon".
"We've got a jam-packed schedule with lots of great things on offer," he said. "The keynote speaker, Howard Cearns, was one of the founders of Little Creatures and he's now also involved with Boatrocker. He's an amazing guy."
Presentations are set to cover everything from technical troubleshooting and manufacturing best practice, to the latest updates in sour beer bacteria, and a sensory insight into tasting beer, with industry legend Howard due to speak at the entirely sociable hour of 9.30am. Phew!
"(The conference) anchors well with all the other different events happening," Andy explained. "We've got lots of breweries in regional areas, so in terms of the layout of the week, with the conference on the Friday, I think that provides a lot of opportunities for those that are down south or further up north (of the state) who make the trip.
"When we put the calendar together we tried to make it a nice, appealing package for everybody."
In terms of any advice he'd give punters on how to get the most out of the 10-day spectacle, Andy said he's been to enough Beer Weeks over the years to know that "it's a marathon, not a sprint!".
"We've got all the events up on the website, we've got a program floating around everywhere in Perth," he said. "So have a look over it, and anything you like, anything that really excites you, I'd be booking your ticket early.
"And just get out there and enjoy it and support the local breweries. I guess the beauty of one of these kinds of week-long events is you can have different things for different people. It's not all just for the hardcore beer geeks.
"As an industry, you don't want to just be always talking to the same people, you want to attract others and hopefully get them excited about our world. If we can do that, then that's a win."
Please note: Some events may be affected by border closures. Keep an eye on the WA Beer Week Facebook page for updates.