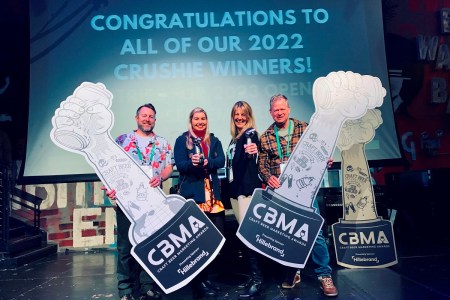 A swag of Australian breweries have found success at this year's Craft Beer Marketing Awards (CBMA) that recognise marketing's role in the global brewing industry.
Announced at the Craft Brewers Conference in Minneapolis, a total of 26 CBMA awards – or Crushies as they're called – were shared amongst Burleigh Brewing (five), Brick Lane (three) and their no and low alcohol sub-brand Sidewinder (five), KAIJU! Beer (four), Sydney Brewery (three), Wayward Brewing (two), Dollar Bill (one), Little Bang (one) and also Australian craft beer brand designers Craft Instinct (two) for work done for Blackman's Brewery's Barrel Farm series.
Global Crushies are rated as the CBMA's most coveted award as they symbolise being the best entrant globally, and are followed by the regionally awarded Platinum and Gold Crushies respectively.
Burleigh Brewing (two), Sydney Brewery, KAIJU! Beer and Craft Instinct all walked away with Global Crushies.
The awards were first held in 2020 when they just covered the North American brewing industry, but were expanded last year to become a global event. At the 2021 awards, the likes of Dollar Bill, Balter, KAIJU! Beer and Little Bang all took home Crushies. For this year's awards, 36 Australian industry professionals joined a 550-strong global judging panel.
For the full list of results, head here, and scroll below for the breakdown of what the Aussie contingent walked away with.
Representatives from Burleigh Brewing (pictured above), including founders Peta and Brennan Fielding and head of marketing Brieane Keay, were already at the Craft Brewers Conference so were able to collect their Crushies in person.
Peta said: "It's humbling to see the Burleigh Brewing brand recognised on the world stage, and by our talented industry peers. I'm so proud of our marketing team. Most of our brand and marketing work is created entirely in-house. Shout out to The Edit Suite videography and Borne website design, both Burleigh Heads-based companies, for their brilliance and contribution in bringing our creative visions to life for these awards.
"Our whole business is involved in our marketing efforts, whether appearing in videos, pouring or organising beer to be captured in its best light, modelling the merch in photo shoots or simply inspiring creativity by brewing awesome beers – these awards are for every single one of them."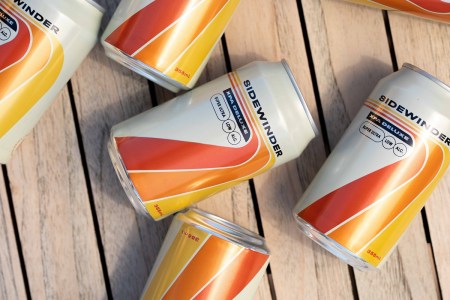 Reflecting on their standout achievement of winning eight separate Asia-Pacific "Crushies", including for their no and low alcohol Sidewinder sub-brand, Brick Lane's marketing director Tasha Harp Kennealy said "a great beer experience goes well beyond the beer inside the can".
"At Brick Lane, we pride ourselves on quality, innovation and meeting the everchanging consumer needs and wants," Tasha said. "To deliver this, we have our world-class brewery and an incredible team of brewers, innovators and marketers all focused on bringing to life products that taste amazing, look outstanding and cut through to a wide range of consumers. We are all very proud to be recognised across such a breadth and depth of categories."
BURLEIGH BREWING
BEST ORIGINAL VIDEO/SERIES
Global Crushie & Platinum Crushie Asia-Pacific: For the From our Brewers' Notebook Burleigh Sublime Mexican Inspired Lager video.
BEST WEBSITE DESIGN/BEST DESIGN
Global Crushie & Platinum Crushie Asia-Pacific
BEST ORIGINAL VIDEO/STORYTELLING
Platinum Crushie Asia-Pacific
BRICK LANE
BEST BRAND IDENTITY/BEER RELEASE CALENDARS
Platinum Crushie Asia-Pacific
BEST CRAFT INDUSTRY CAMPAIGN/HUMAN RIGHTS AND CAUSE RELATED
Platinum Crushie Asia-Pacific: For hosting Pink Boots Brew Day
BEST CAN DESIGN/BEST BEER SERIES
Gold Crushie Asia-Pacific: For Trilogy Of Fear imperial stout series
BRICK LANE'S SIDEWINDER BRAND
BEER–MARKETING WILD CARDS/BEST USE OF RETRO BRANDING
Platinum Crushie Asia-Pacific
BEST BRAND IDENTITY/UNIQUE LOGO DESIGN
Gold Crushie Asia-Pacific
BEST BRAND IDENTITY/BEST ALL AROUND MARKETING STORY (LOGO, MERCH, PACKAGING, WEBSITE, ETC.)
Platinum Crushie Asia-Pacific
BEST MERCHANDISE DESIGN/MOST CREATIVE LINE
Gold Crushie Asia-Pacific
BEST CAN DESIGN/BEST BEER SERIES
Gold Crushie Asia-Pacific
KAIJU! BEER
BEST MERCHANDISE DESIGN/MOST CREATIVE LINE
Global Crushie & Platinum Crushie Asia-Pacific: For their KRUSHMAN! utility belt
BEST CAN DESIGN/237–444ML
2 x Platinum Crushies Asia-Pacific: For Metamorphosis IPA & their South East Brewing Co's Coaster Beer
SYDNEY BREWERY
BEER–MARKETING WILD CARDS/BEST BREWERY REBRAND
Global Crushie & Platinum Crushie Asia-Pacific
BEST BRAND IDENTITY / UNIQUE LOGO DESIGN
Platinum Crushie Asia-Pacific
WAYWARD BREWING
BEST CAN DESIGN/BEST BEER SERIES
Platinum Crushie Asia-Pacific: For their entire core range
BEST CAN OR BOTTLE DESIGN/HARD SELTZER (ALL SIZES)
Platinum Crushie Asia-Pacific: For their W Seltzer range
CRAFT INSTINCT
BEST CAN DESIGN/BEST BEER SERIES
Global Crushie & Platinum Crushie Asia-Pacific: For The Barrel Farm label series for Blackman's Brewery
DOLLAR BILL
BEST MERCHANDISE DESIGN/MOST CREATIVE LINE
Gold Crushie Asia-Pacific: For their Rare Oak Society 2021
LITTLE BANG BREWING
BEST CAN DESIGN/237 – 444ML
Platinum Crushie Asia-Pacific: For their Zero Kelvin Cold IPA