Melbourne craft brewery Bodriggy Brewing will release TamePunk tomorrow (May 13) – a West Coast IPA inspired by Grace Tame and other women using their voices for change. Proceeds from sales will go to the Pink Boots Society Australia to support the education and encouragement of women working in the alcohol industry.
The Abbotsford brewery's latest release comes about after it was among the 10 breweries chosen by Pink Boots to host a Pink Boots Brew Day (pictured above) to mark their 10th anniversary this year. For their anniversary, Pink Boots chose the theme Courageous Conversations and Bodriggy said TamePunk's name is inspired by activist and advocate for survivors of sexual assault Grace Tame "and all the women speaking out".
The first chance to sample the beer is tomorrow (May 13) at the Bodriggy front bar from 5pm to 7pm. Pink Boots members will be present and there will be a Q&A session about the new beer with the Bodriggy team, which will include free pots of TamePunk.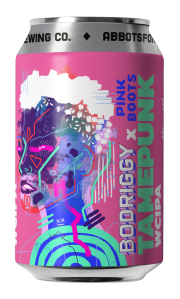 Bodriggy's head brewer Anders Norman said: "I was super excited when I found out that Bodriggy had been chosen to host a Pink Boots brew day. After reading the flavour descriptors of this year's (Yakima Chief Pink Boots) blend, my mind immediately jumped towards using it in a West Coast IPA. I hosted a tasting session where myself and the woman of Bodriggy sampled a number of different commercial examples of West Coast IPAs, identifying what they would want to see in their beer. Medium bodied, firm and lingering bitterness, bright orange in colour and balanced out at 6.5%. I'm really excited to see this limited release flowing through the taps at the brewery".
Pink Boots Society Australia president Tif Waldron said: "Ten years of assisting, inspiring and encouraging the professional development and education of women+ in the fermented beverages industry has been incredibly rewarding, and we've had the opportunity to watch the entire industry change and grow so much. Our hope was always for a future where Pink Boots Society didn't need to exist in our community, and while the growth and acceptance of women throughout brewing, winemaking and distilling has occurred, over the past year it's become so much more important that the network and support of other women+ is available. We have been inspired by the brave noise of women in so many male-dominated industries, the courageous women who have spoken up and told their stories – and this led to our theme of this year's brews to be Courageous Conversations to inspire others to have them and create and share the tools to better speak out".
Bodriggy Brewing Company is at 245 Johnston St, Abbotsford VIC 3067.