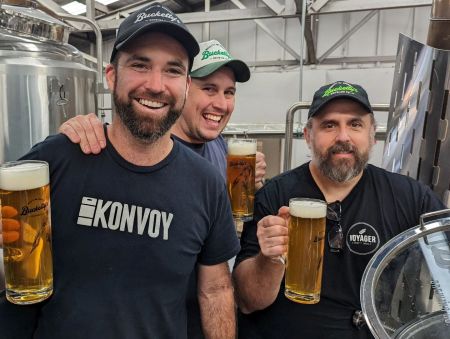 After opening their doors in Brookvale a little over a year ago, Bucketty's Brewing have now joined Australia's brewing elite after their Pale Ale No.2 won third best session beer in the world at the World Beer Cup, while Stone & Wood's Green Coast Lager won a silver and Urban Alley's Slapshot Pale Ale took home a bronze.
Founded in early 2021 by husband and wife team Nick and Lexi McDonald in the thriving brewery hub on Sydney's Northern Beaches, it's the first time Bucketty's has been able to enter the awards that are often referred to as the Olympics of brewing competitions. Last staged in 2018, and normally held every two years by America's Brewers Association, the 2020 event didn't go ahead due to COVID-19. They will become an annual compeition from next year.
Bucketty's brewpub on Brookvale's Orchard Road is already a hit with the locals and is regularly seen with people queuing to enter, even on weeknights. This accolade for their 3.5% pale ale will no doubt see even more people lining up to sample their beers from much further afield than just Brookvale and its surrounds. The mid-strength, that harnesses Vic Secret and Amarillo hops, ranked third in a field of 43 entries, with gold and silver going to two Colorado breweries – Station 26 Brewing and Launch Pad Brewery respectively.
Speaking with Beer & Brewer in the aftermath of the award announcement, head brewer Tony D'Astolfo (pictured above on the right with other members of the brew team) said "maybe now people will know who Bucketty's is".
"We're pretty much over the moon about the whole thing," he said. "Like I just said to a friend 'maybe now people will know who Bucketty's is'.
"The perimeter of independent bottleshops that we service is growing but it's still only about 10 kilometres from Brookvale. I doubt many people in the Inner West know who we are, so this is just extremely pleasing. I can't believe it.
"I was listening to the (World Beer Cup) live feed on my earbuds as I was cleaning the brewhouse. I didn't even hear them say 'Pale Ale No.2'. All I heard was 'Bucketty's Brewery, Brookvale' and I dropped the hose and screamed 'oh my god!'."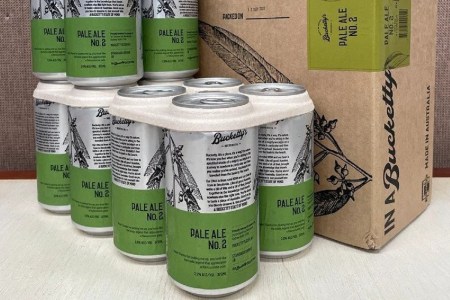 Tony, who was previously head brewer at Six String Brewing on the NSW Central Coast, originally hails from the US so knows only too well the weight that the World Beer Cup holds in the brewing community. This year's competition was the largest since it was founded in 1996, with 10,542 entries from 2,493 breweries representing 57 countries. Entries were evaluated by a panel of 226 judges from 28 countries.
"I was trying to impress that on some of the folks around here, because this is a mid-life crisis career change kind of thing for me," Tony said." I'm just trying to impress on them how extraordinary for us to do this is. It's just phenomenal."
Meanwhile, Lion continued their run of success at past World Beer Cups with their recently acquired Stone & Wood's Green Coast Lager winning silver in the Kellerbier or Zwickelbier category in a field of 101 entries. Gold went to Oregon's Heater Allen Brewery's Pils and bronze to San Diego's Attitude Brewing's Pils Bitte.
Urban Alley's success matches Bucketty's for breakout achievement, with the Docklands based brewery having only started brewing their own beers since 2018. They recently announced they were set to open their second Melbourne brewpub.
Out of 68 entries, their Slapshot Pale Ale won bronze in the Australian-Style Pale Ale category, where California's Lost Winds Brewing's Beach Hoppin' Pale took gold and the fittingly named Bondi Beach Party by Oregon's Sunriver Brewing claimed silver.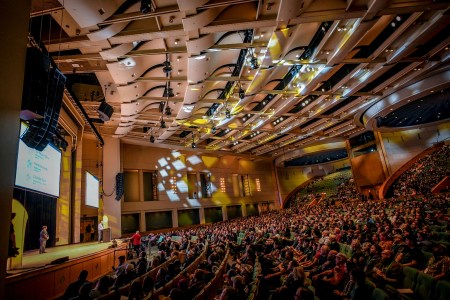 World Beer Cup judging took place in 18 sessions over nine days with judges bestowing 307 out of 309 total possible awards, reflecting the opportunity for one gold, silver, and bronze award in each of 103 beer style categories. No gold or silver was awarded in Category 68: Belgian-Style Witbier.
"The World Beer Cup showcases the incredible breadth and talent of the global brewing community," competition director Chris Swersey said. "Winning an award at this extremely competitive event symbolises one of the greatest accomplishments in the art of brewing. Congratulations to this year's winners on their outstanding achievements."
The previously biennial World Beer Cup will move to an annual from next year. Registration for the 2023 World Beer Cup will open in October 2022 with the awards presented May 10 at the Craft Brewers Conference in Nashville.