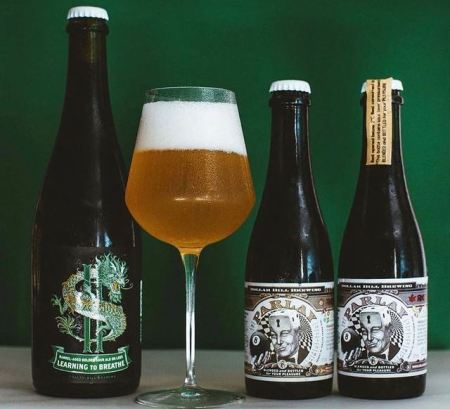 Dollar Bill Brewing are once again in the money as they follow up their AIBA success with two international trophies at the 2021 Craft Beer Marketing Awards (CBMA).
The Ballarat brewery owned by Ed and Fiona Nolle won the prestigious AIBA Champion Australian Beer award last week for their Gold Teeth wild ale. They've backed that up by winning two best bottle design "Platinum Crushies" in the Asia/ Pacific/Australia/New Zealand region for their Parlay Spring and Learning to Breathe releases at the CBMAs – that recognise beer marketing and design success. Dollar Bill's designer for both labels was Craig McGill.
The 2021 staging of the Craft Beer Marketing Awards was the first time the event was opened up beyond the North American market. It was also the first time Australian judges were involved – with Two Birds' Danielle Allen, Hop Products Australia's Grace Irwin, Pink Boots Australia President Tiffany Waldron and Beer Cartel's Richard Kelsey all adjudicating.
Dollar Bill were joined by a swag of fellow breweries from Down Under to receive CBMA recognition this year, most notably Balter Brewing who won eight "Crushies" in various hues while Kaiju! Beer and Little Bang both added to their trophy cabinets. Behind the US and UK, Australia had the third highest number of winners.
Always known for their clever marketing plays, Balter won five awards for separate video campaigns while their bushfire relief fundraiser was also recognised in the cause-related social media category.
After winning the inaugural GABS Can Design Award with their Face Inverter Citrus Super Sour Adelaide's Little Bang and designer Matt O'Connor were again successful with the same artwork with it winning a platinum award in the best can design category in the Asia/ Pacific/Australia/New Zealand region. Kaiju! Beer won gold in the same category for their Kaiju Krush artwork designed by Mikey Burton. The Melbourne brewery also won a platinum award in the best tap handle design category for the Asia/ Pacific/Australia/New Zealand region.