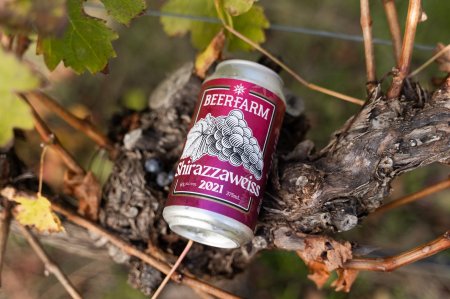 BEERFARM & LS MERCHANTS SHIRAZZAWEISS 2021 FRUITED SOUR (6.0%, 375ML)
There's a real sense with this year's vintage, that as the collaborators become increasingly aware they've hit on something truly novel with this release, the level of refinement to what's going on both inside and outside the tin has taken a leap forward in 2021. The impression you're left with, after you've considered the previous excellent releases in the series, is that a legacy is being forged by Beerfarm and winemakers LS Merchants.
It's hard to pinpoint exactly why Shirazzaweiss sets itself apart as one of the country's most anticipated seasonal releases. Perhaps it's its timing, where it so perfectly pairs to the season as, much like Autumn itself, it simultaneously speaks of Summer's recent embrace and the bracing cold of the Winter to come – with all its bright colour, cricket ball leatheriness and plump fruit sweetness contrasted with its crispness and earthiness.
Or perhaps, that by using that most Australian of grapes, it mirrors Shiraz's most defining quality of approachability and is appropriately borne out of Australia, for Australians.
The vibrancy of the 2021 iteration gives the impression the three tonnes of grapes used were so ripe they had been simply left on the vine before falling unhindered to the floor where the metabolic process of fermentation began in unison with the micro-organisms in the undergrowth, taking on an earthiness and a subsequent richness from the glow and warmth of the late Summer sun.
It's carbonated cordial looks belie its overall maturity, where a complex nose of ripe red fruit and leather and spice is reciprocated by a devine interplay of flavours and textures on the palate. Ripe raspberry is perfectly sweet and sour and is buoyed by the dialled in Berliner base that has a champagne-like spritz about it, before being tempered by dry, tannic notes.
The 2020 Shirazzaweiss has just reappeared on tap at the farm and at various locations in barrel-age form after being locked away for 12 months in ex-chardonnay French oak barrels before being blended with the 2021 iteration. That same process has just begun with the 2021 vintage and it would seem the legacy is again being built upon.