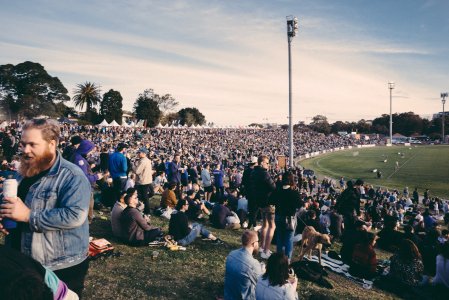 Beer. Footy. Food. It's all in the name for one of Sydney's most-loved festivals that brings together three of the inner west's favourite things inside the hallowed grounds of one of the city's most iconic sports fields.
After being king hit by COVID in 2020, the Beer Footy & Food festival returns this Winter for its fifth appearance and will once again sprawl across the homely confines of Henson Park's grass hill to allow punters to revel in one of the country's greatest community sport experiences.
Not content to just bounce back from COVID the organisers are this year doubling the Marrickville festival's reach by running it across two separate Saturdays, where NSW Rugby League foundation club the Newtown Jets will face off against fellow legacy clubs the Western Suburbs Magpies and South Sydney Rabbitohs on July 24 and August 7 respectively.
Complementing the on-field action will be a who's who of local and interstate breweries, natural wines from local merchants P&V Wines, a massive line-up of local food vendors, a bumper dedicated kids section with jumping castles, a petting zoo and more, plus music provided by the Balmain Rozelle Pub Choir and a DJ.
For festival organiser Matt Rule, it's an event that speaks of the inner west's history while embracing its changing demographic.
"It's just one of those really accessible days out for a wide audience of people. You're sitting on the hill watching the footy – it's what a lot of us remember doing at some stage in our lives. It's a throwback to yesteryear of community footy grounds – where you aren't restricted by a stadium environment, where you can get up and move around with a beer in hand. And then come half time you can actually run out on the field and the kids can kick a footy. People hold those things very precious to this day."
Due to its outdoor setting, the Beer Footy & Food festival was largely COVID-safe before that was even a term, which gives Matt confidence the initial 5,000 person capacity for each day can be expanded as the event's dates approach.
"We're technically classed as a sporting event so we're less restricted by COVID restrictions than say a music festival would be. If it gets to July 1 and everything is looking really good then we may look to expand on our numbers.
"We're a craft beer festival in part but we don't go down the path of being too overly particular about things. We want the beer to be accessible and we encourage the breweries to sell their beer in tinnies… We never struggle to get the breweries back each year because they do really well."
Entry for kids under 15 is free. Head here to buy adult tickets and stay tuned to the Beer Footy & Food Facebook page for event updates.