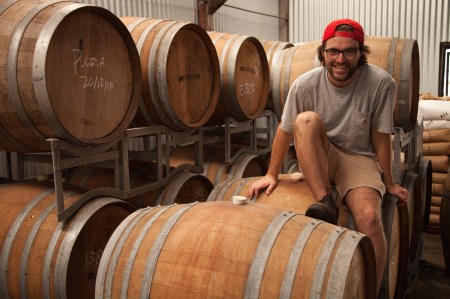 The latest addition to the inner west of Sydney's burgeoning craft brewery scene is Wildflower, which brews its ales using wild and native yeasts sourced only from New South Wales.
And while the cellar door, located in a small laneway just behind the Grifter brewery, is slated to open in May, two of the beers (a Gold and Amber) are available online and in selected bottle shops from today.
Wildflower is the brainchild of Topher Boehm, who moved to Sydney from the US to study astrophysics, but instead ended up brewing beer at Batch and later Flat Rock Brew Cafe in Naremburn.
Boehm told Beer & Brewer that he has sourced most of his wild yeast directly from cuttings, or 'wild captures' he has taken from flowers, tree barks, sap, or fruit and fruit skins from around regional NSW.
But like many, his initial foray into the brewing world came via home brewing, a hobby he enjoyed and shared with the brewers at Batch before they opened their space.
"When they were about six months from opening I started working for them developing recipes, but also physically building the tasting room," Boehm said. "After that it just rolled into a full time job and about 6-8 months into that I realised I probably wouldn't be going back to do my PHD – I'd probably just keep brewing!"
Boehm said he was initially drawn to the style of ale that he's brewing at Wildflower due to its approachability.
"My wife wasn't drinking the big IPAs I was making but I'd go buy a Saison Dupont and she'd say 'yes this is what I want' – so I thought OK, maybe there's more to this style than meets the eye.
"It's approachability for everyone, the high carbonation, the slightly more acidic flavours, and the nuances in the hops… that was the first thing that drove me to it, and then I just kind of fell down the rabbit hole."
In 2015, Boehm travelled around Europe, visiting 'old world' breweries in Belgium, France and England, before he returned to the US to ask brewers their about the process of brewing these older styles and the logistics of sourcing yeasts.
From there, it was back to Batch for eight more months before Wildflower became a full-time gig.
After extensive testing of the local NSW wild yeast – in which he let the yeasts ferment and taste-tested them – Boehm said around one-in-five were palatable, in that they weren't too acidic or strange in flavour; for example, one wild yeast strain, Brettanomyces can sometimes produce a "bandaidy" or plastic flavour.
Blending the good yeasts together, he eventually created his own house culture: a blend of different wild yeasts and a Dupont strain, which he described as the "workhorse" of Wildflower.
For now, Boehm brews the majority of his wort at Batch, before transporting it back to his nearby cellar where the house culture is added and it is left to age in the barrel.
Wildflower has started with three beer offerings: a Gold, an Amber and a table beer (the latter which will only be available at the tasting bar once it opens).
Different ages of each style (one barrel might be two weeks old, one three months, one five months, for example) are blended together in the aim of a rounded, nuanced flavour, before the beer is bottled where it undergoes secondary fermentation and carbonation.
Boehm described the table beer as the simplest of the Wildflower beers, and therefore his favourite: at 3 percent it's a very light, low hops, yeast driven beer that presents very clean despite a five-to-six day ferment – "as simple as it gets when it comes to brewing."
The Gold and Amber are brewed using two different worts which are initially fermented in a wide, converted dairy vat, allowing for the yeasts to express their full flavour, that are then treated in barrel in exactly the same way.
"The Gold ends up being a 5 percent, slightly more hoppy, golden beer and the Amber is a 6 percent, slightly more malty amber ale."
All three beers will be available at the cellar door once it opens, poured from the bottle into the appropriate glassware "at around eight degrees Celsius"; the Gold and Amber will also be officially launched at an event at Bitter Phew in Darlinghurst on May 6.
Boehm also hopes that Wildflower will add further diversity to what is quickly becoming a hotspot for Australia's craft brewery scene – "really the epicentre of brewing in Sydney for sure, if not Australia in my opinion."
"If someone is coming in from out west or interstate and they want to see some breweries, would they rather drive around all day or just catch a train to Newtown and start off at Young Henrys, then hit every place from there down to Sydenham?
"All the breweries around here have slightly different focuses, mine being different again from theirs. Someone might not really want to be trying low alcohol, barrel aged beers at 3pm when they want big, kickass IPAs – well Grifter and Batch are right around the corner so they can go there, which is awesome."
Awesome indeed.