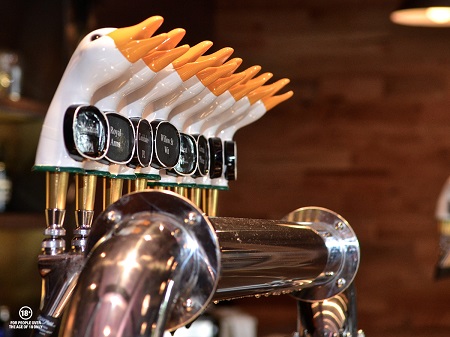 Lovers of American craft beer can rejoice because Goose Island has landed on our shores and will be available in select venues as of Friday 21 April.
Goose Island will launch in Australia with its newest release the Midway Session IPA, a 4.1% sessionable IPA.
Jared Jankoski, Goose Island's Brewmaster, said: "Goose Island Midway IPA is a lighter bodied dry hopped beer that we would call a 'session IPA' in the US. It has a pleasant balancing malt character, low to moderate bitterness and a unique, bright tropical hop aroma derived primarily from Mosaic hops. The result is very refreshing and enjoyable beer with a great hop aroma."
To celebrate the landing, Goose Island will be putting on a 'Hoppy Hour' at select venues in Melbourne and Sydney where the Midway IPA will be available courtesy of Goose from 6pm until the kegs run out.

The pioneering Chicago brewery is bringing its expertise and a range of its brands to Australia, with the local Aussie brewers working in close partnership with Chicago Goose Island brewers to bring the internationally renowned Goose IPA to Aussies. The six-time Great American Beer Festival medal winning beer will be arriving in the coming months.
A launch of packaged bottles of Goose Island's beers into the off-premise will also launch soon, Beer & Brewer will keep you updated as more information becomes available.
Carlton & United Breweries (CUB) will be handling the distribution of Goose Island in Australia, but the local brewing of the beer will be overseen by the Chicago team to "ensure that it meets the high standard that the Goose team have set for themselves".
Jankoski continued: "Brewing locally gives a great freshness advantage, and with our ability to be directly and constantly involved with the brewing process we see this as the most ideal way to bring our beer to Australia. We have been involved every step of the way, giving direction on the brewing process and visiting the brewery to personally taste the beer for every trial."
Ken Stout, the President & General Manager of Goose Island, said they are very proud and excited to introduce Goose Island to the great beer lovers of Australia.
"It's also very flattering that interest in American craft beer is spreading around the world, and thrilling for Goose Island to be a part of the movement. Everyone at the Goose Island Beer Company is looking forward to making some new friends Down Under."
Get on Goose this Friday during Hoppy Hour from 6pm at the following venues:
Melbourne
The Catfish Bar — 30 Gertrude Street, Fitzroy
Freddie Wimpoles — 125 Fitzroy Street, St Kilda
Cookie — Level 1, Curtin House, 252 Swanston Street, Melbourne
Sydney
Petersham Public House — 296 Stanmore Road, Petersham
Newtown Hotel — 174 King Street, Newtown
Keg & Brew — 26 Foveaux Street, Surry Hills