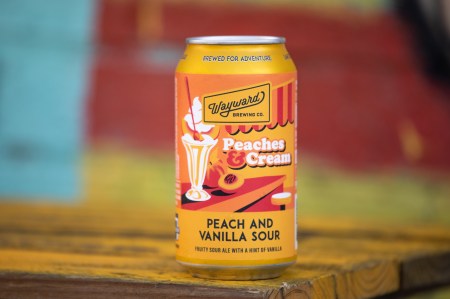 WAYWARD BREWING PEACHES & CREAM PEACH AND VANILLA KETTLE SOUR (5.2%, 375ML)
Back in 2016 a peaches and cream ale was one of Wayward's first ever cellar door releases when they brewed it in collaboration with Surry Hills craft beer bar Keg & Brew for Sydney Beer Week. After wanting to brew it again for some time they finally have – albeit considerably reimagined.
"The original version was a cream ale style, which was meant to emulate a classic American cream soda. Our new version of Peaches & Cream is a kettle sour, so you're looking at a classic sweet and sour flavour combination," Wayward's head brewer Shaun Blissett said.
"Part of the reason we took so long to brew this beer again is because the vanilla market has been all over the place, and we've had a hard time sourcing good vanilla. That's why I was so excited when I found the Madagascar Bourbon vanilla, which is what we're using in the current version (instead of whole beans).
"This extract is actually an even better alternative for this beer because it's specifically rich and creamy, and it really packs a flavour punch. Madagascar Bourbon vanilla is also the second most expensive ingredient in the world after saffron, so you're getting something very special in this brew."
That decadence translates into the beer itself and it really does what it says it will on the tin – even down to the high wispy white head looking like the whipped cream on top of the sundae on the can art.
Hazy and golden yellow like peach flesh, the nose is the epitome of peaches and cream lollies as the candied aromas of the Australian grown fruit and vanilla are highly distinct. It's incredible how something that can smell so sweet isn't once its tasted as a tangy peach souring and silky, velvety finish make for an impeccably balanced drinking experience.
"It's a fruited kettle sour, which means we specifically brewed it to sour quickly, within 48-72 hours," Shaun added. "It's brewed with oats, wheat and English Caramalt, then loaded with Australian-grown peach puree — the peach is added post-ferment to maintain that fresh fruit flavour. If you add the fruit beforehand, it gets cooked and no longer has that crisp taste that you want in a fruit beer."