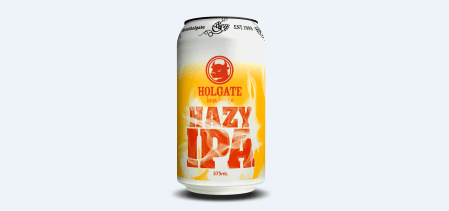 HOLGATE BREWHOUSE HAZY IPA (6.8%, 375ML)
Paul Holgate says he's "loving it" and we do tend to agree as this classic example of a hazy IPA delivers on all the fronts that it should with huge hop characters in flavour and aroma, a creamy and silky texture and a decent level of complexity all moulded into the mix.
It pours burnished gold with deep haze and a fluffy white head as big juicy notes of mango, citrus and stone fruit (from the all-American hop lineup of Azacca, Amarillo and Mosaic) abound with a decent chunk of spicy pine tying it together. The tropical fruit medley continues in flavour while bitterness is present but restrained as the oats and wheat soften the full-bodied mouthfeel whilst not completely overshadowing the warmth from the alcohol.
This is the third year in a row Holgate have released their Hazy IPA and this is essentially a re-release of the original brew that was tap-only in 2019. Last year's release came in 500ml cans.
But due to consumer and sales team feedback, all of Holgate's limited releases, including this year's Hazy, now come in 375ml cans – which the team think is a good size for this big 6.8% hazy – especially given the excise on higher ABV beers. They're also doing full label wraps on the 375ml cans which gives them more creative space to play around with on their limiteds as well.
The fact a 375ml can makes a four or 16 pack more affordable, and the beer stays fresh right to the end of the can, doesn't hurt either.