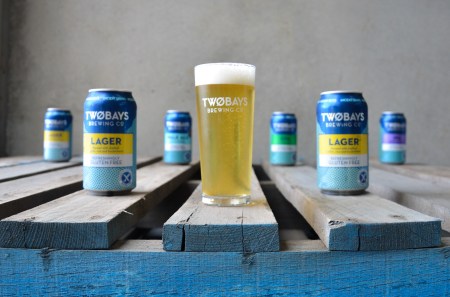 TWØBAYS Brewing Co have answered the calls from fans of their gluten free craft beers by adding a lager to their award-winning core range.
After trialling a few different lagers and pilsners in their Mornington Peninsula taproom (Lowtide Lager, Czech Mate and Lager than Life) the dedicated gluten free brewery have settled on a German-style pilsner to sit permanently alongside their Pale Ale, which took gold at The Indies last year, and their XPA and IPA – which won silver and bronze respectively at the same awards.
Founder Richard Jeffares said the arrival of their Lager (4.5%, 375ml) follows persistent demands from their customers.
"We're really pleased with this easy-drinking, crisp version of a German pilsner. I've probably had more requests for a lager release than anything else, so we're delighted to have created a recipe that stands up in a core range we're very proud of," Richard said, who was diagnosed with Coeliac Disease in 2015 prior to launching TWØBAYS in late 2018.
"Lager has certainly had its renaissance in the craft beer world of late, and we always want to make sure gluten free beer drinkers can access the same amazing range of beers as everyone else. At 4.5% this beer presents another entry point to the world of gluten free craft beer – especially for those who are not accustomed to the hop flavours and aromas of an ale style beer."
Head brewer Kristian Martin said: "Pale and Vienna millet are delicate grains. That allows us to play with subtle hops – in this case Saphir and Premiant – which present clean tangerine aromas and leave the sharp, refreshing finish a lager should.
"It feels that this is the natural fit for a core range dominated by hoppy ales – the Lager really cuts through with a clean palate. We know that lots of consumers prefer a lager style of beer, and we wanted to make sure we had a great one for them to explore."
TWØBAYS Lager hit shelves nationally and online this week.