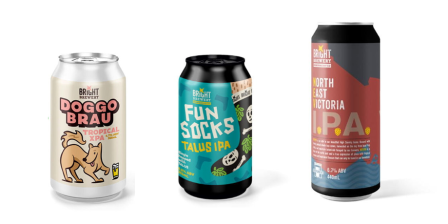 BRIGHT BREWERY DOGGOBRAU XPA (4.5%, 355ML); FUN SOCKS TALUS IPA (6.8%, 355ML); & NORTH EAST VICTORIA IPA (6.7%, 440ML)
Three new beers from Bright Brewery show the High Country brewers have lost none of their love for bright pale ales despite the onset of Autumn's chill.
And, first up, you couldn't picture Summer in a glass more clearly than the DoggoBrau XPA as its light golden colour and white, billowy, cloud-like head remind you why this style has year-round favour in Australia. The aromas allow the theme to play on, with in-season Summer tropical fruits and a touch of fresh cut grass enhancing the pleasant introductions. There's a fresh cleanness on the palate, as soft flavours of pineapple and lemony-lime citrus are carried along by a lively carbonation, mild sweetness and a decent nip of bone dry bitterness, making this beer a human's best friend.
This collaboration brew with RSPCA Victoria, where 10 per cent of all sales are going towards helping animals in need, is being officially launched and tapped at Carwyn Cellars this Sunday from 1pm. Head here for all the details.
The North East Victoria IPA (or NEVIPA) is basically a representation of the brewery and its surrounds in a can. Brewed with locally grown, freshly picked Galaxy hop cones and mountain botanicals foraged by the brewers themselves, it's unique and articulate at the same time.
Pouring light but bright yellow gold with some haze and a creamy white head, varied, but highly distinct, aromas wash over the glass. Uber ripe pawpaw (almost dripping) and juicy pineapple merge with a peppery spice and floral herbs which are all tied together in malt's sweet embrace.
The beer's fluctuating character carries through in flavour and overall drinking experience too as minty-sweet bubblegum bounces on the tongue in a jumble of fresh, clean citrus while there's a herbal remedy nature to some of the botanicals. This segues into a pleasing, resin-tinged bitter finish.
Which in turn is a nice pivot itself into the Fun Socks Talus IPA with this West Coast-style IPA showcasing some of the botanical traits of its hero hop too.
It's the first in what will be an ongoing series of single hop IPAs and Bright get it off on the right (socked) foot. Light gold with good clarity, defined lemon-lime and green melon aromas are backed with wispy floral notes and sweet toffee. One of Talus' often seen calling cards is rose petal or water and that is evident here, alongside fresh, zesty citrus that it's also known to impart. But its floral, herby nature really just plays into this being a classic clean and crispy West Coaster with its undergrowth dankness and Christmas pine complementing a moreish malt backbone and firm, lingering bitterness.
You can bag yourself some actual socks as well that are resplendent with Clint 'Pocketbeagles' Weaver's art that adorns the can (he's responsible for the art on DoggoBrau too). Head here to pull your socks up.