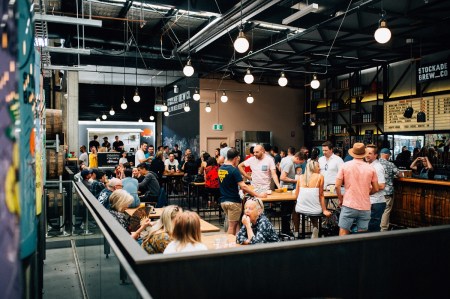 Sydney's famed Inner West brewery destination has lost one of its own as the Tribe Breweries-owned Stockade Brew Co venue is set to go under the hammer on April 11.
We recently reported that the Marrickville venue had been closed indefinitely as Tribe looked to avoid liquidation after going into voluntary administration back in February. Sources said brewery equipment and venue furniture had been removed from the premises in the days after Stockade announced the closure.
But late last week the 758 square metre Cadogan Street building that housed the venue and micro-brewery was listed for sale through LJ Hooker Commercial in Newtown with a planned auction to take place next month.
Agent Jim Marinos told Beer & Brewer he had already received offers in the mid $4 million range. The building has 65 square metres of first floor office space, 670 square metres of usable warehouse area (which includes a cool room) with the remaining area consisting of two car spaces and other outdoor space. No brewery equipment or venue chattels are included in the sale.
"It's hard to say (what it will get) in an uncertain market, but Marrickville is currently seeing $6,500 to $7,000 per square metre, which will give people an indicative guide of what to expect," Mr Marinos said.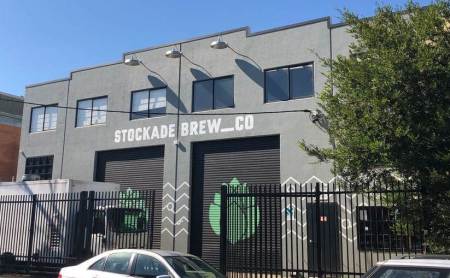 'Times are tough for indie brewers'
Stockade Brew Co's venue was established in 2018 and had become part of the official Inner West Ale Trail. Along with its 12 fellow brewing neighbours it had helped to establish the area as one of Australia's craft beer capitals.
Inner West Brewery Association head, and owner of Marrickville's Sauce Brewing, Mike Clarke lamented the loss of Stockade.
"It's sad to see one of our own struggling," Mike told Beer & Brewer. "We are a very collaborative industry, especially so in the Inner West.
"It means one less stop on the Ale Trail, one less voice in the collective weight of our group, one less brewery to borrow from and loan stuff to, one less place to hang out, and one less drawcard to the Inner West.
"(It's) not something we like to see, nor a trend we'd be happy to see continuing. Unfortunately the reality is that times are tough for indie brewers – two years of pandemic followed by a year or more of high inflation and cost of living worries have driven our costs up and our revenues down. I hate to say it but I don't think Tribe will be the last to go into administration.
"From an Inner West brewery perspective, we'll continue to support each other however we can."