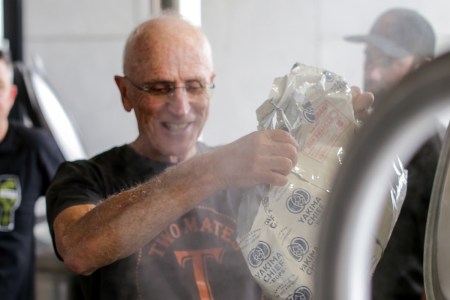 "We could talk for hours on the impact this man had on our business and our hearts."
Names like "legend" and "champion" can often be bandied about in the brewing industry as everyday terms of endearment and mateship between peers. But in the case of Neil Whittorn those words, and so many others that paint a similar picture of the man, were definitively true.
As Beer & Brewer spoke with a number of figures in the Australian brewing industry this week who were close with "Pops" during his 50-plus year brewing career, those same words kept getting repeated over and over again. They were only matched by ways to describe their shared sadness as the immensely liked and respected brewer, mentor, father figure and friend to so many tragically lost his battle with cancer on Sunday. You can find their extended personal reflections on Neil below.
Neil's career began in 1972 at Carlton & United and, such was the way he kept himself fit, he was still commercially brewing as recently as last year. In between those two distant poles he worked for a range of different breweries in different roles, at both big and small enterprises, both here and overseas and played his part in winning numerous major awards. One of the people we spoke with said he was "probably the most experienced brewer to work in (Australian) craft beer".
But it will be his indomitable nurturing and friendship of the next generation of Australian brewers and new breweries that will be his greatest legacy and what contributed to him being honoured as the 2022 Independent Beer Awards' Lifetime Achievement recipient.
Having been a senior figure at Matilda Bay during its thriving Port Melbourne days Neil would influence and forge lasting friendships with so many that spent time brushing up against him at the Garage. Some of those to be most indelibly touched by Neil was the Matilda Bay brew crew at the start of this century's second decade of Dennis Stewart, Tim Miller, Chloé Lovatt and Alli Macdonald under head brewer at the time Scott Vincent.
Dennis, who felt "Pops would outlive us all", said his initial mentor "really has shaped today's brewing industry". He said the nickname "Pops" summed him up perfectly: "All the best qualities of any grandfather figure – patient, kind, supportive and just a little bit mad". Alli described him as "someone who had forgotten far more about brewing in his life than most of us will ever know".
From her first day on the Garage's bottling line in February 2011, right up until the very recent past, Chloé and Neil formed a special bond. Throughout his cancer treatment she was flying from Melbourne to Coolangatta every few weeks "to try to give him as much support as he had given me, and everyone who knew him". She would have been there again with him today.
"I knew he was someone special, from the first time we went to a beer event and I saw the look on the faces and the reactions of people that knew Pops," Chloé said. "Pops taught me how to brew, but he also taught me about the importance of believing in myself, and being myself in the beer industry. Get in the brewery early, work hard and enjoy a beer you brewed with your team at the end of every work day."
Due to their own deep connections made with Neil at Carlton & United and at Matilda Bay, the Stone & Wood founders would pry him from his beloved Melbourne home in 2014 to head north at the age of 67 to come work with and mentor their ever-expanding Northern Rivers brew team.
Again, during his time at Stone & Wood, he would be "a mentor and inspiration to so many".
In August 2017, when celebrating his 70th birthday, Stone & Wood said: "Neil's dedication, his passion and countless hours on the brew tower have contributed to this country's craft beer revolution".
It's been said "old brewers never really retire they just keep hopping along", and after "retiring" from Stone & Wood Neil would go on to work closely with Two Mates Brewing in Lismore and Madocke Beer in Ashmore in the Gold Coast hinterland.
Two Mates Brewing's founders Andrew Newton and Grant Smith told us they will be forever indebted to Neil after he "saved" their business in 2021 when, following a head brewer's departure and with their first beers in tank, he answered their cries for help. They said he was "a tower of strength (even) through his own adversities (of battling illness)" as he travelled the two hour round trips daily to steady the ship. After moving from a consulting role with Two Mates to being more hands on he would go on to mentor their new young brewer and be "instrumental" in his education.
"We could talk for hours on the impact this man had on our business and our hearts," they said.
Alongside seeing a new chapter in his life opening up with Two Mates, Neil would also invest more than just his time into the Madocke Beer company up the road on the Gold Coast. Co-founders and partners Annelies Nijskens' and Jimmy Van Eetvelde's (pictured below with Neil) first contact with Neil was via an email sent to their website in September 2020 that simply read: "Love to touch base. Belgian beer is great".
His love for the Belgian beers Madocke specialise in was well known and Neil saw how this new brewery would add to the rich tapestry of the Australian brewing community. He became an investor and had found yet another way to keep busy instead of being officially retired.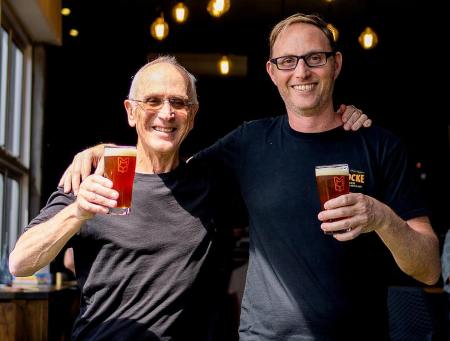 Annelies said they acutely felt the same wonderment at Neil's "light" that everyone else had throughout his career. The only silver lining she could find at this difficult time was that he was somewhat, finally, getting the wider public recognition that he for so long had deserved.
"He wanted to pass on his knowledge to the next generation. He would engage and encourage the younger generation. He was capable of making them shine and making them confident in what they were doing.
"He was too humble and never wanted to be in the spotlight. He let everyone else shine.
"In one eye I'm happy because he now gets the recognition he deserves. But in the other eye there are tears of immense sadness because he's not here to feel it for himself."
---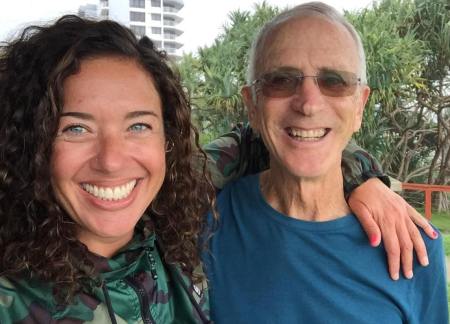 White Rabbit's Chloé Lovatt
"Pops is my family. He is my mentor and my best friend. We spent three years together at Matilda Bay Brewery, Port Melbourne. He always said we were the best team. When I moved to WA, then Canada and then back to Australia, Pops continued to be my biggest supporter in my career and my personal life too. When I was visiting Pops when I returned in 2021, we had a daily routine together before the border closures kept us apart. Then finally when they opened for us again, he was diagnosed with cancer. It is overwhelming and heartbreaking. It is difficult to think that just a few weeks ago was my last hug with Pops. So many people have told me they thought he would live forever, as he was someone who always looked forward to life. This year is 10 years since we won champion beer for Alpha Pale at the AIBA, and I was looking forward to celebrating the success of his treatment, and the journey we have both been on separately, and together as brewers and friends. The Beer Mechanics started a tradition on the morning after we won the award, and the Beer Mechanics will continue the tradition on the same day every year for our Pops. The only year he missed being there with us was in 2022 when he was battling cancer. Pops was a true team player, hardworking, humble, strong, positive, passionate, athletic, smart, comical, always smiling, and welcomed everyone into the brewery and into his world of beer. He always introduced me first, and the conversation was never about him. Pops was always interested in people, especially young brewers. Pops was also very interesting, so the conversations with him were always extremely entertaining. In the reality of this death, it does not surprise me how many people have reached out to express how much that man meant to them. There are so many people, not just beer people, that loved Pops. Why it probably took me so long to answer these questions is because I struggled to put words to how I felt about being contacted by the media to speak about Pops. Because the last thing he ever wanted was an article about him. And the only article I ever wanted to be part of was about Pops."
---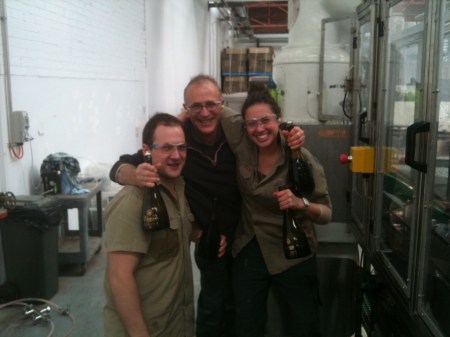 Brewmanity Beer Co's Tim Miller
"I've known Neil since I first started brewing after finishing uni at Matilda Bay back in Dandenong South. He was not only my brewing manager at the time, but a great mentor. Always taking the time to teach the why and not just the how. He taught me a lot about time management and multi-tasking within my day to ensure beer o'clock was always on time. He would always put me forward for the step up, as he always wanted to get me up-skilled and saw potential in what I could achieve. He was an incredibly caring person who always put others first. It didn't matter if he was introducing you to new people, or having to do weekend work, the people around him came first and he would always talk you up and ensure he did the extra hours so us 'young kids' could enjoy our lives. He always made sure that no matter what the daily tasks were, there was a time for all of us to eat together. I believe that he didn't only do this with the brewers he worked with but the whole brewing community. Never excluding anyone, no matter who you worked for, and then also introducing them to more people to form a greater brewing industry network. I am humbled to not only call him a colleague but a great friend. I will miss him deeply."
---
Malt Shovel's Alli Macdonald
"Pop's interviewed me for my first brewing role over 10 years ago and he was the hardest interviewer on the panel! But he was so funny, so generous with his time and knowledge and so passionate about beer and about the craft beer industry. When we used to ask him a technical question, we usually started it with 'Pops, back when you invented brewing'. He was someone who had forgotten far more about brewing in his life than most of us will ever know. So many of the lessons he taught me I still carry with me today. There were small lessons like I can't walk past grain on the ground without sweeping it up as Pops would always check if you had swept up post milling in. To far bigger lessons like the importance of being part of a team. Neil loved being part of a team. He knew everyone and he was a mentor and inspiration to so many. He was also a big driving force of the annual collaboration Abbey Collaby between Matilda Bay, CUB, Mountain Goat and Moon Dog. I can't help but smile when I remember Pops and all the good times. Two memories of him really stand out. One was the look on his face when he realised during brew day that the recipe he had written for the Abbey Collaby India Red Rye Rauchbier had no rye in it! The mistake was fixed and in addition the beer was re-named to an India Red Rye Rauch Rye-less Ale in honour of Pop's mistake. And also Pops loved Matilda Bay's Rooftop Red Lager (along with Redback Pale) and he had an endless supply of Rooftop Red t-shirts years after the beer stopped being produced. Whenever we thought he had finally gotten to the end of wearing those shirts he would always find a new one in pristine condition!"
---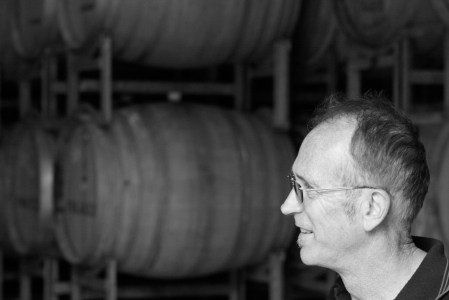 Asahi's Scott Vincent
"I was fortunate enough to work with Neil at Matilda Bay. I was the head brewer there and having Neil as a senior team member was a wonderful experience. His brewing knowledge, attention to detail and care for beer was inspiring. Most importantly Neil always made coming to work an enjoyable experience. His mentoring and friendships with the younger brewers was a joy to watch. What many people didn't realise was that Neil had spent many years learning the brewing trade at CUB and was very well respected within this business. Neil will be missed. He was a brewer, mentor, friend and mate, but most of all he was Pops."
---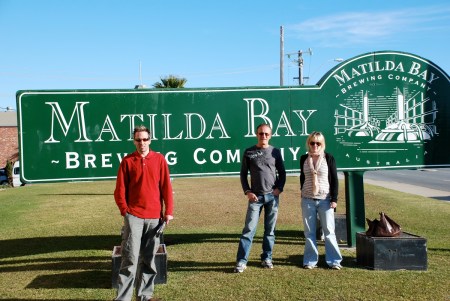 Little Creatures' Jeremy Halse
"I first met Neil (and his colleagues from Stockade) at a beer festival in Melbourne. At the time I was contemplating whether this fledgling industry was really the place for me, yet the passion and loyalty exuding from this ragtag bunch of 'oldies' was irresistible. They told me they were looking for a brewer but thought the role might have been filled but to call and ask on Monday. I decided to take the plunge, I called up, got an interview and ultimately the job (apologies to the bloke who thought he had it). Neil took me under his wing from the start, he was such a generous person, he had no ulterior motives, just a desire to make great beer, share his knowledge and have fun. Not too long after I had started at Stockade, Matilda Bay purchased the assets (we'd been making their beers under contract – it was the growth of Bees Neez that got me the job) and the place was transformed to the now legendary Garage and the brewing team was reduced to Neil and myself (AKA the Beer Mechanics). I witnessed in Neil, over the next few years, an unstoppable work ethic, more and more passion and frustration, but endearing stubbornness. I was offered the role at White Rabbit and left the Garage mid-2009. Upon telling Neil, I was blown away – the pure, unadulterated emotion – I had never experienced anything like it. I nearly wanted to rip up my new contract. I didn't see too much of Neil in the following years but I was so happy to hear of the great new family unit that had blossomed at the Garage. I have since worked with all the ex-Matilda Bay crew and conversation often led to stories of Neil and 'back in the day'. We had a romping great time at the Garage in those early days. I couldn't have known how special they actually were and what an inimitable and genuine person Neil was to work with. He'll be missed but never forgotten.
---
Little Creatures' Dennis Stewart
"I worked with Pops as a brewer at Matilda Bay Port Melbourne. It was only my second job in the brewing industry, with all of 18 months experience when I started. The following two years were some of the best of my professional, and general, life. The brewers quickly became known as the Matilda Bay crew (and) we dove into all the industry had to offer, learning and meeting as many like minded people as we could. Under Pop's guidance we even picked up an award here and there. Luckily we also had Scott Vincent there to keep us in check! His passing is a huge loss and extremely sad for his family and beer industry in general. But I must admit I am still quite shocked, he was such a healthy fit guy, well younger than his years. I still have no idea how he was brewing on small hands-on kits right up until the end. I really believed Pops would outlive us all. Like so many young brewers, Pops was one of my initial mentors. He was such a natural. There are so many in the industry right now who have been helped by Pops, he really has shaped today's brewing industry. Pops was great at instilling the importance of being detailed orientated, especially when it came to paperwork. I can hear him now: 'I just don't get it! How can you be so smart yet forget to fill in the final FV temperature?'. He was always smiling, like he knew he was working in a truly great industry."
---
Two Mates Brewing's Andrew Newton and Grant Smith
"This is devastating news and a real loss – not only to the industry but because he was such a good person and friend to many. Pops not only saved our business but was a tower of strength through his own adversities. Our journey before connecting with Pops was one with many challenges. Prior to the flood events of February 2022 we endured two and a half years of compliance hurdles and brew staff turnover due to the uncertainty of our operations and then Covid. On the departure of our second head brewer in 2021, in the space of less than two years, Pops answered a cry for help. We had our first brews in tank with no one to steer the ship. Pops took to the task without hesitation and after joining us in a 'consulting' role asked if we would take him on in a greater capacity. This was a reflection of how well we bonded. We did not hesitate and welcomed him on board. The great man that he was, he travelled two hour round trips daily to stabilise our business and brews. He mentored a new young brewer we had taken on and was instrumental in his education. I could talk for hours on the impact this man had on our business and our hearts. He was and will continue to be a big part of our family as we continue to grow our business towards its own legacy and having Pops as a cornerstone of where we are today. A kind hearted man who always went that extra bit to help others, his calmness and friendly disposition always brought the best out of others. Whether as a mentor or as a friend, he just got what it was that made people good. Our admiration for his love of life, running and being healthy and fit right to the finish line, typified the bloke that he was. We will forever be indebted to the legend that was Neil 'Pops' Whittorn. Rest in Peace Pops, your legacy will long live through our business."
---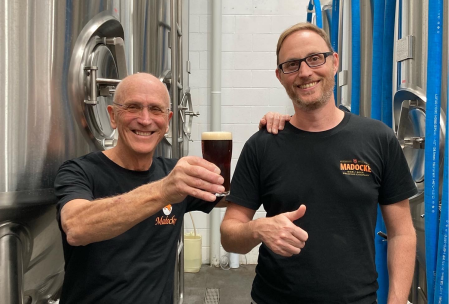 Madocke Beer's Annelies Nijskens
"(After moving from a small garage set up to the current location) Neil was there from day dot and helped guide us through building the bigger brewery. I remember him cutting up carpets in our upstairs room because he wanted to be part of it. We were all like 'Neil, you're 73 you should not be doing this'. And he would say 'let me do this, I want to do this'. He helped us build this brewery which was at the same time he received the news about the cancer. When we opened the brewery he couldn't even be here because the borders were shut due to Covid and he lived in NSW. He was gutted. But he would go on to come and visit us on a number of occasions since and he brewed a dark lager with Jimmy. They had so much fun brewing that beer together. And we actually re-brewed it a little while ago and were due to launch it on March 31. It was canned last Friday and Neil passed away on Sunday. We were able to drive up to the hospital on the Saturday to see him and were able to give him his beer in cans. He gave us a big thumbs up and a big smile… which was beautiful to see and I will cherish that moment. He was what an absolute most loving pops could ever be to anyone. He was the dream pops. He made you happy, he would laugh with you, tell jokes with you. He saw the world as one big playground and everything was an opportunity. He had more to offer us than we could ever offer to him."
---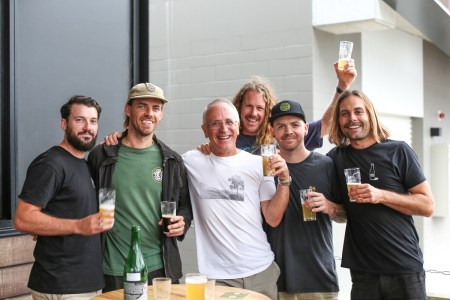 Stone & Wood's Thomas Parker
"First and foremost Pops was a mentor. He loved to be around people, inspiring them and making them laugh. One of his most quoted sayings was 'if you're not having fun in the brewing industry, there's something wrong with you'. Secondly, he was a runner. Very fit, right into his latter years. His physical fitness was matched only by his mental agility and wit. A constant companion in the brewery with his persistent banter and sheepish grin, he was always there to challenge long-held assumptions. If push came to shove, little could stop him getting hands on and showing others the old school, hands-on approaches to brewing – of how it should be done. He's been a mentor and inspiration to so many, and always with a positive attitude. It's hard to come across people in the craft brewing industry that haven't been touched by him in some way, shape or form. Neil was well known within our business for fostering and developing the League of Extraordinary Brewers – our in-house homebrew competition. More than the beers themselves, everyone looked forward to Neil's write up and review, typically featuring his pretend-horse Charlie. It was sure to be designed to rile some of us up, but only after we consulted a dictionary!"
---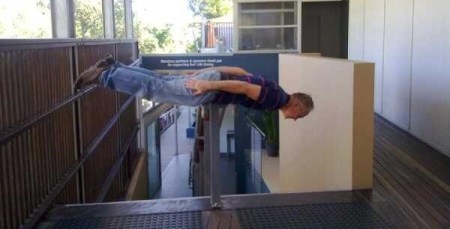 Connemara Brewing's Aine O'Hora
"Neil gave me my first job in Australia at Matilda Bay in Dandenong in 2008. He was my mentor, my trainer and my Aussie pops. I will miss him dearly. He would come to gigs with me, he came to my Australian citizenship ceremony, he would come to my parties, he would give you a hug when you needed it. Neil had the youth and enthusiasm of a teenager. He was loving, strong, mushy and sensitive all wrapped up in one. He loved to pass on knowledge and looked after a young brewer the best he could. Neil inspired generations of brewers to do better and showed them a balance and love for the industry like no other. He started me on a life path of small batch brewing that I will be forever grateful for… We went to Noosa Food & Wine Festival one year together and I've never laughed so much in my life. Planking was the thing at the time and of course Neil had to give it a go!"
---
KAIJU! Beer's Callum Reeves
"I first met Neil in 2000, when I was still at uni. My girlfriend at the time was Neil's niece and Neil was working at the old Stockade Brewery in Dandenong South that went on to become the Matilda Bay Garage. I gravitated to Neil and we spent a lot of time talking about beer. I had become a bit of a beer enthusiast and he was the first person to inspire me to see a career path in beer. He was just incredibly passionate about beer and the people in the industry – particularly brewers. Even in our early conversations I could tell that he was very focussed on quality and he was driven to share his knowledge in this area of brewing. Neil was always stoked to see how KAIJU! Beer was going. It was important to Nat and I that he thought we kept quality and our business on a good path. As probably the most experienced brewer to work in craft beer, Neil instilled a focus on quality into many of the brewing industry's current leaders and his passing is a great loss to so many who continued to seek his advice and mentorship. One of the first beers we shared was an Orval, and I think it was on a Christmas Day. I just remember how passionate and enthusiastic Neil was about this beer I'd never heard of. His description of the flavours and quality opened my mind to a world of beer I'd never considered before. That really stayed with me throughout my wine and beer career."
---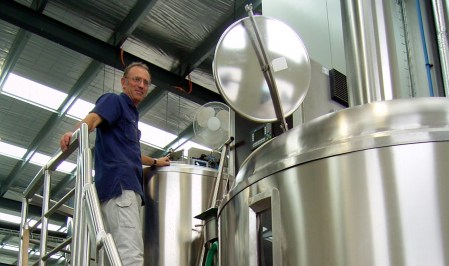 Carlton & United's Tina Panoutsos
"It is hard to capture everything that's been scrolling through my mind this week since I heard Neil passed and now adequately put it in words because Pops was so much to so many. He was always generous with his time, open to explain, demonstrate and share his craft and knowledge that I'm so grateful for and learnt so much from. Every encounter and catch up was met with a beaming smile and genuine warmth, a chuckle, a laugh and even a blush depending on what conversation he got caught in the middle of. Always a gentleman that treated everyone with respect. I often leant on his breadth of experience during the Matilda Bay days and his honest feedback on some of the sensory sessions certainly helped shape a number of elements. I think that's what many people valued from a professional perspective is that Pops never minced his words and was genuinely interested and dedicated to supporting anyone that wanted to learn and grow in this industry. I remember him saying something like 'gotta stay clear of the noise Tina, don't let it get in the way of what really matters'. I take comfort in knowing that his genuine passion in beer and dedication to brewing has influenced so many parts of the industry and his legacy will live a long time. He does epitomise one of my favourite poems, by Ralph Waldo Emerson:
To laugh often and much: To win the respect of intelligent people and the affection of children; To earn the appreciation of honest critics and endure the betrayal of false friends;
To appreciate beauty; To find the best in others; To leave the world a bit better, whether by a healthy child, a garden patch or a redeemed social condition; To know even one life has breathed easier because you have lived; This is to have succeeded.
Rest in peace my beautiful friend."
---
Neil is survived by his partner Ped and two sons Tim and Chris.