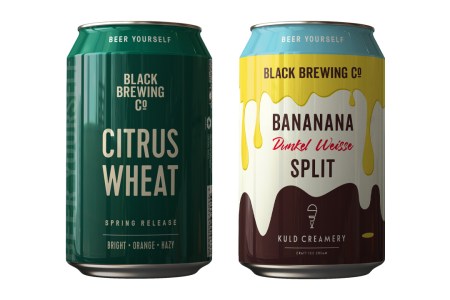 BLACK BREWING RELEASE TWO NEW SPRING BREWS – Margaret River's Black Brewing Co spring two new cans on us this week – the Citrus Wheat (5.0%), and the Bananana Split Dark Wheat Beer (5.0%). The Citrus Wheat is the final piece in their 2019/2020 seasonal beer range and follows on from the Summer Sour, the Autumn Blackberry Gose and the Winter Cacao Hazelnut Stout. Bavarian in style, it's made with 50 per cent wheat and head brewer Shannon Grigg recommends enjoying this tasty hazy number poured into a tall glass. "If you appreciate a good wheat beer, be sure to savour the aromas that are released right under your nose when you pour." The Bananana Split is the bi-product of Black Brewing's third collab with WA's Kuld Creamery and is in ode to the classic dessert. Following on from the extremely popular Neapolitan Stout and Orange Sherbert, this one officially launches at this weekend's Perth Craft Beer Festival (4-6 Sept). It's a deliciously dark and creamy full bodied wheat beer, bold with banana aromas and complex malts.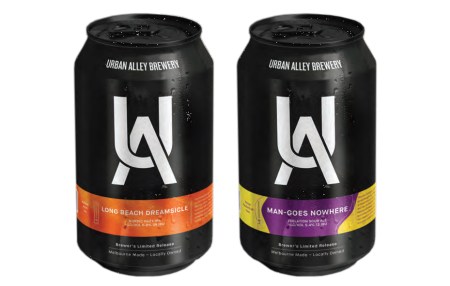 URBAN ALLEY RELEASE FIRST SOUR AND RE-CAN HAZY – Melbourne's Urban Alley Brewery bring you their first ever sour release this week – the Man-Goes Nowhere Isolation Sour Ale (5.4%) – and due to the last batch selling out pronto, they've re-canned the Long Beach Dreamsicle Nordic Hazy IPA (6.8%). Whirlpooled with Amarillo hops, the sour is heavily dosed with mango and passion fruit during its second fermentation. The hazy is inspired by orange creamsicles and the Long Beach Beer Lab's Kveik fermentations. It has big, juicy hop fruitiness with a solid malt backbone and a refreshing, grassy finish.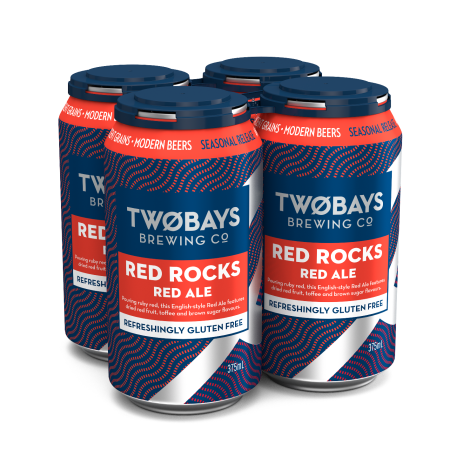 TWØBAYS ROLL OUT FIRST GLUTEN FREE RED ALE – The Victorian dedicated gluten free brewery's latest limited seasonal beer is Red Rocks – an English style Red Ale (5.0%) – with decadent toffee, dried red fruit and brown sugar flavours – pouring an elegant ruby red, with hints of pine and caramel on the nose. And most impressive – given the brewery brews exclusively with gluten free malt – is the beer's rich complexity. "This is the most challenging beer we've put out in cans to date," said founder Richard Jeffares. "Given the style, it's critical that the malt flavour really stands up. That exposes the alternative grains that we use. We're super delighted with Red Rocks – it's another big step in our journey of exploration." Richard named this beer after his native Ireland and the Mornington Peninsula, where he now resides and where he opened TWØBAYS Brewing Co late in 2018. Red rock is naturally prevalent in Mount Martha and Red Hill and, of course, will be forever famous for U2's 1983 Under a Blood Red Sky gig, and Bono's proclamation Welcome to Red Rocks!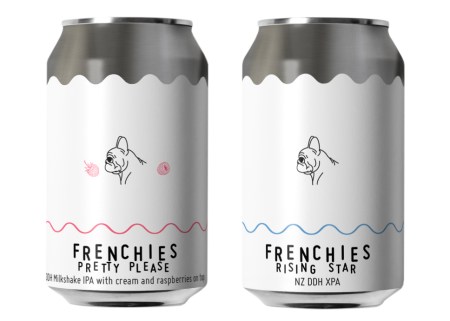 FRENCHIES EXTEND DDH SERIES – After releasing four in a row to kick-start their all-new DDH series last month, and duly selling out, Rosebery's Frenchies Bistro & Brewery have added two more to the line-up. The Rising Star NZ DDH XPA (4.5%) references the rising potential of new Kiwi hop variety Hort 4337 (Nectaron™). "This is an incredibly juicy XPA and uses the most expressive hops I have ever smelt," head brewer and co-founder Vincent de Soyres told Beer & Brewer. "I am particularly excited about this one. It is hazy, juicy, and simply so new and an array of flavours I haven't tried anywhere else before." The Pretty Please DDH Milkshake IPA (6.8%) packs a punch of raspberries, vanilla and lactose backed by three tropical hops: Strata; Nelson Sauvin; and Galaxy. It pours a thick, deep pink, hazy colour and all the flavours of creamy coconut, raspberry and vanilla are there.
MODUS RELEASE LATEST IN HAZY SERIES – The coconut milkshake and Sabro theme continues in the latest in Modus Operandi's Hazy IPA series that is out now. Hot on the heels of their Hazy 05, cherry, coconut, cream release, comes Hazy 06 (7.0%) – an apricot, coconut milkshake hazy where hype hop Sabro is used again alongside the Australian experimental variety HPA 016. Reminiscent of a hazy sunset in the glass, the hops add a peachiness to the sweet, sherbet-like apricot notes. There's a light tartness from the apricots that's rounded out perfectly by the big, creamy mouthfeel from the oats.

MOON DOG TO RELEASE SELTZER RANGE IN OCTOBER – As Moon Dog get ready to unleash a new seltzer range next month, founder Josh Uljans said they are "planning and forecasting" to be making more seltzers in three years than beer. "It is an unbelievable opportunity to enter a nascent category. There are no incumbents – we are on a level footing with the large producers, and we can win," Uljans said. Crafted by three times Australian Bartender of the Year Chris Hysted, Moon Dog's range of Fizzer alcoholic seltzers will launch nationwide next month in four flavours: Coco Magic; Piney Limey; Strawbs and Cream; and Tropical Crush (all 4.0%). Moon Dog said they have more than 12 new flavours in the pipeline as well.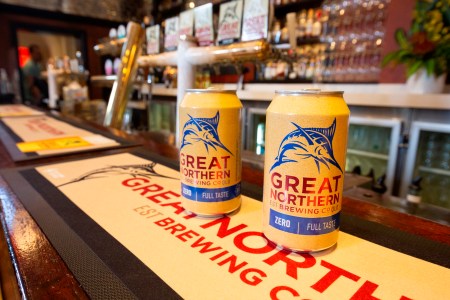 GREAT NORTHERN TAPS INTO BOOMING SEGMENT – Great Northern Brewing Co has entered the fastest growing segment of the Australian beer market with the launch of its non-alcoholic brew Great Northern Zero in just Queensland and the Northern Territory at this stage. Antonia Ciorciari of Great Northern says the company's foray into the non-alcoholic beer market – expected to be worth $34.4 billion worldwide by 2024 – reflected the booming demand among Queenslanders for alcohol-free beer options. "The non-alcoholic beer category has doubled in Australia in the past year and sales through bottle shops and other off-premise sites have increased 30-fold when compared with the same period in 2017/18," Ms Ciorciari said. "Men and women are both seeking non-alcoholic beer with the strongest demand coming from those aged 25 – 45."
Contact Beer & Brewer by clicking here to share your new drink releases.