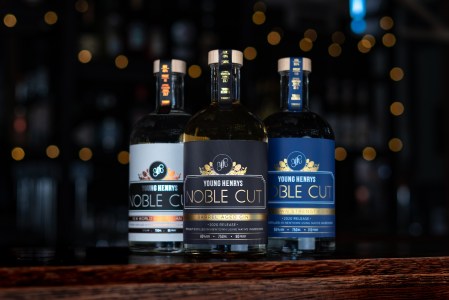 Newtown brewery and distillery Young Henrys have released two new, single batch expressions of their award-winning Noble Cut Australian New World Gin.
The Noble Cut Barrel Aged Gin (40%) and the navy strength Noble Cut Newtown Strength Gin (55%) are available now in a super limited run of 600 bottles each.
After establishing the distillery side of their business back in 2014, with the addition of a still crafted for them by an eighth-generation moonshiner from Tennessee, Young Henrys have been making gin for four years. The original Noble Cut won gold recently at the 2020 San Francisco World Spirit Awards.
Co-founder Oscar McMahon said head distiller Carla Daunton "wanted and deserved a little room to play around and came back to us with two ideas" – the barrel-aged and the navy strength.
"After a trial run of each we decided that we needed to release them both!" McMahon said.
"The barrel-aged added colour, body and sweetness that counter-balances the botanical profile wonderfully. The Newtown Strength bolsters all the existing characteristics into a bold, punchy and bright expression for the not so faint of heart."
The barrelled version spent nine months in ex-rye whisky oak barrels, which imparted a light golden hue and notes of orange, caramel and vanilla. It also showcases Australian botanicals, including lemon myrtle, pepperberry and Tasmanian-grown Enigma hops.
"The barrel aged gin was aged… until it was absolutely perfect and ready to be unleashed on the world. It's a surprisingly mellow and sweet take on the Noble Cut you know and love," Daunton said.
"The Newtown Strength is a love letter to our hood. In difficult times our community comes together in a way that shows its strength and compassion. At 55 per cent, the botanicals are expressed in a different way to our beloved Noble Cut despite using the same recipe. Surprisingly approachable with sweet complexity and a quiet strength…like Newtown itself."
They are available in selected bottle shops, the Young Henrys Tasting Bar and their online store.
Contact Beer & Brewer by clicking here to share your news and views.