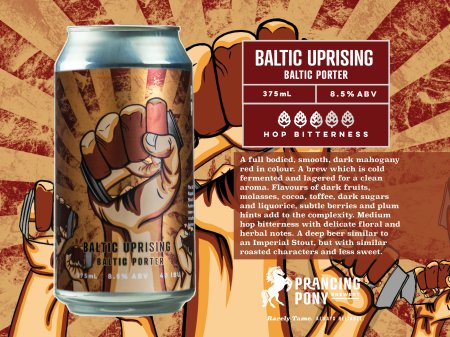 Prancing Pony's new seasonal – South Australia's Prancing Pony Brewery have released the Baltic Uprising Baltic Porter (ABV: 8.5%) in a salute to those working hard at keeping their community together and raising a solidarity fist to the hardships being felt by many. The Baltic Porter style came about after the 1806 Napoleon blockade stopped the flow of the British Porter style in the Baltic states. The Porter was in great demand with dock and street workers and when the taps ran dry the Baltic breweries had to reinvent their own porter. The Baltic Porter has a higher alcohol flavour, with a roasted ruby colour. Lisa Liebelt from Prancing Pony told Beer & Brewer the Baltic Porter style was very popular in the 19th century as it was strong enough to ease the pains of manual labor at the end of a bitterly cold European Winter's day. "Today we seek a different solace," she said. "One to ease the mind and warm the soul as we raise a glass to those that are working hard along side of us. The challenges of the ages have changed and yet not changed so much. Every person must continually work to survive the economic, health and environmental challenges that are presented to us each day. We say 'stay strong, keep fighting and together we will succeed'."
Wolf of the Willows birth third in the litter – Wolf of the Willows, together with Lark Distillery, have unveiled a re-release of the unique collaboration between the brewer and distiller. Mark III of the #barrelexchangeproject with Lark Distillery sees the release of the 2020 version of the Lark Barrel Aged Imperial Johnny Smoke Porter (JSP). This Imperial Smoke Porter was aged in 100 litre Lark barrels for an average of nine months and is weighing in at a hefty 12.8%. The result is an Imperial Smoke Porter rich with whisky barrel-aged flavours of vanilla, oak, peat, dark chocolate, molasses, truffles and espresso. A limited number of kegs of it have been sent interstate and are available from August 1 at: Netherworld Arcade and Bloodhound Corner Bar (Brisbane), The Franklin Hotel and The Gilbert Street Hotel (Adelaide), The Woolhouse in Albury and The Grain Store in Newcastle (NSW), while in Tasmania (keg tapping dates TBC) at the Saint John Craft Beer Bar in Launceston and The Winston Bar and the Lark Distillery Cellar Door in Hobart. 440ml tinnies are available on the brewery's website and in all good bottle shops in VIC, NSW, QLD and WA from tomorrow (July 31).
Capital release new core range XPA – The latest addition to Capital Brewing Co's core range was released yesterday. The XPA is a bright tropical number with a hint of citrus that's refreshing and easy to drink. ABV: 5.0% IBU: 30. "We built up the body of the beer by using a fair bit of Golden Promise malt to leave some residual sweetness and round it out and balance up the hops. We used Azacca, Mosaic and Amarillo Hops. We have been really happy with the result, particularly the aroma from the dry hop," head brewer Wade Hurley told Beer & Brewer. XPA is on tap now at their Canberra taproom and should be hitting shelves in Melbourne and Sydney by late next week.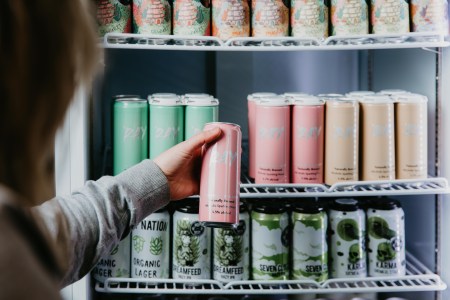 Hop Nation launch new hard seltzers – Footscray brewery Hop Nation has unveiled their new range of hard seltzers called 'Ray in a nod to their home Melbourne suburb. The seltzers come in three flavours – watermelon and mint, lemon and lime, and peach – and in 330ml slimline cans. It's brewed like a beer, with cereal grain and a two to three-week fermentation process, with hops used early in the brewing process before fruit is added late in fermentation. "Seeing the rapid growth in popularity overseas of hard seltzers made us really excited to launch 'Ray here in Australia, especially with our own little Melbourne twist," said Hop Nation's Duncan Gibson. 'Ray will be stocked in 80 BWS and Dan Murphy's stores across Victoria, as well as independent retailers nationwide and online. It will retail for $20 per four pack and $70 per carton of 16. It will also be available in kegs for restaurants and bars to purchase.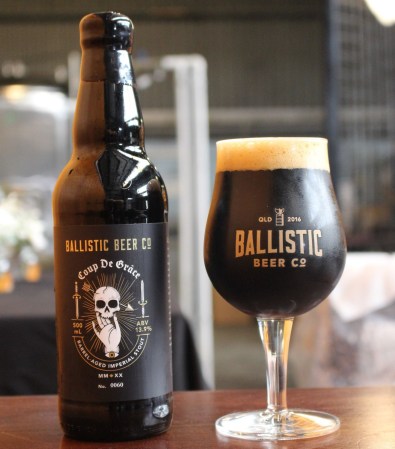 Ballistic launch first ever barrel-aged beer – Introducing Coup De Grace – Ballistic Beer Co's 13.9% Barrel-Aged Imperial Stout – their first ever barrel-aged release. "Since we opened in 2016, I have dreamed of us creating seriously complex, big, barrel-aged and heavily nuanced beers. This beer is amazing. What our brewes have done with Coup De Grace is no small feat. It's so smooth, clean and refined. It's basically the Ballistic answer to Grange Hermitage," CEO David Kitchen said. Head brewers Lachy Crothers and Jake Harrison were inspired to brew it after a trip to the US in 2019, where they visited many breweries with barrel programs. "There are more and more local breweries experimenting with barrels in Australia but it's huge in the US. When we came back from our trip, we knew what we wanted to do, and this beer is the first in what will be a big barrel-aged and wild ale brewing program from Ballistic. Watch this space," Crothers said. To complement the unique beer, the packaging has also differed from the norm at Ballistic. Coup De Grace is hand filled and packaged in 500ml bottles, the labels feature raised gold print and they are crown sealed and hand dipped in black wax. To add to the exclusivity, each bottle is individually numbered, with only 2200 bottles produced.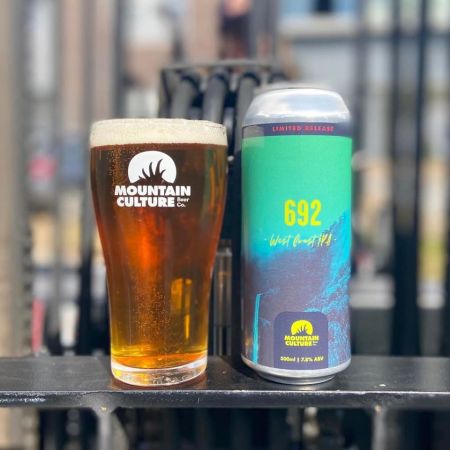 Mountain Culture's new West Coast IPA – Released today, Mountain Culture Beer Co's 692 West Coast IPA (7.8%) comes after the Katoomba, NSW brewery were sent some experimental hops from the USA, creatively titled HBC 692. Head brewer and owner DJ McCready "took them and gently caressed them into a West Coast IPA that's clean, refreshing and full of the pine, woody, resin that all big traditional West Coast's should have". Available via the brewery's online store and taproom only.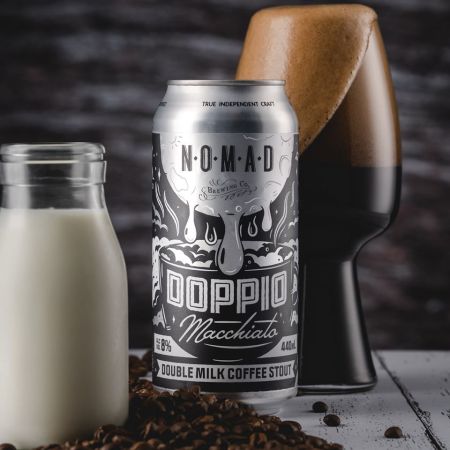 Nomad drop Doppio Macchiato Double Milk Stout – Brewed with fellow Brookvale local coffee roasters, Barrel One Coffee Roasters, comes Nomad Brewing Co's newest limited release – the Doppio Macchiato Double Milk Stout (8%). Infused with coffee beans, espresso and lactose for a rich creamy mouth feel which combines with the dark roasty malts to make this a delicious dark milk stout. It's available on tap and from the brewery from this weekend plus it will be delivered to venues and bottleshops nationwide in the coming days.
Contact Beer & Brewer by clicking here to share your latest releases.