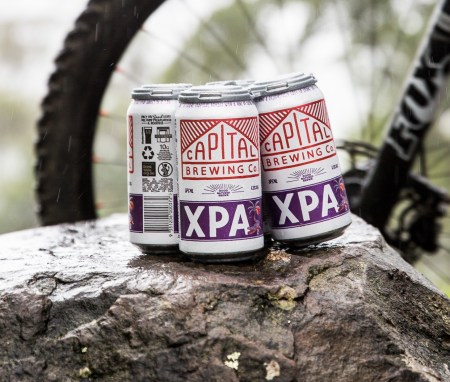 Beer & Brewer chatted with the Capital Brewing Co's head brewer Wade Hurley and their national head of sales John Bates about their new core range XPA can release that was unveiled this week. The XPA (ABV: 5.0% IBU: 30) takes on elements of their Mountain Brew XPA and the previously known Summit Session XPA (now Summit Session Ale) but delivers something entirely its own. It joins the Capital core range family at the expense of the Springboard Orange Wit, that has been discontinued. We find out why they chose not to give it a stable name, how, for now, it completes their circle of core range beers and much more.
Why are you releasing an XPA now?
JB: We are constantly listening to feedback from our supporters in our taproom bar, and from our retail and on-premise partners about what people are looking for in their beer choice. Over the past year that feedback has been increasing for a flavoursome beer that was tropical and hop-driven but with less residual bitterness than US-style pale ales that were super popular three years ago. We didn't want to mess with our hugely popular Trail Pale Ale so we decided to launch an XPA.

What can people expect from it in terms of drinkability, taste and aroma?
WH: We spent about eight months re-iterating this beer to get it to exactly what we wanted before we canned it. We were chasing something that was light and sessionable, while still being fruity and full flavoured but not over the top, and a beer that really showcased the hops but was super well balanced and was perfect for BBQ season!

What are the key ingredients?
WH: We built up the body of the beer by using a fair bit of Golden Promise malt to leave some residual sweetness and round it out and balance up the hops. We used Azacca, Mosaic and Amarillo Hops. We have been really happy with the result, particularly the aroma from the dry hop.
In your view, where does the XPA style sit in the Australian craft beer scene and how will your new release add to that?
JB: I personally love an XPA and think it's a great beer for our climate. Canberra has extremes in terms of our seasons and for me an XPA gives enough flavour to enjoy all year round and refreshing enough for a long hot Summer. I think the current XPAs on the market are quite defined in terms of what you can expect from that style of beer as opposed to pale ales that can vary considerably. From a consumer point of view this is a very good thing as it gives them confidence in what they are buying.
Why have you decided to not give it a name but rather just XPA?
JB: We wanted to really focus on the style of the beer for this release and let it speak for itself, plus keeping the look and feel of the packaging as simple as possible.
Does the release of the XPA somewhat complete the circle for Capital in terms of its core range of beers?
JB: For now, yes I think we have a beer on offer that will suit differing tastes and occasions – whether it be an XPA at a summer BBQ, or an Evil Eye Red IPA by a roaring campfire. We will constantly listen to our customer feedback though and test new beers with limited release kegs and cans to ensure we keep on making beer people love.
Are you intending that the XPA will be your flagship beer and what you will hang your hat on in terms of what Capital put to market?
JB: We don't believe in selecting a beer from our core range and deciding it will be our flagship brew. Being a local brewer in the Canberra market we really want to produce a range of beers that suit everyone, making it as easy as possible to support local beer regardless of your choice in style. We also sell our beer into NSW and Victoria and have found that each venue and area has differing wants and we are able to meet those needs with our six core range beers.
You will be dropping the Springboard Orange Wit to make room for the XPA, and changing the name of the Summit Session XPA to Summit Session Ale – can you explain these decisions and if they are somewhat shaped to the retailing of your core range?
JB: Springboard was one of the original beers we launched with, and is loved by many of our supporters, so it was a hard decision to delete this from our range. The reality is we only have so much capacity in our brewery and cellar so we need to make sure we can meet demand on our most popular styles. On top of our production capacity, there is only so much fridge space and taps as well. We need to ensure our range isn't so big that it would be unreasonable to ask for that much space in a venue whilst meeting customer expectations of being able to get their favourite brew at their local bottleshop or pub. As for Summit, we decided to change the name of this beer to remove any confusion that having two XPAs in the core range may create, as well as calling out that this beer is a fantastic sessionable beer that is also only 3.5%. We haven't changed the brew at all, just the name!
Capital Brewing Co's new XPA is on tap now at their Canberra taproom and will be hitting shelves in Melbourne and Sydney hopefully by the end of next week. Head to their website here for updates and to buy their beer!
Contact Beer & Brewer by clicking here to share your news and views.