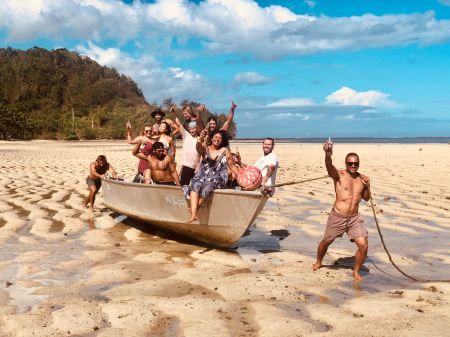 Mokusiga could be the term we've all been looking for as we bide our time for better days ahead amid the hazy funk brought on by COVID-19. In Fijian, it's an amalgamation of the words for kill (moku) and day (siga) and it's the local slang to describe the act of killing time. It's pronounced with an 'n 'sound before the 'g' – as in moku-sing-ah. It's also the name of Fiji's first craft beer range made by a couple of mates who met at The University of Sydney.
Gavin Statham, who is a Fijian from Suva, and Simon Gelling, an expat Aussie from country NSW, founded the Kailoma Brewing Co that makes the Mokusiga range of beers on the beautiful Coral Coast of Viti Levu. Their microbrewery is based at the Beachouse Resort.
"Any time you were stuffing around or being lazy you would be told off to not mokusiga!" Statham said.
"Years later, when we got to the stage in life when starting a brewery sounded like a great idea, we knew Mokusiga was the perfect identity for a beer in Fiji – where it can be enjoyed in a hammock under the palm trees."
They currently bottle everything they make and sell it to a range of local bars, bottleshops and resorts.
"We have big growth plans in mind in the coming years, and exports to Australia and New Zealand is on the cards too," Gelling said.
"As the craft beer market develops in Fiji we'll also branch out into some more intense craft beer styles.
"For our current beers, the main local ingredient is the amazingly pristine Fijian water. Our malts and hops are imported, since they can't be grown in the Fijian climate."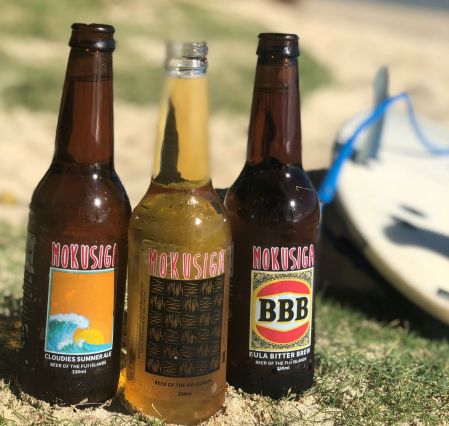 The first beer to hit fridges in late 2017 was the Mokusiga Pacific Lager – a crisp and refreshing lager with tropical hop flavours (Motueka, Saaz) that's well suited to the environment and the perfect gateway craft beer.
Their core range then expanded with the Cloudies Summer Ale – named after Fiji's legendary Cloudbreak surf spot. It boasts more body than the lager but is still crisp, and the Amarillo and Centennial hops give it the ideal mango and citrus fruit aroma and flavour.
Their Bula Bitter Brew, which gives a sly nod to the VB label, is an old school amber lager, driven by toasted malt and early hop additions.
With so much of our focus on the Australasian beer and brewing industry right now (and understandably so) it can be easy to overlook the fact that people are doing it tough in lots of places. The South Pacific, and its myriad of island paradises, is one of our favourite travel destinations.
But those channels have been shut off due to COVID-19, and with many of these places heavily reliant on the tourist dollar, they too are facing some tough times.
Therefore, in Fiji, there's been plenty of time for some serious mokusiga of late.
"Fortunately we're currently in a position where we have no debt so it is more a case of biding our time before we can continue to push onwards and upwards," Statham said.
He added, that while COVID's impact on the health of Fijians hasn't been felt so far, it was having a significant effect on the economy, with as much as 30 per cent of it relying on tourism.
"Seeing a lot of people out of work is really sad to see. For us, overall, our sales have been only moderately impacted, however it has come at a time when we would have been targeting aggressive growth.
"But, local uptake of craft products are on the rise, and there's been more of a focus on domestic tourism too.
"Once travel restrictions lift, we'd love to show more people from around the world how beautiful and welcoming Fiji is. And there's no better place in the world to relax and enjoy a tasty refreshing cold beer," Statham said.
Contact Beer & Brewer by clicking here to share your news and views.