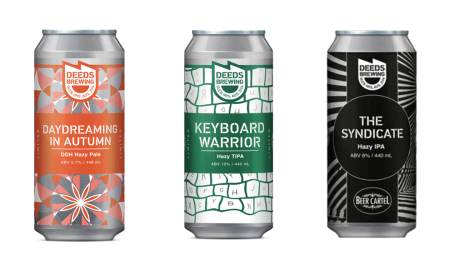 DEEDS BREWING DAYDREAMING IN AUTUMN DDH HAZY PALE (5.7%,440ML), KEYBOARD WARRIOR HAZY TIPA (10.0%, 440ML) & THE SYNDICATE (IN COLLAB WITH BEER CARTEL) HAZY IPA (6.0%, 440ML)
As reviewers of beers it's hard keeping up with the level of output Glen Iris' Deeds Brewing have maintained now for over a year. But when they're as easy-drinking as these three are then we're happy making the effort.
As we discovered last year when Deeds' head brewer Justin Corbitt won Beer & Brewer's Best Brewer of 2020 award, the journey to releasing multiple new beers every month can be traced back to a then perceived mistake they made when they released two double IPAs at the same time in mid 2019 – The Traveller in collaboration with Carwyn Cellars and Fortune and Glory.
"And we were scared, because we had so many cases between the two at a time when big IPAs weren't necessarily flying out the door," Justin told us for our Summer 2020/21 issue.
"But then they just went really quickly and we were like 'OK'. That gave us the direction to continue making new and different beers. By the end of (2019) we had gotten into a rhythm of releasing one a week.
"And then we come into COVID. The kegs dry up… but we made the decision to stick with the same formula. I thought the sky would fall in. Putting out four limiteds a month just seemed too much and I had this immediate belief, that because of COVID, people would spend what disposable income they had on cheaper beer. I was way wrong."
The formula has worked and in turn they shot 114 places up Beer Cartel's 2020 Australian Craft Beer Survey's best Australian craft beer brewery ladder to rank fifth.
And in collaboration with Beer Cartel is where we begin as the trend for Australia's biggest online craft beer retailer, of working exclusively in cahoots with hype breweries, continues with The Syndicate Hazy IPA.
Following on from the likes of last year's Narconomics Hazy IPA tie-up with Mountain Culture, The Syndicate sees Beer Cartel target the style that's perhaps most de rigueur with a brewery that is as equally au fait with the public.
And the Motueka, Sabro and Mosaic hit hazy will satisfy that adoring section of society. Pale straw with a medium haze it boasts excellent tropical fruit aromas with late bursts of bubblegum and pine while the flavours follow the nose before finishing with firm bitterness.
Autumn can often feel like Summer right about now in New Zealand as the climate changes and an often wet and muggy January and February turn into a becalmed and temperate March and April. So it's entirely appropriate that Deeds' Daydreaming in Autumn has me imagining the Shaky Isles with its Kiwi hop line up (and Mosaic) that lends this oh so drinkable hazy pale a clean freshness – two words easily associated with Aotearoa. Kohatu's woodsy-ness and tropical notes, Wakatu's floral limey-ness and Wai-Iti's citrus all conjure memories of a long Kiwi Summer whilst helping to usher in a new season on the right track.
Drinkability continues in Keyboard Warrior despite the near doubling in alcohol content compared to the former as this popular hazy TIPA gets a welcome re-run. Pineapple and pine greet the nose above a thick white head that sticks. Flavours initially chase aromas before a weedy, pleasingly medicinal sense hits the mid palate until its remarkably fleet footed finish with balanced bitterness.