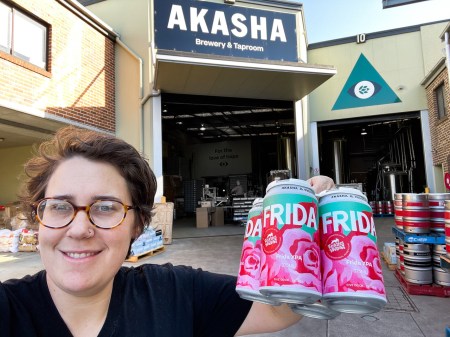 Just going by the Australian beer and brewing industry's social media feeds in recognition of International Women's Day this article could be written about any one of the thousands of women working in its many varied sectors. There's no doubting they all equally deserve the acknowledgement.
But to take a snapshot, and in a continuation of our cover feature from our Autumn edition of Beer & Brewer, where we speak with various female brewers about the gender gap in the industry, we spoke with Reckless Brewing's co-founder Grace Fowler, who also works for Akasha Brewing.
Those two breweries have released the Frida XPA in honour of International Women's Day and all the women in beer "getting shit done". We spoke with Grace about the new beer and Reckless but also her views on equality in the industry and how Akasha is leading by example. And having worked within the beer industry for many years she is well placed to reflect on how that same industry has changed around her.
Grace said she was "a bit of an anomaly" as a woman "in very much a man's world" when she first started brewing for the now defunct contract brewing company Icon. While there will always be outliers, Grace now feels the Australian beer and brewing industry "has come on leaps and bounds in recent years compared to other professions".
"It's changed a lot and I think a lot of people are surprised by how many of us there are and in such diverse and varying roles. Now, if you don't have a female in your team these days, it's like 'what are you doing?'
"And women are nailing it. Half of that is because women can brew beer and do the physical side of things. But the other half is that beer is not just for men. There's no difference between a male and a female palate, for the most part, and beer isn't gender-specific."
Grace progressed from a beer lover working in bottleshops to brewer a little over five years ago after a friend's fiancé who worked at Icon gave her a shot. In no time she was getting a baptism by fire as she brewed thousands of litres, often solo, for the likes of Young Henrys and Lord Nelson.
When Icon closed down she moved to Akasha's brew team and a company where she is now joined by a number of other women.
"As Akasha has grown we've had a lot of conversations about the need for diversity and how many positive things that can bring a company. Different cultures, different genders – all differences are good.
"We've got a pretty strong contingent of females here now which is pretty awesome and I think that Akasha is definitely leading by example. It's a really nice place to work."
Grace has been at the forefront as Akasha has become a much more visible brewery since it rolled out an entirely new consumer facing presence in September last year. After having a baby, and the impact COVID-19 had on aspects of the brewery's operations, she changed roles to start marketing the brand last year and her output has matched the abundance and quality of Akasha's beer releases since.
"It's just time really. A lot of these things we had been wanting to do for a while but having the resources to spend on it and doing it properly just makes a whole heap of difference.
"It's working really really well too. We've seen a massive uptick in social media followers and email subscribers – and sales too."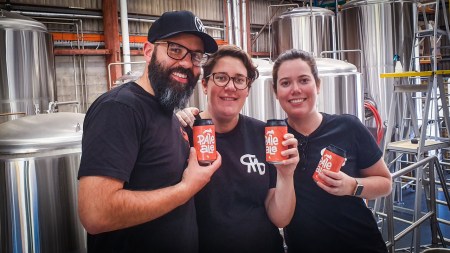 $6 jugs and James Reyne
Like most commercial brewing enterprises, their initial start-up usually begins with a few beers and then a conversation. But for Reckless, that Grace established with husband Jarrod Moore and their best friend Alice Wilson in 2019, the reverse was the case. They got so serious about it they were having conversations about getting it off the ground long before the beers were even opened.
"Since Uni we've been frequenting bars and fell in love with beer because of Sydney Uni doing $6 jugs. We always had those conversations over a few beers of 'we should open a bar'.
"But as the love grew it turned into us having conversations before we had even had any beers of 'we should start a brewery'.
"We all work full time. Jarrod works in logistics for GrainCorp and Alice works for PWC in finance. So with me on the brewing side we've got a nice array of talents that work when launching a business like this."
Those talents weren't necessarily suited to coming up with a name for their brewing company however and the trio battled at length over names Grace in hindsight feels would have been perfectly suited.
"But we overthought it. Then it got to D-Day when we had to register the business and we were having a few beers and throwing some more names around and then Australian Crawl's Reckless came on and we were like 'this is it!'"
Conveniently Reckless now contract brew their core range and small batch beers at Akasha, meaning a self-confessed obsessive compulsive Grace can oversee things to her liking.
'A little more complex than your everyday XPA'
One of those she's been able to keep an eye on is the newly released Frida XPA (4.2%) that is Reckless' first collaboration and released under Akasha's limited release series Akasha Projects.
Inspired by Mexican artist Frida Kahlo, famous for among other things her still lifes of fruit, this XPA is suitably tropical fruit-forward and eminently drinkable.
Mosaic's tropical potpourri is on display alongside a touch of marmalade and honey sweetness while Sabro's coconut creaminess works in tandem with a balanced bitterness to leave you wishing it would stay around longer that its limited run.
"I'd wanted to experiment with the Sabro and Mosaic combination for a while so it's a little more complex than your everyday XPA.
"You've still got your delightful tropical flavours and it's still super smashable and easy drinking. But if you want to delve into a bit more, and think about it, it's quite a complex beer – or complex enough for it not to be overwhelming. And to be honest with you I'm pretty bloody happy."
Proceeds from the sales of Frida are going to the Leichhardt Women's Community Health Centre – a non-government, not-for-profit clinic delivering low-cost and affordable medical, allied and complementary health care and education to improve women's health.