The newly-launched Oxford Tavern in the Sydney suburb of Petersham will reveal a co-op bottle shop with fellow Inner West craft beer experts Bucket Boys on Anzac Day (25 April).
The co-op will focus primarily on six-packs of tinnies from Aussie breweries, as well as a curated range of singles (sours, saisons, wild ales and stouts), and a few select natural wines and Aussie spirits – all built into a yet-to-be-revealed dedicated display behind the main bar.
James Thorpe, director of Thorpe Hospitality (which also owns The Taphouse/Odd Culture in Darlinghurst), told Beer & Brewer that the range will basically be a "hero selection" of the Bucket Boys vast range.
"The part of it that I'm most excited about, with our focus on hyperlocal breweries at the Tav, is that we're going to be curating mixed six packs along various different lines," he says.
"Maybe there'll be an Inner West IPA six-pack, maybe a female brewers six-pack, a Berliner Weisse six-pack – just things like that, that allow the customer to try a whole bunch of beers without having to buy cases on cases, or if they're buying singles too it's generally quite expensive.
"With the backing of Bucket Boys' massive stockholding in their bottle shop and online store, we're going to be able to put something really exciting together."
Thorpe Hospitality have had a close working relationship with Bucket Boys for a long time now, and so it was a natural partnership to enhance the customer experience at the Tav.
"Johnno and Clint, the guys behind Bucket Boys, have been our really good friends for a long time," Thorpe explains.
"We've worked with them at The Taphouse and Odd Culture in a wholesale capacity, because they import a lot of stuff from overseas. They also have a really good distribution channel to Tassie, so we were getting Bruny Island, Van Dieman and breweries like that through their wholesale portfolio.
"More recently Johnno approached us with the idea of expanding our off-premise side of the business – we've got two grand old hotel licences at both the Taphouse and the Oxford Tav, and we aren't really doing anything at either venue with that at the moment.
"Johnno proposed the idea that we partner with them and try to put something really cool together."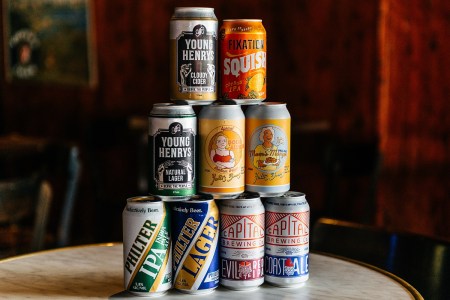 While Petersham is now well serviced with a number of top venues including the Oxford Tavern (in addition to the White Cockatoo and The Public House), the addition of a craft and locally-focused bottle shop for takeaways is a big win for locals.
"In bottle shop terms, Petersham is a bit of a black hole – you've got this giant BWS up next to Public House, but the range isn't great – and we wanted to put something together that more accurately reflected the output of the area, which is not what BWS sells as a huge supermarket chain," says Thorpe.
"There's so much good beer coming out of the Inner West, and that's what should be on show – not endless macro brands from overseas. There's so much awesome natural wine and cider being produced here too, and that stuff is just not getting a fair crack in the big outlets."
There's also a strong chance that the co-op will become a permanent feature of the venue, with Thorpe's eyes also on a potential expansion of the concept.
"We're trying it out for a couple of months to test the waters – it's by no means a pop-up, the plan is for it to be a long-term thing and for us to potentially try something similar at the Taphouse as well, which is an even worse area for off-premise sales."