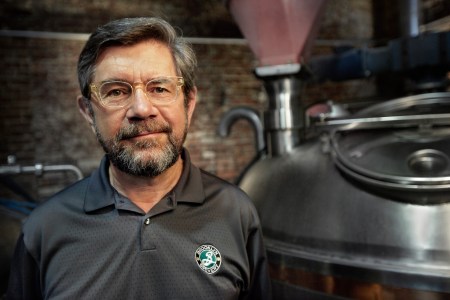 Good Beer Week 2019 launches in less than a month (10-19 May), and organisers are drumming up excitement with the announcement that a host of international brewers will be making their way to Melbourne for the festival.
Brooklyn Brewery co-founder Steve Hindy from New York (pictured above), American-born brewer Mike Murphy – of Norway's hottest craft brewery, Lervig – and microbiologist Kelly Tretter from Colorado's New Belgium Brewery will all be hosting a variety of events around Melbourne.
Steve Hindy is the co-founder, chairman and president of Brooklyn Brewery, one of America's top 20 breweries. A former journalist, Hindy's path to brewing is more unusual than most.
Hindy first became interested in home-brewing while serving as a Beirut-based Middle East correspondent for The Associated Press. During his time in the Middle East, he was abducted while on a United Nations Peacekeeping patrol in South Lebanon and survived.
In 1988, he returned to the States as a foreign editor and began brewing his own beer, and eventually persuaded neighbour and banker Tom Potter that they should quit their jobs and start a brewery. Soon after, Brooklyn Brewery was born.
Good Beer Week attendees will have the chance to meet the globally-regarded brewer at a bevy of events around Melbourne, starting with 'Grandad's Supper: straight outta Brooklyn!' at Beer DeLuxe Federation Square on 11 May. Hindy will also be on hand at the Brooklyn Tap Takeover at Loop Roof on 13 May.
Lervig's head brewer Mike Murphy will also visit Good Beer Week for the first time. Murphy came on with Lervig in 2010 and has built the brewery from producing a single pilsner to being one of the best collaboration brewers in the world.
Murphy is a self-taught home brewer that grew up in Philadelphia before moving to Rome and then settling in Stavenger, Norway. He'll be in Moorabbin for a 'Whole Lotta Lervig' at Grape & Grain Liquor Cellars (Sunday 12 May), showcasing 12 taps of Lervig, featuring some of their most-loved beers along with some serious rarities.
New Belgium's microbiologist Kelly Tretter is also coming to Australia for the first time. While the spotlight in beer is usually shining on brewers, microbiologists are also playing more of a role in making beer.
Tretter is involved in several events while in Melbourne including Good Beer Week's annual sell out event, 'Mega Dega VII' (Friday 17 May) at The Hotel Windsor and two panel discussions at the Cryer Malt Trade Hub presented by Pink Boots Australia.
At these events (Pink Boots presents: Sensory Panel (Monday 13 May) and Pink Boots presents: Know Your Worth (Thursday 16 May)), visitors will get the chance to discuss these issues with a panel of women in the craft beer industry, including Tretter.
Find out more about the rest of the Good Beer Week program for 2019 here.